Work began in northeastern Japan on Saturday to tear down a former town hall building where dozens of people died in a tsunami in 2011, despite calls from some residents to preserve it as a memorial.
The demolition of the two-story building in Otsuchi, Iwate Prefecture, came after the Morioka District Court rejected Thursday a petition to suspend the work. The building will be completely demolished by the end of February.
The town mayor and 27 officials died in the building when a massive earthquake and tsunami struck the region on March 11, 2011.
While some residents of Otsuchi said they did not want to see the building because it reminded them of the tsunami, others said it should be preserved as a memorial.
The town government is now considering preserving some of the items that were left inside the building, including a wall clock that apparently stopped after the building was inundated by tsunami waves and a ladder used by officials to evacuate to the roof.
Nov 14
NHK has learned that a boy who was arrested for allegedly wounding a girl with a knife in northern Japan has suggested he was interested in killing someone.
(NHK)
Nov 12
Six people, including four nursery school children, were injured Monday after a vehicle plowed into them at a pedestrian crossing in Hachioji, in western Tokyo, police said.
(Japan Times)
Nov 12
One month has passed since record rain brought by a strong typhoon caused extensive damage in much of Japan.
(NHK)
Nov 12
Two days after he fled in Osaka Prefecture, prosecutors on Monday caught a man indicted on drug charges who escaped while being transferred to police custody after his bail was revoked.
(Japan Times)
Nov 10
The suspect in a deadly arson attack in July on a Kyoto Animation Co studio has been questioned by police for the first time as he recovers from severe burns, investigative sources said Saturday.
(Japan Today)
Nov 09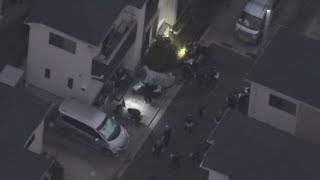 A 55-year-old man was found dead in his home in western Tokyo on Friday with more than 30 stab wounds while the property appeared to have been ransacked, police said.
(Japan Today)
Nov 08
Police officers and volunteers have patrolled a central Tokyo street before Sunday's Imperial procession marking Emperor Naruhito's accession to the throne.
(NHK)
Nov 07
A couple in southwestern Japan were arrested Wednesday for allegedly harming their 1-year-old son last November by firing an air gun at him dozens of times, police said.
(Kyodo)
Nov 07
Hollywood actor Will Smith was in Japan recently to promote his new movie Gemini Man, and in between walking the red carpet for the Tokyo premiere and spending some time at TeamLab Borderless, the 50-year-old actor took some time out to make sushi with Japanese YouTuber Bilingirl Chika.
(soranews24.com)
Nov 06
Tokyo Metropolitan Police used the results of a DNA analysis to arrest a 27-year-old man over the alleged attempted rape of a woman in Suginami Ward three years ago, reports TV Asahi (Nov. 5).
(tokyoreporter.com)
---