Central Japan Railway Co. has said that its N700S bullet train model will go into service on the Tokaido Shinkansen in early July 2020, just before the start of the Tokyo Summer Olympics and Paralympics.
The railway operator plans to introduce a total of 40 N700S trains over three years to fiscal 2022, which ends in March 2023, with total investment estimated at ¥240 billion, according to the firm's announcement on Friday. Each train will have 16 cars.
The new model, which is now undergoing test runs, is equipped with a lithium-ion battery system enabling it to travel a certain distance in case of power outages, the first such feature for a shinkansen. Power outlets for passengers will be available at every seat, and the model has more security cameras than the trains now in service.
JR東海は開発を進めてきた東海道新幹線の新型車両について、来年の東京オリンピック・パラリンピックの開催前に営業運転を始めると発表しました。
Feb 23
All Nippon Airways said Friday it was forced to delay a domestic flight earlier this week after a co-pilot failed an alcohol breath test despite new rules.
(Japan Today)
Feb 21
Air travelers in Japan can expect some relief for their pocketbooks this spring. The country's biggest airlines say they are going to slash fuel surcharges for many of their international flights.
(NHK)
Feb 19
Visitors to a village near Mount Fuji and its residents were rewarded with a dazzling spectacle on Monday.
(NHK)
Feb 18
People are enjoying the first signs of spring at an annual plum flower festival at the Kairakuen garden in Mito City, north of Tokyo.
(NHK)
Feb 17
The Royal Express is coming to Hokkaido, but if you can't wait, it's already running in the Tokyo area.
(soranews24.com)
Feb 16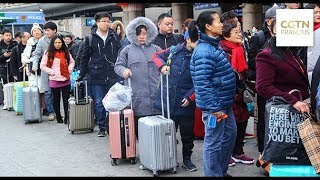 Reservations for travel overseas are surging for this year's 10-day Golden Week period, during which the Imperial succession is set to take place, according to a JTB Corp. official.
(Japan Times)
Feb 16
A fire broke out at a warehouse in Tokyo on Tuesday afternoon leaving three men dead and another man injured, while some flights at nearby Haneda airport were also disrupted by the incident.
(Kyodo)
Feb 15
Bullet train ticket machines have stopped working in many parts of Japan.
(NHK)
Feb 13
As spring approaches in Japan, the country's weather forecasters face one of their biggest missions of the year: predicting exactly when the famed cherry blossoms will bloom.
(straitstimes.com)
Feb 10
A cold snap hit Tokyo and its surrounding areas Saturday, causing cancellations of more than 100 domestic flights to and from the capital.
(Japan Times)
---