Police have decided not seek an indictment against former coaches of Nihon University's American football team over accusations that they instructed a player to commit a dangerous tackle on an opponent, investigative sources said Tuesday.
In documents sent to prosecutors the same day, the Tokyo police said they could not find evidence that former head coach Masato Uchida, 63, and former assistant coach Tsutomu Inoue, 30, issued instructions with a clear intent to inflict injuries on the opponent.
The injured Kwansei Gakuin University quarterback, Kosei Okuno, had filed a criminal complaint against the former coaches following the foul play in May last year that stirred controversy nationwide.
During the investigation, the police questioned the former coaches and interviewed about 200 players and others involved, but apparently could not find clear evidence that illegal orders were given to Nihon University player Taisuke Miyagawa, 20, who carried out the violent tackle.
They also decided that a remark such as "crush the quarterback," which Inoue admitted to having made to Miyagawa, can be used in general to mean "tackle strongly" and does not necessarily amount to an instruction to injure an opponent, according to the sources.
Analysis of the video footage of the game indicated that Uchida may have not actually had his eyes on the foul play when it happened and was instead looking in the direction of the ball at some distance.
Sep 21
The Rugby World Cup has kicked off in Japan. It's the first time an Asian country has hosted the tournament.
(NHK)
Sep 20
An online streaming service designed for the more than 400,000 overseas visitors expected here over the next two months for the Rugby World Cup was launched this week by J SPORTS, one of the three broadcast rights holders in Japan.
(Japan Times)
Sep 18
Japan may be ready to host a "spectacular Rugby World Cup," but serious questions remained Tuesday as to what impact it will have on the nation, particularly with the Tokyo Olympics just a year away.
(Kyodo)
Sep 16
In Major League Baseball, former Seattle Mariner player Ichiro Suzuki has made his first public farewell since his retirement at the team's home stadium. The Japanese baseball superstar expressed his gratitude to his fans in English.
(NHK)
Sep 15
Two octopuses predicted Friday that Japan will not advance to the knockout stage of the Rugby World Cup, which opens next week.
(Japan Times)
Sep 11
Shoya Nakajima's and Takumi Minamino's first-half goals lead Japan to a 2-0 win away over Myanmar as the Samurai Blue opened their 2022 World Cup qualifying campaign with a victory.
(Japan Times)
Sep 10
Yokozuna Hakuho has withdrawn from the ongoing 15-day Autumn Grand Sumo Tournament with a broken finger, his stablemaster said Monday, following a shock opening-day loss to rank-and-filer Hokutofuji.
(Japan Times)
Sep 08
Japan will enter the Rugby World Cup believing they have made the necessary preparations to achieve their goal of a berth in the quarterfinals, head coach Jamie Joseph said Saturday.
(Kyodo)
Sep 06
South Korean Olympic officials have called on Japan to ban its "rising sun" flag at the 2020 Tokyo Games after claiming it represents a "militaristic and imperial past."
(Japan Today)
Sep 05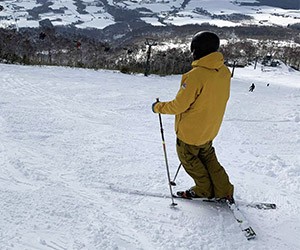 It is not ground breaking news to hear that Japan's ski industry is booming, each winter record levels of international tourism are achieved, driven largely by a growing global awareness and explosion in Asian ski culture.
(newsonjapan.com)
---