Immigration Bureau's relaxed visa policy has boosted tourism from southeast Asia, but it seems to have come with an unwanted side-effect.
Japan has been welcoming record numbers of foreign visitors in the past few years, and not all of them arrive via Narita, Haneda, or one of the other major airports. As an island nation, boat travel is a viable option in getting to Japan, and thanks to easing of government regulations there's been a huge increase in the number of travelers taking cruise ships to Japan.
In 2014, roughly 410,000 foreign travelers arrived in Japan via cruise ship, but in 2018 that number grew to 2.44 million. The sextupling is largely credited to an amendment to Japan's Immigration Control Act which went into effect on January 1, 2015, called the Ship Tourism Landing Permit System.
Under the system, foreign visitors who arrive on ships approved by Japan's Immigration Bureau, have booked passage home on the same vessel, and provide their fingerprints (via electronic scan upon arrival in Japan) can have their visa requirement waived, and also don't need to be photographed when going through immigration. While this might not be a major change for visitors from countries such as the U.S., Canada, the U.K., Australia, and Korea (citizens of which are allowed to stay in Japan for at least 90 days without a prior visa), the Ship Tourism Landing Permit System has made travel to Japan from China and a number of southeast Asian countries much easier, and the relaxed policy has led to a rapid increase in the number of cruise trips traveling from China to Japan's southwestern island of Kyushu (the closest to China out of Japan's four main islands).
May 24
The government will no longer use the term "lifelong singles" as a label for people who have not married by age 50, deeming the term inaccurate as Japanese are increasingly tying the knot later in life, officials said Thursday.
(Japan Today)
May 24
Many parts of Japan saw the mercury top 30 degrees Celsius on Thursday. Weather officials are warning of unseasonal high temperatures over the weekend.
(NHK)
May 24
Police in Japan are stepping up security for an upcoming visit by US President Donald Trump.
(NHK)
May 24
Japan's new supercomputer Fugaku is set to begin operations around 2021 with the country aiming to regain the title of building the world's fastest computer, replacing its current supercomputer K, government-backed research institute Riken said Thursday.
(Japan Times)
May 23
Kyoto Prefectural Police have arrested a 23-year-old male Australian national who is suspected of scrawling graffiti in dozens of locations in Kyoto City, reports Fuji News Network (May 22).
(tokyoreporter.com)
May 23
The International Olympic Committee says boxing is set to maintain its place in the 2020 Tokyo Games, but that the sport's international association should be excluded from organizing the events due to a number of problems.
(NHK)
May 22
Foreign Minister Taro Kono said Tuesday he plans to ask overseas media outlets to write Japanese names with the family name first, as is customary in the Japanese language.
(Kyodo)
May 22
Tokyo DisneySea has begun its largest expansion project ever.
(NHK)
May 22
A Japanese government committee has decided on the route of a parade scheduled for October to celebrate the enthronement of Emperor Naruhito.
(NHK)
May 22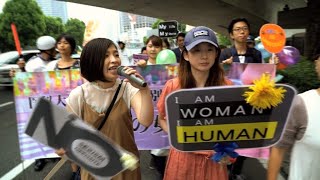 This year's pass ratio of female applicants for admission to the scandal-tainted Tokyo Medical University, which had discriminated against women for more than a decade, was slightly higher than that of male applicants, figures released by the university have shown.
(Japan Times)
---