Three areas in Japan have announced that they will bid to host newly legalized casino resorts, after a law was passed to make this possible.
The city and prefecture of Osaka along with the prefectures of Wakayama and Nagasaki are hoping to be at the front of this casino revolution, whilst a number of other local governments are considering placing their hats in the ring too.
A forward-thinking approach to gambling
Until July 2018, gambling in Japan was an outlawed activity. Although exceptions were made for sports betting and some lotteries, the casino industry was essentially a none starter, but all that looks set to change.
Following last year's landmark decision to legalize casino gambling in the country, three areas have already put themselves forwards as would-be hosts for this newly legalized sector: the city and prefecture of Osaka, along with nearby Wakayama and Nagasaki.
Although some reservations remain with regards to the potential impact of a homegrown casino industry, many of the country's prefectures and major cities are seriously considering following in their footsteps, with a further six revealing that they're in the midst of ongoing discussions.
In a survey conducted by Kyodo News and covered here, nine of the 67 prefectures and major cities quizzed stated that they were either going to make applications, or seriously considering doing so - a fair number considering the revolutionary nature of these plans.
Osaka, Wakayama, and Nagasaki are the first to openly declare such intentions, but Nagoya is not far behind them, and has stated that it is currently looking for a suitable location.
Aiming to be operational by the 2020s
There are 47 prefectures and 20 major cities that are eligible to apply as hosts for the 'integrated resorts' planned by the government, which will include casinos, hotels, and conference rooms. The aim is to have these fully operational by the mid-2020s, with three initial locations on the cards.
Osaka, Wakayama, and Nagasaki have each stated their intentions to bid for these potentially lucrative contracts, stating that they believe the facilities will create numerous jobs and catalyze many positive economic benefits.
All three of these governments have already selected candidate sites, yet it seems they may soon have another competitor joining them in the ring: Nagoya, which has been open about its ongoing discussions on the subject.
Five further local governments – Tokyo, Hokkaido, Ibaraki, Chiba, and Yokohama - have also stated that they are considering the possibility of bidding, although their deliberations have not yet advanced beyond the research stage.
Given the ever-growing popularity of the gambling industry, it's unsurprising that so many potential candidates are emerging. With both the land-based and online casino sectors going from strength to strength, the market is flooded with providers, who are supported by the plentiful supply of consumers that are out there.
Indeed, those looking to play only have to visit a directory site like Bonus Source to understand the competitive nature of the market, with dozens of different casinos to try and promotional offers galore.
With the industry thriving all across the world, and an ever-increasing number of consumers to win over, it's practically a given that the bidding process will be fiercely contested, and that the number of entrants is only set to rise.
Aug 11
SoftBank Group on Tuesday reported a net profit of 1.25 trillion yen ($11.8 billion) in the April-June quarter thanks to the merger and sale of its stake in U.S. mobile carrier Sprint, marking a return to profit after suffering its worst ever loss in the previous quarter.
(Nikkei)
Aug 10
Despite uncertainties from COVID-19, top Japanese corporations plan to invest 15.8% more in information technology in fiscal 2020 to keep up the wave of digitization across industries.
(Nikkei)
Aug 10
Colorful kimono are synonymous with Tokyo summer celebrations but anti-coronavirus measures have put social gatherings off-limits and led struggling department stores to push the traditional Japanese outfits as a way to make a virtual fashion statement.
(Japan Times)
Aug 07
Official figures indicate that Japanese households may be recovering from the economic impact of COVID-19. Spending was down in June, but by a much smaller margin than the month before.
(NHK)
Aug 07
Japan's powerful business lobby, the Keidanren, is dominated by energy-intensive sectors that represent less than 10 percent of the economy, resulting in national policies that favour coal and hindering attempts to combat climate change, a new study said.
(aljazeera.com)
Aug 07
Toyota's profit plunged 74% in the last quarter as the coronavirus pandemic sank vehicle sales to about half of what the top Japanese automaker sold the previous year.
(krmg.com)
Aug 06
The average summer bonus at major Japanese companies this year dropped 2.17 percent from a year earlier to ¥901,147, a Japan Business Federation survey showed Wednesday.
(Japan Times)
Aug 06
Uber Technologies has begun to offer a food delivery subscription in Japan that replaces per-order fees, tapping into the growing demand from consumers holed up at home from the coronavirus.
(Nikkei)
Aug 05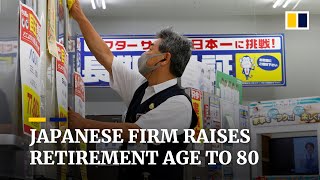 Japan's decision to offer an initial group of 87 companies subsidies totalling US$653 million to expand production at home and in Southeast Asia has sparked debate whether the world's third largest economy is trying to gradually decouple from China.
(scmp.com)
Aug 05
About 60 percent of people in the nation who developed cold-like symptoms during the first wave of the novel coronavirus pandemic, between February and May, went to work despite a request by the government for them not to do so, a recent survey has found.
(Japan Times)
---