The inflation outlook is looking dismal for the Bank of Japan as cheaper oil and falling mobile phone charges threaten to push price growth toward zero by mid-summer.
The Bloomberg Inflation Barometer, which draws on eight drivers of prices, points to a sharp slowing in the months ahead as lower oil costs feed their way into electricity bills. Over the past eight years the barometer has shown a 0.84 correlation with consumer prices six months into the future.
Mobile phone carriers could complicate the BOJ's quest to revive inflation as they come under political pressure to lower charges further. And making matters worse, free education measures planned by the government are already projected by the BOJ to shave another 0.3 percentage point from inflation later in the year.
Flat-lining of prices would heap pressure on the central bank to take action or justify its decision not to. Any softening in the yen, further wage gains or jump in oil prices could still help the BOJ stick to its view that temporary factors don't warrant an immediate response.
May 26
The Japanese government has lifted the state of emergency in the last five of the country's 47 prefectures.
(NHK)
May 26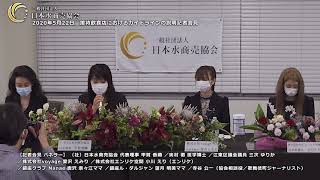 An association comprised of hostess clubs has issued guidelines for how clubs will operate once they reopen due to the lifting of the state of emergency caused by the novel coronavirus pandemic.
(tokyoreporter.com)
May 26
Tokyo Metropolitan Police arrested a man after allegedly trespassed onto the grounds of the Imperial Palace on Monday, reports Jiji Press (May 25).
(tokyoreporter.com)
May 26
A retired racehorse has escaped from a racetrack in Tokyo and was hit by a vehicle while running through a nearby intersection.
(NHK)
May 26
The government will carry out support measures to shore up demand in the travel and restaurant industries hit hard by the coronavirus pandemic, starting late July, sources said Monday.
(Japan Times)
May 26
An apparent suicide note written by Hana Kimura, the 22-year-old professional wrestler and cast member of the internationally popular Netflix reality show "Terrace House," was found at her Tokyo home in the wake of her death, investigative sources said Monday.
(Japan Times)
May 26
Japan's professional baseball teams will start the 2020 season on June 19 after a three-month delay due to the coronavirus outbreak.
(NHK)
May 26
One of Japan's major airlines plans to make the wearing of face masks compulsory as the industry shifts toward operating in a new coronavirus pandemic normal.
(Japan Times)
May 26
The number of foreign tourists staying at hotels in the normally thronging tourist destination of Kyoto plunged 89.5 percent in March from a year earlier amid the coronavirus pandemic, according to a recent survey.
(Japan Times)
May 26
Tokyo Metropolitan Police have arrested a 25-year-old male company employee for allegedly trespassing onto the premises of a female neighbor in Machida City, reports TV Asahi (May 25).
(tokyoreporter.com)
---