Controversial former sumo grand champion Futahaguro, who retired in the late 1980s after a rift with his manager, died last month at age 55, Japanese media said Saturday.
The wrestler, whose real name was Koji Kitao, was the only person in modern sumo history to have assumed the top sumo rank of yokozuna or grand champion without winning a tournament, thanks to his impressive athleticism and talent.
Standing two meters high and weighing 150 kilograms at the height of his career, Futahaguro quickly rose through the ranks and became a grand champion in 1986 at age 22.
But he earned a reputation as an undisciplined young man in the hierarchical, tradition-bound sumo world and had a rocky relationship with his stablemates.
Futahaguro did not win any of the eight tournaments that he competed in as a yokozuna.
He left the sumo world at age 24 after fleeing from his stable in 1987 -- an incident that prompted the sumo authority to enforce a rule for not promoting a wrestler to yokozuna until the person won multiple tournaments.
Oct 16
Authorities in Japan are still trying to get a handle on the extent of the damage after Typhoon Hagibis tore through the country. At least 74 people have been confirmed dead.
(NHK)
Oct 16
NHK has learned that more than 13,000 homes were flooded due to Typhon Hagibis which swept across Japan.
(NHK)
Oct 16
As a fuller picture of the damage from Typhoon Hagibis emerges, Japan faces weeks of delays in restoring some train service, but supply chains weathered the storm relatively well, attesting to the rise of disaster planning.
(Nikkei)
Oct 16
Japan manages a rare feat for a developed country when it comes to feeding its children -- high scores for nutrition but very low obesity rates. One major key? School lunches.
(Japan Today)
Oct 15
Tokyo, Kyoto and Osaka rank among the world's best 10 large cities -- with the Japanese capital topping the list for a fourth successive year -- according to U.S. luxury and lifestyle travel magazine Conde Nast Traveler.
(Japan Today)
Oct 14
A Tokyo Fire Department helicopter rescuing a 77-year-old woman in Iwaki, Fukushima Prefecture, who had been isolated because of flooding caused by Typhoon Hagibis, accidentally dropped her about 40 meters to the ground because her rescuers did not properly attach her to the rope when they were attempting to winch her to safety during the botched operation.
(Japan Times)
Oct 14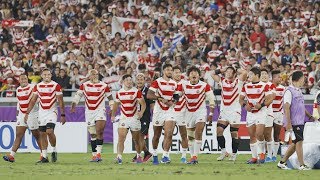 Japan captain Michael Leitch said Sunday's historic win over Scotland at the Rugby World Cup was the Brave Blossoms' way of helping the nation in the aftermath of Typhoon Hagibis and thanking those that helped put the game on.
(Kyodo)
Oct 14
Japan has canceled its first fleet review of the new Reiwa era as the Self-Defense Forces support areas of the country battered by Typhoon Hagibis.
(Nikkei)
Oct 12
In the month of October Japan celebrates "Sports Day" which is the anniversary of the 1964 Tokyo Olympics and a holiday to inspire exercise for all. Around this time, schools all over the country hold Sports Festivals where they take part in a variety of physical activities from dancing to relay races.
(soranews24.com)
Oct 11
Rugby World Cup organizers announced Thursday that two crucial pool games scheduled to take place on Saturday have been canceled to avoid the impact of a massive super typhoon set to hit the country.
(Japan Times)
---