Japanese authorities have recognized the October 2016 suicide of a man involved in satellite control operations at the Japan Aerospace Exploration Agency's Tsukuba Space Center as a work-related death, it was learned Wednesday.
The labor standards inspection office of Tsuchiura, Ibaraki Prefecture ruled on Tuesday that Yukinobu Sato's death was due to adjustment disorder caused by strong psychological stress from his work, the bereaved family told a news conference Wednesday.
Sato, then 31, was working on control operations for the greenhouse gas-observing satellite Ibuki at the space center in the eastern Japan prefecture. He took his own life at his home.
In October 2015, Sato was transferred from Tokyo-based system development firm Software Consultant Corp. to group company Space Engineering Development Co.
He was involved in the satellite control operations based on Space Engineering's contract with JAXA.
According to the bereaved family's lawyer, the Tsuchiura office recognized that Sato had been involved in software development, in addition to the control operations, and had too many quotas imposed on him.
The office also said that Sato had problems with his supervisor, who scolded him when he turned in an overtime work application.
Taking into account the major change in Sato's workload and work duties, the office decided that he was under strong mental stress.
人工衛星「いぶき」の管制業務を行っていた男性が過労死と認められました。 遺族によりますと、佐藤幸信さん(当時31)はJAXA(宇宙航空研究開発機構)の筑波宇宙センターで人工衛星「いぶき」の管制の請負業務を行っていましたが、2016年に自殺しました。
May 25
U.S. President Donald Trump is set to start a four-day state visit to Japan on Saturday, a historic event that will make him the first foreign leader to meet with new Emperor Naruhito.
(Kyodo)
May 25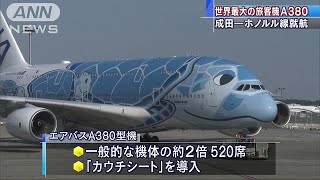 All Nippon Airways debuted flights of a double-decker Airbus A380 from Narita Airport north of Tokyo, bound for Hawaii on Friday.
(NHK)
May 24
The government will no longer use the term "lifelong singles" as a label for people who have not married by age 50, deeming the term inaccurate as Japanese are increasingly tying the knot later in life, officials said Thursday.
(Japan Today)
May 24
Many parts of Japan saw the mercury top 30 degrees Celsius on Thursday. Weather officials are warning of unseasonal high temperatures over the weekend.
(NHK)
May 24
Police in Japan are stepping up security for an upcoming visit by US President Donald Trump.
(NHK)
May 24
Japan's new supercomputer Fugaku is set to begin operations around 2021 with the country aiming to regain the title of building the world's fastest computer, replacing its current supercomputer K, government-backed research institute Riken said Thursday.
(Japan Times)
May 23
Kyoto Prefectural Police have arrested a 23-year-old male Australian national who is suspected of scrawling graffiti in dozens of locations in Kyoto City, reports Fuji News Network (May 22).
(tokyoreporter.com)
May 23
The International Olympic Committee says boxing is set to maintain its place in the 2020 Tokyo Games, but that the sport's international association should be excluded from organizing the events due to a number of problems.
(NHK)
May 22
Foreign Minister Taro Kono said Tuesday he plans to ask overseas media outlets to write Japanese names with the family name first, as is customary in the Japanese language.
(Kyodo)
May 22
Tokyo DisneySea has begun its largest expansion project ever.
(NHK)
---