Passengers on an exclusive cherry-blossom tour have ridden buses through a no-entry zone near the site of the 2011 Fukushima nuclear disaster.
Tomioka Town in Fukushima Prefecture is renowned for its two-kilometer stretch of about 400 cherry trees.
They are located in a part of the town that remains off-limits to the public due to high levels of radiation.
On Saturday,10 buses entered the zone for the day.
They drove through a pink tunnel formed by the arching branches.
福島県富岡町の原発事故の後の帰還困難区域になっていた桜並木が町民からの要望を受けて初めて公開されました。 約2.2キロに460本のソメイヨシノがある富岡町夜の森地区の桜並木は原発事故の後、そのほとんどが帰還困難区域に入り、立ち入りが制限されています。
May 25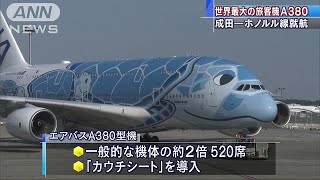 All Nippon Airways debuted flights of a double-decker Airbus A380 from Narita Airport north of Tokyo, bound for Hawaii on Friday.
(NHK)
May 24
Many parts of Japan saw the mercury top 30 degrees Celsius on Thursday. Weather officials are warning of unseasonal high temperatures over the weekend.
(NHK)
May 23
Kyoto Prefectural Police have arrested a 23-year-old male Australian national who is suspected of scrawling graffiti in dozens of locations in Kyoto City, reports Fuji News Network (May 22).
(tokyoreporter.com)
May 23
The International Olympic Committee says boxing is set to maintain its place in the 2020 Tokyo Games, but that the sport's international association should be excluded from organizing the events due to a number of problems.
(NHK)
May 23
Junnosuke Taguchi, a former member of Japanese boy band KAT-TUN, was arrested Wednesday on suspicion of possessing marijuana, the Narcotics Control Department said.
(Japan Times)
May 22
Tokyo DisneySea has begun its largest expansion project ever.
(NHK)
May 22
A Japanese government committee has decided on the route of a parade scheduled for October to celebrate the enthronement of Emperor Naruhito.
(NHK)
May 22
The Supreme Court and other legal professionals in Japan have hosted a symposium to mark the tenth anniversary of the introduction of the country's lay judge system.
(NHK)
May 21
Japanese Emperor Naruhito transplanted rice seedlings in a paddy at the Imperial Palace in Tokyo on Monday.
(NHK)
May 21
A 24-year-old man was arrested Monday on suspicion of threatening to kill a member of a sister group of the popular girl band AKB48, police said.
(Japan Today)
---