The bridge connecting Kansai International Airport, on an artificial island in Osaka Bay, with the mainland, was fully reopened Monday with all six inbound and outbound lanes functional following months of repairs after it was hit by a tanker ship during a typhoon in September 2018.
Typhoon Jebi had flooded a terminal and a runway at the region's major international gateway, and caused a tanker to smash into the bridge, causing extensive damage and stranding thousands of people at the airport. The full reopening had been expected to take more than a year but was cut to seven months as work was completed ahead of schedule, in time for the start of the Golden Week vacation.
去年、台風21号の影響でタンカーが衝突した関西空港の連絡橋が約7カ月ぶりに完全復旧しました。 去年9月、台風21号による強風で関西空港の連絡橋にタンカーが衝突して大きく損傷しました。連絡橋は関空と対岸とをつなぐ唯一の陸路で、一時、8000人が空港内に取り残されました。
May 25
U.S. President Donald Trump is set to start a four-day state visit to Japan on Saturday, a historic event that will make him the first foreign leader to meet with new Emperor Naruhito.
(Kyodo)
May 25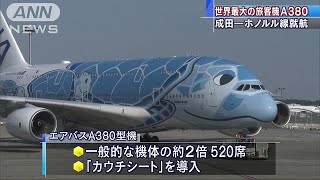 All Nippon Airways debuted flights of a double-decker Airbus A380 from Narita Airport north of Tokyo, bound for Hawaii on Friday.
(NHK)
May 24
The government will no longer use the term "lifelong singles" as a label for people who have not married by age 50, deeming the term inaccurate as Japanese are increasingly tying the knot later in life, officials said Thursday.
(Japan Today)
May 24
Many parts of Japan saw the mercury top 30 degrees Celsius on Thursday. Weather officials are warning of unseasonal high temperatures over the weekend.
(NHK)
May 24
Police in Japan are stepping up security for an upcoming visit by US President Donald Trump.
(NHK)
May 24
Japan's new supercomputer Fugaku is set to begin operations around 2021 with the country aiming to regain the title of building the world's fastest computer, replacing its current supercomputer K, government-backed research institute Riken said Thursday.
(Japan Times)
May 23
Kyoto Prefectural Police have arrested a 23-year-old male Australian national who is suspected of scrawling graffiti in dozens of locations in Kyoto City, reports Fuji News Network (May 22).
(tokyoreporter.com)
May 23
The International Olympic Committee says boxing is set to maintain its place in the 2020 Tokyo Games, but that the sport's international association should be excluded from organizing the events due to a number of problems.
(NHK)
May 22
Foreign Minister Taro Kono said Tuesday he plans to ask overseas media outlets to write Japanese names with the family name first, as is customary in the Japanese language.
(Kyodo)
May 22
Tokyo DisneySea has begun its largest expansion project ever.
(NHK)
---