Police in Tokyo said Sunday they have arrested Naoya Urata, lead singer of the six-member pop group AAA, on suspicion of assault.
Urata, 36, is accused of assaulting the 20-year-old woman by slapping her face outside a convenience store in Tokyo's Chuo Ward at around 5 a.m. on Friday, Fuji TV reported.
Urata has denied the charge, saying he was drunk at the time and doesn't remember anything, police said.
According to police, Urata asked the woman, whom he did not know, if she would like to go for a drink with him. He told her: "I am AAA," police said. When the woman declined his offer, Urata allegedly slapped her face with his open hand and left.
After the incident, the woman notified police who identified Urata from surveillance camera footage and eyewitness accounts.
Urata, who was released on bail Sunday, appeared at a news conference in the afternoon. Wearing a black suit, he bowed deeply and said he was sorry for any trouble he had caused. He said that before the incident, he had been drinking wine and whisky with friends until about 4 a.m. He said he could not remember the incident.
女性の頬を平手打ちしたとして逮捕された人気音楽グループ「AAA」のリーダー・浦田直也さん(36)が21日午後5時20分ごろに釈放されました。 浦田さんは19日、東京・中央区のコンビニ店で面識のない20代の女性の頬を平手打ちした暴行の疑いで逮捕されました。
Nov 14
Japan's space agency says its probe is on its way back to Earth after leaving the asteroid, Ryugu.
(NHK)
Nov 14
Chief Cabinet Secretary Yoshihide Suga says the government will not hold a cherry blossom-viewing party next year, which is hosted every April by the prime minister.
(NHK)
Nov 14
NHK has learned that a boy who was arrested for allegedly wounding a girl with a knife in northern Japan has suggested he was interested in killing someone.
(NHK)
Nov 14
Japanese immigration authorities say 219 foreigners were staying in Japan as of the end of September after acquiring a new type of work visa for people with vocational skills.
(NHK)
Nov 12
One month has passed since record rain brought by a strong typhoon caused extensive damage in much of Japan.
(NHK)
Nov 12
Two days after he fled in Osaka Prefecture, prosecutors on Monday caught a man indicted on drug charges who escaped while being transferred to police custody after his bail was revoked.
(Japan Times)
Nov 12
On Thursday evening, Emperor Naruhito will dress in pure white robes and be ushered into a dark wooden hall for his last major enthronement rite: spending the night with a "goddess."
(Japan Today)
Nov 11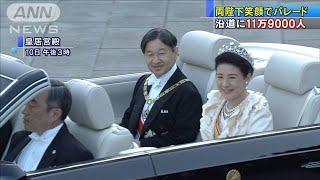 Japan's new Emperor and Empress enthralled people in Tokyo and around the nation with a lavish procession through the streets of the capital.
(NHK)
Nov 10
The suspect in a deadly arson attack in July on a Kyoto Animation Co studio has been questioned by police for the first time as he recovers from severe burns, investigative sources said Saturday.
(Japan Today)
Nov 09
Mt Sakurajima volcano shot smoke and ash miles into the sky on Friday in its biggest eruption in more than three years, Kyodo News reported.
(Japan Today)
---