Emperor Akihito and Empress Michiko have visited the Mausoleum of Emperor Showa in western Tokyo to report his abdication on April 30.
The couple waved to well-wishers as they left the Imperial Palace on Tuesday morning.
In Hachioji City, they were welcomed by crowds along the route. The couple arrived at the Musashino Mausoleum before noon.
The Emperor, in a morning suit, walked up to the altar led by a senior Imperial Household Agency official. He offered a sacred sprig and made a deep bow. The Empress, in a long gray dress, followed suit.
The Emperor and Empress visited the Musashino Mausoleum in December 1990 to report his accession to the throne.
天皇陛下の退位まで残り1週間となった23日、天皇皇后両陛下が昭和天皇の陵墓を参拝された。皇居の外での儀式としてはこれが最後となる。 午前11時半すぎ、武蔵陵墓地へ到着された天皇陛下。昭和天皇に4月30日の退位を報告し玉串を捧げられた。
Nov 14
Japan's space agency says its probe is on its way back to Earth after leaving the asteroid, Ryugu.
(NHK)
Nov 14
Chief Cabinet Secretary Yoshihide Suga says the government will not hold a cherry blossom-viewing party next year, which is hosted every April by the prime minister.
(NHK)
Nov 14
NHK has learned that a boy who was arrested for allegedly wounding a girl with a knife in northern Japan has suggested he was interested in killing someone.
(NHK)
Nov 14
Japanese immigration authorities say 219 foreigners were staying in Japan as of the end of September after acquiring a new type of work visa for people with vocational skills.
(NHK)
Nov 12
One month has passed since record rain brought by a strong typhoon caused extensive damage in much of Japan.
(NHK)
Nov 12
Two days after he fled in Osaka Prefecture, prosecutors on Monday caught a man indicted on drug charges who escaped while being transferred to police custody after his bail was revoked.
(Japan Times)
Nov 12
On Thursday evening, Emperor Naruhito will dress in pure white robes and be ushered into a dark wooden hall for his last major enthronement rite: spending the night with a "goddess."
(Japan Today)
Nov 11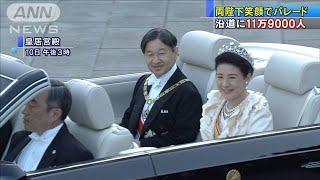 Japan's new Emperor and Empress enthralled people in Tokyo and around the nation with a lavish procession through the streets of the capital.
(NHK)
Nov 10
The suspect in a deadly arson attack in July on a Kyoto Animation Co studio has been questioned by police for the first time as he recovers from severe burns, investigative sources said Saturday.
(Japan Today)
Nov 09
Mt Sakurajima volcano shot smoke and ash miles into the sky on Friday in its biggest eruption in more than three years, Kyodo News reported.
(Japan Today)
---