Former Nissan Motor Chairman Carlos Ghosn walked out of jail on Thursday night after the Tokyo District Court rejected an appeal by prosecutors to reverse its decision to grant bail.
Local television showed Ghosn, who was arrested for the fourth time in early April, leaving the building in a suit and white shirt before climbing into a black car.
His posture was a stark contrast to that of his previous release in early March, when he wore gray work clothes, a blue cap and a mask. One of his lawyers had acknowledged that the plot, intended to disguise Ghosn, had been a failure.
As one of the conditions of the bail granted earlier on Thursday, Ghosn has been separated from his wife.
The Brazilian-born tycoon is barred from contacting Carole Ghosn unless he notifies the court of the time and place he intends to speak to her. The condition was set because the latest allegation involves suspicions of an indirect transfer of Nissan funds to a company where she is president. Carole Ghosn was questioned as a witness in the investigation but not charged.
"I am grateful that bail has been granted," Ghosn said in a statement after his release. However, "restricting communications and contact between my wife and me is cruel and unnecessary," he added, maintaining that he is innocent and that he is committed to "vigorously defending [himself] against these meritless and unsubstantiated accusations."
The decision to limit Ghosn's contact with his wife is expected to spark a new wave of criticism over the workings of Japanese justice. Ghosn's first detention on previous charges lasted 108 days, during which he was barred from contact with his family for two months. "This is a huge human rights issue," said Takashi Takano, one of Ghosn's defense lawyers.
His release will allow his defense team to better prepare for trial on a string of allegations of financial misconduct. The latest charge brought by prosecutors earlier this month is expected to delay the scheduled September start date.
特別背任の罪で追起訴された日産自動車の前会長、カルロス・ゴーン被告(65)が25日夜に保釈されました。 特別背任の罪で22日に追起訴されたゴーン被告を巡っては、25日に東京地裁が保釈保証金5億円で保釈を認める決定をし、ゴーン被告側は保証金を納めました。
Sep 21
Toyota Motor has unveiled the first yacht under its Lexus luxury brand, with a 450 million yen ($4.17 million) price tag in Japan that aims it squarely at the super-rich.
(Nikkei)
Sep 20
A Japanese district court has found all three former executives of Tokyo Electric Power Company not guilty in the only criminal prosecution stemming from the 2011 nuclear disaster in Fukushima.
(NHK)
Sep 20
E-commerce giant Amazon Japan has announced it will launch a locker delivery service called Amazon Hub at the major convenience store chain FamilyMart and train stations along the Odakyu line.
(Japan Today)
Sep 18
Toyota Motor Corp. rolled out a new model of the Corolla on Tuesday, making it the first fully redesigned sedan in about seven years.
(Kyodo)
Sep 18
The Japanese government is considering tighter restrictions on foreign investment in industries it sees as key to national security, such as nuclear power and chipmaking.
(Nikkei)
Sep 13
Yahoo Japan's acquisition of online fashion retailer Zozo presents an opportunity for the venerable internet services company to bring fresh blood into its e-commerce audience as the business looks to step outside the shadow of Amazon.com and Rakuten.
(Nikkei)
Sep 11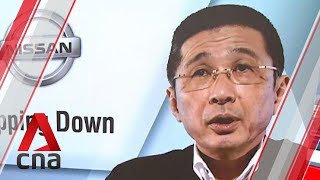 In Japan, is there one standard of justice for Japanese executives and another for non-Japanese executives? The forced resignation on Monday of Nissan Motor Co.'s chief executive officer, Hiroto Saikawa, certainly seems to suggest as much.
(Bloomberg)
Sep 11
Japan's real gross domestic product retreated 0.5% in July compared with the previous month as rising imports led to negative external demand, the Japan Center for Economic Research reported Wednesday.
(Nikkei)
Sep 10
The month between World Suicide Prevention Day on September 10 and World Mental Health Day on October 10 is a good time to start considering the under-discussed topics of anxiety, depression and suicide in our society, especially as they relate to the workplace.
(Nikkei)
Sep 10
Nissan Chief Executive Hiroto Saikawa tendered his resignation Monday after acknowledging that he had received dubious income and vowed to pass the leadership of the Japanese automaker to a new generation.
(Japan Today)
---