Former Nissan Motor Chairman Carlos Ghosn walked out of jail on Thursday night after the Tokyo District Court rejected an appeal by prosecutors to reverse its decision to grant bail.
Local television showed Ghosn, who was arrested for the fourth time in early April, leaving the building in a suit and white shirt before climbing into a black car.
His posture was a stark contrast to that of his previous release in early March, when he wore gray work clothes, a blue cap and a mask. One of his lawyers had acknowledged that the plot, intended to disguise Ghosn, had been a failure.
As one of the conditions of the bail granted earlier on Thursday, Ghosn has been separated from his wife.
The Brazilian-born tycoon is barred from contacting Carole Ghosn unless he notifies the court of the time and place he intends to speak to her. The condition was set because the latest allegation involves suspicions of an indirect transfer of Nissan funds to a company where she is president. Carole Ghosn was questioned as a witness in the investigation but not charged.
"I am grateful that bail has been granted," Ghosn said in a statement after his release. However, "restricting communications and contact between my wife and me is cruel and unnecessary," he added, maintaining that he is innocent and that he is committed to "vigorously defending [himself] against these meritless and unsubstantiated accusations."
The decision to limit Ghosn's contact with his wife is expected to spark a new wave of criticism over the workings of Japanese justice. Ghosn's first detention on previous charges lasted 108 days, during which he was barred from contact with his family for two months. "This is a huge human rights issue," said Takashi Takano, one of Ghosn's defense lawyers.
His release will allow his defense team to better prepare for trial on a string of allegations of financial misconduct. The latest charge brought by prosecutors earlier this month is expected to delay the scheduled September start date.
特別背任の罪で追起訴された日産自動車の前会長、カルロス・ゴーン被告(65)が25日夜に保釈されました。 特別背任の罪で22日に追起訴されたゴーン被告を巡っては、25日に東京地裁が保釈保証金5億円で保釈を認める決定をし、ゴーン被告側は保証金を納めました。
Aug 11
SoftBank Group on Tuesday reported a net profit of 1.25 trillion yen ($11.8 billion) in the April-June quarter thanks to the merger and sale of its stake in U.S. mobile carrier Sprint, marking a return to profit after suffering its worst ever loss in the previous quarter.
(Nikkei)
Aug 10
Despite uncertainties from COVID-19, top Japanese corporations plan to invest 15.8% more in information technology in fiscal 2020 to keep up the wave of digitization across industries.
(Nikkei)
Aug 10
Colorful kimono are synonymous with Tokyo summer celebrations but anti-coronavirus measures have put social gatherings off-limits and led struggling department stores to push the traditional Japanese outfits as a way to make a virtual fashion statement.
(Japan Times)
Aug 07
Official figures indicate that Japanese households may be recovering from the economic impact of COVID-19. Spending was down in June, but by a much smaller margin than the month before.
(NHK)
Aug 07
Japan's powerful business lobby, the Keidanren, is dominated by energy-intensive sectors that represent less than 10 percent of the economy, resulting in national policies that favour coal and hindering attempts to combat climate change, a new study said.
(aljazeera.com)
Aug 07
Toyota's profit plunged 74% in the last quarter as the coronavirus pandemic sank vehicle sales to about half of what the top Japanese automaker sold the previous year.
(krmg.com)
Aug 06
The average summer bonus at major Japanese companies this year dropped 2.17 percent from a year earlier to ¥901,147, a Japan Business Federation survey showed Wednesday.
(Japan Times)
Aug 06
Uber Technologies has begun to offer a food delivery subscription in Japan that replaces per-order fees, tapping into the growing demand from consumers holed up at home from the coronavirus.
(Nikkei)
Aug 05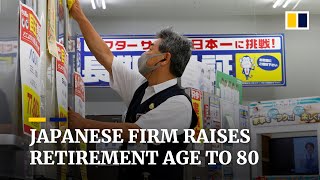 Japan's decision to offer an initial group of 87 companies subsidies totalling US$653 million to expand production at home and in Southeast Asia has sparked debate whether the world's third largest economy is trying to gradually decouple from China.
(scmp.com)
Aug 05
About 60 percent of people in the nation who developed cold-like symptoms during the first wave of the novel coronavirus pandemic, between February and May, went to work despite a request by the government for them not to do so, a recent survey has found.
(Japan Times)
---