A woman in her 70s drove her car onto the train tracks in Nakano Ward, Tokyo, on Saturday night.
According to police, the woman came to a crossing on the Seibu Shinjuku Line between Numabukuro and Nogata stations at around 10:15 p.m. and then turned her car onto the tracks and drove east, Fuji TV reported.
She drove for about 100 meters before stopping. The driver of an oncoming train spotted the car and applied the emergency brake, stopping the train about 10 meters in front of the car.
Nobody was hurt, police said.
The woman, who lives in Matsudo, Chiba Prefecture, told police she was on her way home when she got lost and became confused when she got on the crossing. The right front tire on her car suffered a puncture on the train tracks and she was unable to move the vehicle.
27日夜、東京・中野区で西武新宿線の線路内に70代女性の運転する車が誤って侵入しました。走行していた電車は車の10メートル手前で緊急停止しました。 午後10時15分ごろ、西武新宿線の沼袋駅と野方駅の間で運転士が線路内に止まっている車を見つけ、電車を緊急停止させました。
Nov 14
Japan's space agency says its probe is on its way back to Earth after leaving the asteroid, Ryugu.
(NHK)
Nov 14
Chief Cabinet Secretary Yoshihide Suga says the government will not hold a cherry blossom-viewing party next year, which is hosted every April by the prime minister.
(NHK)
Nov 14
NHK has learned that a boy who was arrested for allegedly wounding a girl with a knife in northern Japan has suggested he was interested in killing someone.
(NHK)
Nov 14
Japanese immigration authorities say 219 foreigners were staying in Japan as of the end of September after acquiring a new type of work visa for people with vocational skills.
(NHK)
Nov 12
One month has passed since record rain brought by a strong typhoon caused extensive damage in much of Japan.
(NHK)
Nov 12
Two days after he fled in Osaka Prefecture, prosecutors on Monday caught a man indicted on drug charges who escaped while being transferred to police custody after his bail was revoked.
(Japan Times)
Nov 12
On Thursday evening, Emperor Naruhito will dress in pure white robes and be ushered into a dark wooden hall for his last major enthronement rite: spending the night with a "goddess."
(Japan Today)
Nov 11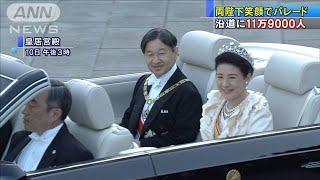 Japan's new Emperor and Empress enthralled people in Tokyo and around the nation with a lavish procession through the streets of the capital.
(NHK)
Nov 10
The suspect in a deadly arson attack in July on a Kyoto Animation Co studio has been questioned by police for the first time as he recovers from severe burns, investigative sources said Saturday.
(Japan Today)
Nov 09
Mt Sakurajima volcano shot smoke and ash miles into the sky on Friday in its biggest eruption in more than three years, Kyodo News reported.
(Japan Today)
---