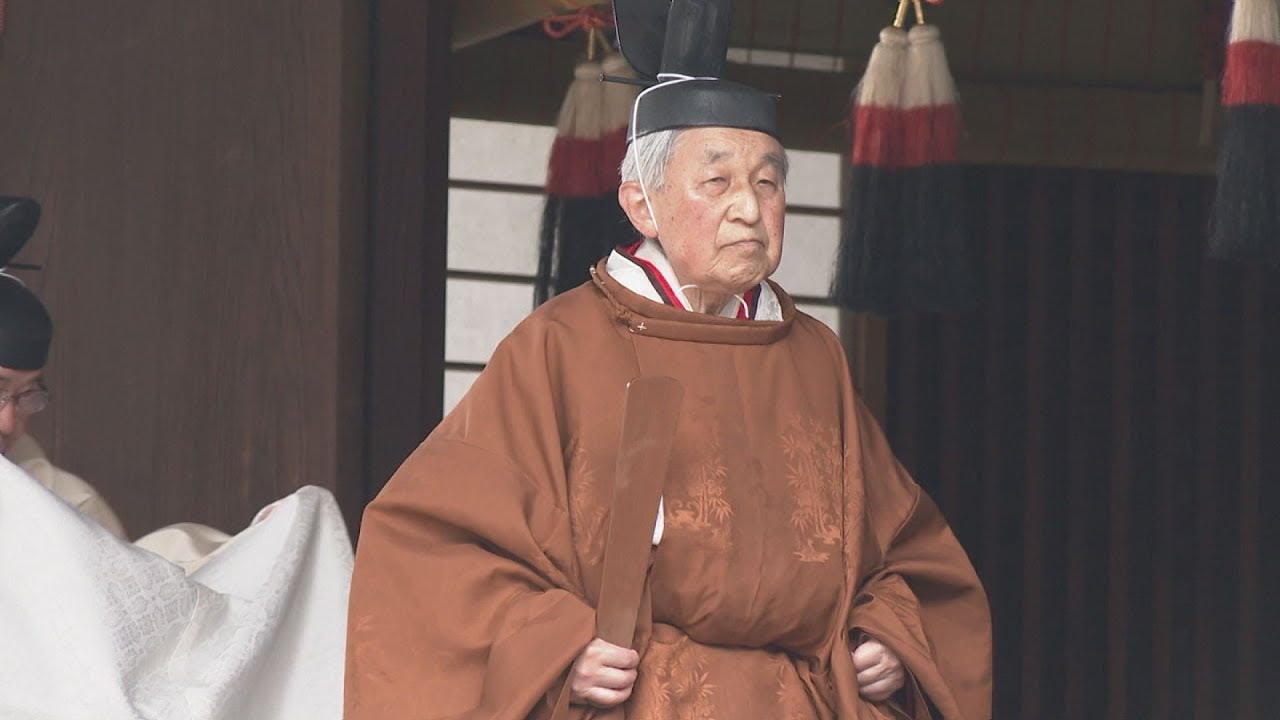 Emperor Akihito is set to abdicate, bringing the three-decade-long Heisei era to a close. A ceremony to mark the occasion was held at the Imperial Palace.
Prime Minister Shinzo Abe spoke on behalf of the people of Japan.
Abe said, "On this day of Your Majesty's abdication, we look back on the years during which Your Majesty has always stood by the people to share their joys and sorrows -- and we renew our deep respect and gratitude for Your Majesty."
The Prime Minister said, "We will keep in our minds the steps Your Majesty has taken to this point and continue to do our utmost to make Japan a country which is peaceful, full of hope, and one we can be proud of. We sincerely hope for the long and healthy lives of Your Majesties the Emperor and Empress."
Emperor Akihito then gave his last speech to the people in his current role.
The Emperor said, "Today, I am concluding my duties as the Emperor. I would like to offer my deep gratitude to the words just spoken by Prime Minister Shinzo Abe on behalf of the people of Japan."
The Emperor said, "Since ascending the throne 30 years ago, I have performed my duties as the Emperor with a deep sense of trust in and respect for the people, and I consider myself most fortunate to have been able to do so. I sincerely thank the people who accepted and supported me in my role as the symbol of the State."
The Emperor said, "I sincerely wish, together with the Empress, that the Reiwa era, which begins tomorrow, will be a stable and fruitful one, and I pray, with all my heart, for peace and happiness for all the people in Japan and around the world."
This is the first time in over 200 years that a living Emperor will abdicate. As the ceremony ended, the Emperor turned back to the audience and bowed.
Three years ago, Emperor Akihito expressed concern his advanced age could make it difficult to continue carrying out his duties. The Diet enacted a law to specifically allow him to step down.
He was the first to be enthroned under the post-war Constitution that defines the Emperor's role as a "symbol of the State."
His son, Crown Prince Naruhito will ascend the throne at the start of Wednesday. He'll be the 126th Emperor of Japan.
退位礼正殿の儀における天皇陛下のおことば 今日をもち、天皇としての務めを終えることになりました。 ただ今、国民を代表して、安倍内閣総理大臣の述べられた言葉に、深く謝意を表します。
May 20
Officials of Japan's southwestern island town of Yakushima say all the people stranded on a mountain have descended by Sunday evening.
(NHK)
May 20
Japanese seismologists believe that nearly 99 percent of their predictions related to massive earthquakes in the Pacific off central and western Japan are likely to prove wrong, a survey conducted by Kansai University showed Sunday.
(Kyodo)
May 20
In recent years, we've heard a number of disturbing accounts involving teachers hitting students at Japanese schools, and this week, another disturbing case came to light, when a foreign English-language instructor was seen slapping a two-year-old child during a class at a child daycare facility.
(Japan Today)
May 20
Police in Hidaka town, Hokkaido, have arrested a 29-year-old man on suspicion of attempted murder after he shot his father with an arrow from a crossbow.
(Japan Today)
May 20
Japanese Prime Minister Shinzo Abe and U.S. President Donald Trump are expected to sign an agreement on joint lunar exploration and other space-related projects when they meet here May 27, seeking to stay a step ahead of China and other rivals.
(Nikkei)
May 18
Japan is ready to mine Mars' largest moon after successfully completing all of the compulsory "space contamination" paperwork.
(nypost.com)
May 17
A report released by a global union federation has demanded better conditions for laborers working on the construction of Tokyo Games facilities after several "alarming" alleged labor violations were uncovered.
(Japan Today)
May 17
Japan's Hayabusa2 probe has aborted its descent to asteroid Ryugu after it reached around 50 meters above the surface. The probe was supposed to drop a marker on the asteroid to prepare for another landing.
(NHK)
May 17
The government said Thursday it plans to reduce the number of dementia patients in their 70s by 10 percent over the next decade, setting the first such numerical goal to curb growing welfare spending at a time when the Japanese population is rapidly aging.
(Japan Today)
May 17
A major red light district in Osaka will be closed during the Group of 20 summit in late June, the first such decision in 30 years, the local restaurant association said Thursday.
(Japan Today)
---