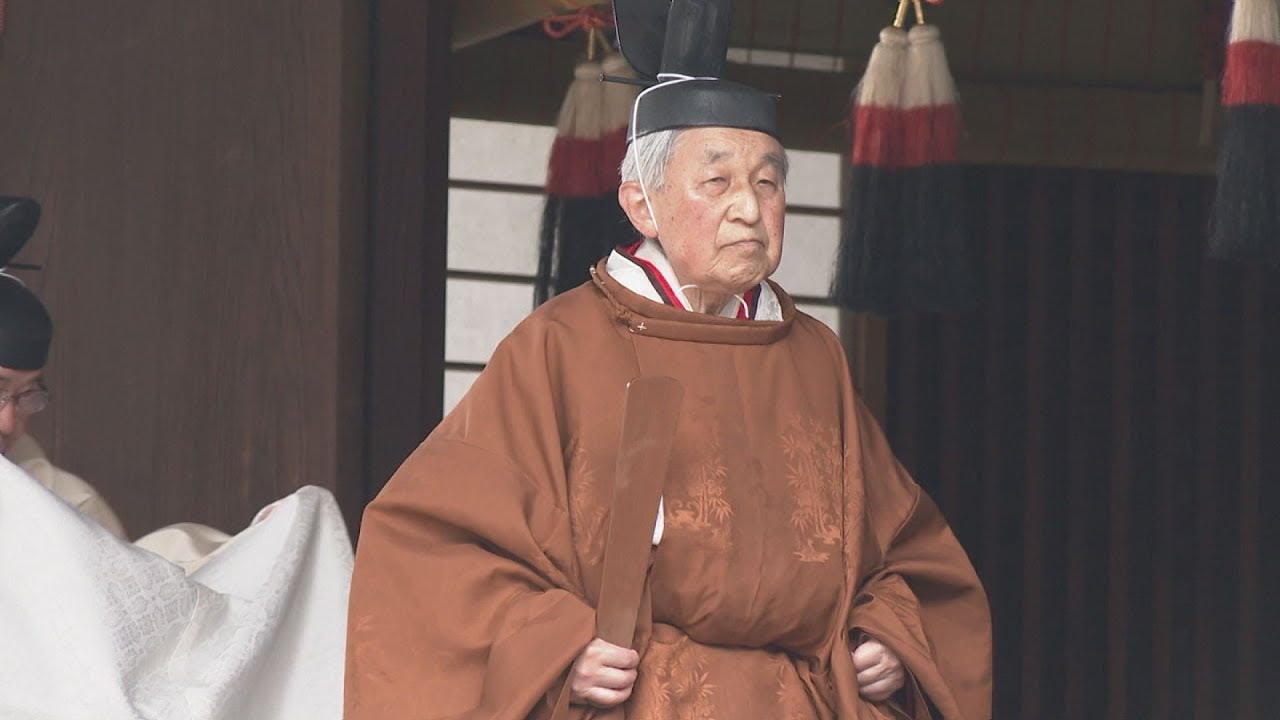 Emperor Akihito is set to abdicate, bringing the three-decade-long Heisei era to a close. A ceremony to mark the occasion was held at the Imperial Palace.
Prime Minister Shinzo Abe spoke on behalf of the people of Japan.
Abe said, "On this day of Your Majesty's abdication, we look back on the years during which Your Majesty has always stood by the people to share their joys and sorrows -- and we renew our deep respect and gratitude for Your Majesty."
The Prime Minister said, "We will keep in our minds the steps Your Majesty has taken to this point and continue to do our utmost to make Japan a country which is peaceful, full of hope, and one we can be proud of. We sincerely hope for the long and healthy lives of Your Majesties the Emperor and Empress."
Emperor Akihito then gave his last speech to the people in his current role.
The Emperor said, "Today, I am concluding my duties as the Emperor. I would like to offer my deep gratitude to the words just spoken by Prime Minister Shinzo Abe on behalf of the people of Japan."
The Emperor said, "Since ascending the throne 30 years ago, I have performed my duties as the Emperor with a deep sense of trust in and respect for the people, and I consider myself most fortunate to have been able to do so. I sincerely thank the people who accepted and supported me in my role as the symbol of the State."
The Emperor said, "I sincerely wish, together with the Empress, that the Reiwa era, which begins tomorrow, will be a stable and fruitful one, and I pray, with all my heart, for peace and happiness for all the people in Japan and around the world."
This is the first time in over 200 years that a living Emperor will abdicate. As the ceremony ended, the Emperor turned back to the audience and bowed.
Three years ago, Emperor Akihito expressed concern his advanced age could make it difficult to continue carrying out his duties. The Diet enacted a law to specifically allow him to step down.
He was the first to be enthroned under the post-war Constitution that defines the Emperor's role as a "symbol of the State."
His son, Crown Prince Naruhito will ascend the throne at the start of Wednesday. He'll be the 126th Emperor of Japan.
退位礼正殿の儀における天皇陛下のおことば 今日をもち、天皇としての務めを終えることになりました。 ただ今、国民を代表して、安倍内閣総理大臣の述べられた言葉に、深く謝意を表します。
Jul 18
Police have confirmed 25 people have died in a suspected arson attack in Kyoto. They say 36 others were injured and five others are still unaccounted for.
(NHK)
Jul 18
Johnny and Associates Inc., one of the most powerful talent agencies in Japan, is suspected of having pressured commercial broadcasting television stations to stop inviting three former members of popular boy band SMAP on their shows after they left the office in 2017, sources familiar with the matter said Wednesday.
(Kyodo)
Jul 18
A Japanese policeman stabbed another officer by mistake during training when he used a real knife instead of a replica.
(NHK)
Jul 18
Tokyo DisneySea will launch a new flight simulator attraction Tuesday that promises to make visitors feel as if they are soaring over famous landmarks such as the Great Wall of China and the Egyptian pyramids.
(Japan Times)
Jul 17
School-related matters led to more suicides last year among youth aged between 10 and 19 than any other issue, the government said Tuesday in its annual paper on the topic.
(Japan Times)
Jul 17
Over two weeks of cloudy and rainy days in Tokyo and nearby areas has resulted in higher vegetable prices and sluggish sales of summer clothing.
(Japan Times)
Jul 17
Former Emperor Akihito briefly suffered from cerebral anemia last week, forcing him to postpone his regular health checkup, the Imperial Household Agency said Tuesday.
(Japan Today)
Jul 17
Toyota Motor Corp. and Japan's space exploration agency said Tuesday they have signed a three-year agreement to jointly research and develop a rover to be sent to the Moon in 2029.
(Kyodo)
Jul 16
The Tokyo metropolitan region experienced another cloudy and rainy day on Monday, marking the 18th straight day in which the country's capital has seen less than three hours of sunshine per day.
(Japan Today)
Jul 16
The sounds of chanting men carrying huge, decorated floats signaled the climax of the Hakata Gion Yamakasa festival. Each float weighs more than one ton.
(NHK)
---