Prime Minister Shinzo Abe said Friday he maintains his goal of Constitution by 2020 as the country marked the 72th anniversary of the supreme law coming into force.
"My thoughts haven't changed," Abe said in a video message shown at a pro-amendment rally in Tokyo, touching on a proposal he made at the same rally in 2017 to put into force a new supreme law by 2020 through rewriting the war-renouncing Article 9.
He reiterated his view that Article 9 should be revised by adding an explicit reference to the Self-Defense Forces, with the aim of bringing an "end to the debate over the constitutionality" of Japanese troops.
"I will create an environment in which all SDF members can carry out their missions with great pride," Abe said in the video message.
Article 9, which when read literally, prohibits Japan from possessing military forces and other "war potential," has greatly complicated the status of the SDF. To ensure consistency, the government frames the SDF as an entity different from ordinary militaries, with use of force strictly limited to self-defense.
Abe is apparently eager to leave a legacy, having said his current third term as ruling Liberal Democratic Party president through September 2021 will be his last. He cannot serve four consecutive terms without a change to party rules.
The video message released Friday could be seen as part of his efforts to reassure conservative supporters at a time when talks on the issue have shown no progress in the parliament.
憲法改正への意欲は失っていないようだ。 新天皇の即位に伴う行事などを終えて休暇中の安倍総理大臣。3日は学生時代の友人らとゴルフを楽しんだ。その安倍総理のビデオメッセージが憲法改正に関するフォーラムで公開された。
Nov 14
Japan's space agency says its probe is on its way back to Earth after leaving the asteroid, Ryugu.
(NHK)
Nov 14
Chief Cabinet Secretary Yoshihide Suga says the government will not hold a cherry blossom-viewing party next year, which is hosted every April by the prime minister.
(NHK)
Nov 14
NHK has learned that a boy who was arrested for allegedly wounding a girl with a knife in northern Japan has suggested he was interested in killing someone.
(NHK)
Nov 14
Japanese immigration authorities say 219 foreigners were staying in Japan as of the end of September after acquiring a new type of work visa for people with vocational skills.
(NHK)
Nov 12
One month has passed since record rain brought by a strong typhoon caused extensive damage in much of Japan.
(NHK)
Nov 12
Two days after he fled in Osaka Prefecture, prosecutors on Monday caught a man indicted on drug charges who escaped while being transferred to police custody after his bail was revoked.
(Japan Times)
Nov 12
On Thursday evening, Emperor Naruhito will dress in pure white robes and be ushered into a dark wooden hall for his last major enthronement rite: spending the night with a "goddess."
(Japan Today)
Nov 11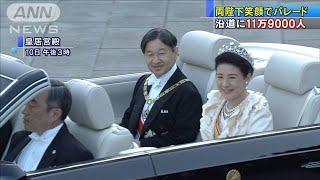 Japan's new Emperor and Empress enthralled people in Tokyo and around the nation with a lavish procession through the streets of the capital.
(NHK)
Nov 10
The suspect in a deadly arson attack in July on a Kyoto Animation Co studio has been questioned by police for the first time as he recovers from severe burns, investigative sources said Saturday.
(Japan Today)
Nov 09
Mt Sakurajima volcano shot smoke and ash miles into the sky on Friday in its biggest eruption in more than three years, Kyodo News reported.
(Japan Today)
---