The rush of travelers returning to Tokyo from the extra-long Golden Week holiday grew Sunday, with traffic jams over 30 km long seen on some parts of expressways, and major airports and railway stations reporting massive crowds.
With people returning to work on Tuesday after the unprecedented 10-day national holiday, bullet trains were full of passengers.
Japan Road Traffic Information Center reported traffic jams of more than 30 km around the Takasaka rest area in Saitama Prefecture, and 20 km around Joban Kashiwa interchange in Chiba Prefecture.
This year's holiday was specially extended to 10 days to celebrate the imperial succession. Emperor Naruhito ascended to the Chrysanthemum Throne on Wednesday, a day after his 85-year-old father became the first Japanese monarch in 202 years to abdicate.
連休を行楽地などで過ごした人たちのUターンラッシュは5日にピークを迎えています。 現在の中央道元八王子バス停付近の映像です。車の量はそれほど多くありません。現時点で目立った渋滞はないということです。渋滞は夕方から各高速道路の上りで起こる見通しです。
Nov 14
Japan's space agency says its probe is on its way back to Earth after leaving the asteroid, Ryugu.
(NHK)
Nov 14
Chief Cabinet Secretary Yoshihide Suga says the government will not hold a cherry blossom-viewing party next year, which is hosted every April by the prime minister.
(NHK)
Nov 14
NHK has learned that a boy who was arrested for allegedly wounding a girl with a knife in northern Japan has suggested he was interested in killing someone.
(NHK)
Nov 14
Japanese immigration authorities say 219 foreigners were staying in Japan as of the end of September after acquiring a new type of work visa for people with vocational skills.
(NHK)
Nov 12
One month has passed since record rain brought by a strong typhoon caused extensive damage in much of Japan.
(NHK)
Nov 12
Two days after he fled in Osaka Prefecture, prosecutors on Monday caught a man indicted on drug charges who escaped while being transferred to police custody after his bail was revoked.
(Japan Times)
Nov 12
On Thursday evening, Emperor Naruhito will dress in pure white robes and be ushered into a dark wooden hall for his last major enthronement rite: spending the night with a "goddess."
(Japan Today)
Nov 11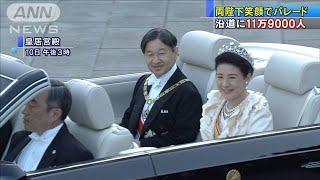 Japan's new Emperor and Empress enthralled people in Tokyo and around the nation with a lavish procession through the streets of the capital.
(NHK)
Nov 10
The suspect in a deadly arson attack in July on a Kyoto Animation Co studio has been questioned by police for the first time as he recovers from severe burns, investigative sources said Saturday.
(Japan Today)
Nov 09
Mt Sakurajima volcano shot smoke and ash miles into the sky on Friday in its biggest eruption in more than three years, Kyodo News reported.
(Japan Today)
---