The newest shinkansen bullet train from Japanese rail operator JR East begins test operation Friday, with its top speed expected to exceed the fastest now in service by at least 40 kph.
Green stripes grace the Alfa-X's bluish-silver body, featuring a 22-meter nose on the front car -- the longest for a shinkansen. JR East, formally East Japan Railway, previewed the full 250-meter, 10-car version for the media Thursday at a Miyagi Prefecture facility.
The 360 kph top speed bests the 320 kph of E5 series shinkansen currently running in Japan and TGV bullet trains in France.
The Alfa-X will be tested on the Tohoku shinkansen line between the cities of Sendai and Aomori in northeastern Japan. The trials will take place late at night approximately twice a week. The first phase, to gauge the feasibility of a 360 kph cruising speed, will run until fiscal 2021. Second-phase trials geared toward launching commercial operation will kick off the following year.
世界最速の時速360キロを目指し、試験走行が始まる次世代新幹線の車両が公開されました。 JR東日本が開発した次世代新幹線の試験車両「ALFA-X」の最大の特徴は先頭車両の「長い鼻」です。
Nov 14
Japan's space agency says its probe is on its way back to Earth after leaving the asteroid, Ryugu.
(NHK)
Nov 14
Chief Cabinet Secretary Yoshihide Suga says the government will not hold a cherry blossom-viewing party next year, which is hosted every April by the prime minister.
(NHK)
Nov 14
NHK has learned that a boy who was arrested for allegedly wounding a girl with a knife in northern Japan has suggested he was interested in killing someone.
(NHK)
Nov 14
Japanese immigration authorities say 219 foreigners were staying in Japan as of the end of September after acquiring a new type of work visa for people with vocational skills.
(NHK)
Nov 12
One month has passed since record rain brought by a strong typhoon caused extensive damage in much of Japan.
(NHK)
Nov 12
Two days after he fled in Osaka Prefecture, prosecutors on Monday caught a man indicted on drug charges who escaped while being transferred to police custody after his bail was revoked.
(Japan Times)
Nov 12
On Thursday evening, Emperor Naruhito will dress in pure white robes and be ushered into a dark wooden hall for his last major enthronement rite: spending the night with a "goddess."
(Japan Today)
Nov 11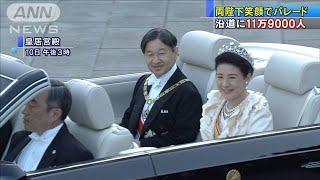 Japan's new Emperor and Empress enthralled people in Tokyo and around the nation with a lavish procession through the streets of the capital.
(NHK)
Nov 10
The suspect in a deadly arson attack in July on a Kyoto Animation Co studio has been questioned by police for the first time as he recovers from severe burns, investigative sources said Saturday.
(Japan Today)
Nov 09
Mt Sakurajima volcano shot smoke and ash miles into the sky on Friday in its biggest eruption in more than three years, Kyodo News reported.
(Japan Today)
---