The Diet enacted a legal revision Friday aimed at lowering mobile phone fees and spurring competition in the country's saturated telecom market.
Amid criticism that Japanese carriers charge too much compared with other countries, the bill to amend the telecommunications business law, passed by the House of Councillors, bans them from offering plans that cover both the price of a mobile phone and connection fees in one package.
For many years, Japanese carriers have discounted mobile device purchases in exchange for relatively high data usage fees.
Consumers and government officials have said the plans make it difficult to compare the fees charged by carriers.
The issue came into the spotlight in August last year when Chief Cabinet Secretary Yoshihide Suga said the three major carriers -- NTT Docomo Inc, SoftBank Corp and KDDI Corp -- could reduce their fees by around 40 percent.
The three carriers control nearly 90 percent of the domestic mobile phone market.
The new law will take effect as early as this fall after the Ministry of Internal Affairs and Communications compiles guidelines for fee plans.
NTT Docomo unveiled a new plan in April that will cut mobile phone charges by up to 40 percent and also offered to separate handsets and service charges.
Aug 11
SoftBank Group on Tuesday reported a net profit of 1.25 trillion yen ($11.8 billion) in the April-June quarter thanks to the merger and sale of its stake in U.S. mobile carrier Sprint, marking a return to profit after suffering its worst ever loss in the previous quarter.
(Nikkei)
Aug 10
Despite uncertainties from COVID-19, top Japanese corporations plan to invest 15.8% more in information technology in fiscal 2020 to keep up the wave of digitization across industries.
(Nikkei)
Aug 10
Colorful kimono are synonymous with Tokyo summer celebrations but anti-coronavirus measures have put social gatherings off-limits and led struggling department stores to push the traditional Japanese outfits as a way to make a virtual fashion statement.
(Japan Times)
Aug 07
Official figures indicate that Japanese households may be recovering from the economic impact of COVID-19. Spending was down in June, but by a much smaller margin than the month before.
(NHK)
Aug 07
Japan's powerful business lobby, the Keidanren, is dominated by energy-intensive sectors that represent less than 10 percent of the economy, resulting in national policies that favour coal and hindering attempts to combat climate change, a new study said.
(aljazeera.com)
Aug 07
Toyota's profit plunged 74% in the last quarter as the coronavirus pandemic sank vehicle sales to about half of what the top Japanese automaker sold the previous year.
(krmg.com)
Aug 06
The average summer bonus at major Japanese companies this year dropped 2.17 percent from a year earlier to ¥901,147, a Japan Business Federation survey showed Wednesday.
(Japan Times)
Aug 06
Uber Technologies has begun to offer a food delivery subscription in Japan that replaces per-order fees, tapping into the growing demand from consumers holed up at home from the coronavirus.
(Nikkei)
Aug 05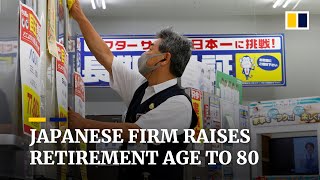 Japan's decision to offer an initial group of 87 companies subsidies totalling US$653 million to expand production at home and in Southeast Asia has sparked debate whether the world's third largest economy is trying to gradually decouple from China.
(scmp.com)
Aug 05
About 60 percent of people in the nation who developed cold-like symptoms during the first wave of the novel coronavirus pandemic, between February and May, went to work despite a request by the government for them not to do so, a recent survey has found.
(Japan Times)
---