Japanese seismologists believe that nearly 99 percent of their predictions related to massive earthquakes in the Pacific off central and western Japan are likely to prove wrong, a survey conducted by Kansai University showed Sunday.
While the government estimates there is a 70 to 80 percent chance of a magnitude 8 to 9 quake occurring along the Nankai Trough within the next 30 years, the survey underscores the increasing difficulty of precisely predicting the timing, location and strength of imminent quakes, based on observational data.
The survey covering 138 people, including members of the Seismological Society of Japan, received responses from 90 individuals.
Respondents were asked whether the four stages necessary to release a prediction could be cleared: that there is abnormal activity in advance; that the abnormality is observable; that heightening risks could be quickly assessed; and that such an assessment could be announced immediately.
The questionnaire found an average of 5.8 percent of predictions could go all the way to release, while only 19.7 percent of those were likely to contain accurate information.
Nov 14
Japan's space agency says its probe is on its way back to Earth after leaving the asteroid, Ryugu.
(NHK)
Nov 14
Chief Cabinet Secretary Yoshihide Suga says the government will not hold a cherry blossom-viewing party next year, which is hosted every April by the prime minister.
(NHK)
Nov 14
NHK has learned that a boy who was arrested for allegedly wounding a girl with a knife in northern Japan has suggested he was interested in killing someone.
(NHK)
Nov 14
Japanese immigration authorities say 219 foreigners were staying in Japan as of the end of September after acquiring a new type of work visa for people with vocational skills.
(NHK)
Nov 12
One month has passed since record rain brought by a strong typhoon caused extensive damage in much of Japan.
(NHK)
Nov 12
Two days after he fled in Osaka Prefecture, prosecutors on Monday caught a man indicted on drug charges who escaped while being transferred to police custody after his bail was revoked.
(Japan Times)
Nov 12
On Thursday evening, Emperor Naruhito will dress in pure white robes and be ushered into a dark wooden hall for his last major enthronement rite: spending the night with a "goddess."
(Japan Today)
Nov 11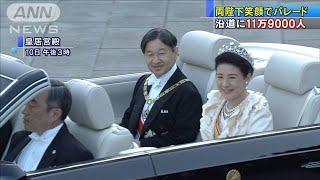 Japan's new Emperor and Empress enthralled people in Tokyo and around the nation with a lavish procession through the streets of the capital.
(NHK)
Nov 10
The suspect in a deadly arson attack in July on a Kyoto Animation Co studio has been questioned by police for the first time as he recovers from severe burns, investigative sources said Saturday.
(Japan Today)
Nov 09
Mt Sakurajima volcano shot smoke and ash miles into the sky on Friday in its biggest eruption in more than three years, Kyodo News reported.
(Japan Today)
---