The FIFA Women's World Cup is just days away to kick off in France and the Japanese team will be ready to compete. There they'll make the final adjustments to their plans to lift the trophy for the second time in their history after conquering the world at Germany 2011.
Leading Japan is former player Asako Takakura, 51, and she acknowledges that a difficult challenge lays ahead but there is a fearless confidence about the young squad that has been named and the ultimate aim is to 'move out of the shadow of previous generations and create it's own history', which means winning the tournament.
Takakura will look to take each step as it comes and the hardest one might just prove progressing out of a tough, although not impossible, group. Japan open their campaign against Argentina. That's a match Japan should win; Argentina have not appeared in a World Cup for over a decade and their record in the tournament is a poor one. However, they have been turning things around recently, with Lyon striker Soledad Jaimes starring, and blowing Panama away in the play-off to qualify.
Japan will need to be on their game as anything less than three points would be a huge slip up. Next up is Scotland, who will pose a different challenge. The Scots have a hugely experienced squad and will view this match as one that could springboard them to a surprise qualification. Both the first two matches Japan are more than capable of taking maximum points from and it would relieve a great deal of stress ahead of the final – and most difficult – group game with England.
England are ranked second favourites in the soccer bets, behind the hosts and Phil Neville's team have recently defeated Japan all too easily in the SheBelieves Cup. That match ended 3-0 and Takakura knows a much better display will be needed to avoid a repeat. Its highly plausible that both England and Japan win their first two fixtures meaning the match up between the two will be a group decider and that could prove crucial as the knockout ties get plotted; it will also give a good indication for Japan as to what level they need to play at to reach those latter rounds.
Japan should treat their group with respect, but they go to France with their heads held high; the squad has some hugely talented players within it and, on their day, they can more than hold their own against the likes of England, France and Germany. The squad is light on experience so a lot of pressure will fall to team captain Saki Kumagai to provide a guiding hand to the younger stars.
Kumagai is no stranger to high profile moments though – she recently lifted the Champions League with her club side, Lyon – and, as with all good teams, there will be others that Takakura will look to for leadership assistance. The names that spring to mind are Aya Sameshina and Mana Iwabuchi, who both have experience of playing in World Cups.
If those players can keep the nerves of their teammates under wraps, then Japan could catch a few off guards; the benefit of inexperience being that less is known about the qualities that certain players possess. Yui Hasegawa, 22, will almost definitely start in midfield – although her abilities are widely acknowledged, it is another matter to stop her using them – with two 19-year olds, Jun Endo and Riko Ueki, hoping to get the nod to show their talents in attack.
Of course, any side who wins a tournament will have a slice of luck on their side – as well as ability and a good team spirit – and, if Japan get those breaks go their way, there is absolutely no reason they can't hold the trophy aloft come July 7th.
Author: Ashley Munson
Jun 18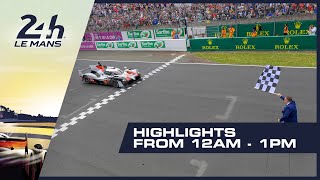 Toyota drivers Kazuki Nakajima, Fernando Alonso and Sebastian Buemi claimed their second consecutive 24 Hours of Le Mans victory Sunday, but only after some bad luck scuttled their sister car's hopes of a win.
(Kyodo)
Jun 15
A law to prohibit ticket scalping for concerts and sports events came into force Friday ahead of the 2020 Tokyo Olympics and Paralympics.
(Japan Today)
Jun 13
Organizers have marked 100 days to go before the opening of the Rugby World Cup by saying the challenges of staging the sport's showpiece event in a non-traditional rugby nation have largely been overcome, most particularly with ticket sales.
(Japan Today)
Jun 12
Cannabis has been legalized in some parts of the world. But the chief executive of next year's Tokyo Olympics has reminded potential visitors to the games that the substance is against the law in Japan.
(Japan Today)
Jun 07
Japanese sprinter Abdul Hakim Sani Brown clocked 9.96 seconds with wind assistance of 2.4 meters in the men's 100-meter semifinal at the NCAA championships in Texas.
(NHK)
Jun 05
Professional shogi player Yoshiharu Habu earned his 1,434th win at a tournament in Tokyo on Tuesday, setting a record for victories in the traditional Japanese board game.
(Japan Today)
Jun 04
The FIFA Women's World Cup is just days away to kick off in France and the Japanese team will be ready to compete. There they'll make the final adjustments to their plans to lift the trophy for the second time in their history after conquering the world at Germany 2011.
(newsonjapan.com)
Jun 04
Home to companies such as Sony, which makes billions of dollars selling PlayStation consoles, as well as Nintendo, Sega, Capcom and Konami, Japan is famous for being a world leader in gaming. However, when it comes to competitive gaming - esports - the country has lagged behind.
(newsonjapan.com)
Jun 03
Your medal-worthy Olympic venue selfies will have to stay within the confines of your phone, say organizers of 2020 Olympics.
(soranews24.com)
Jun 03
Japan's run as a core team in rugby sevens' elite world tour came to an abrupt end on Sunday, when the team was relegated for next season.
(Kyodo)
---