The Lower House of Japan's Diet has unanimously adopted a resolution urging a lawmaker to decide whether to give up his seat over a controversial remark about four Russian-held islands claimed by Japan.
Hodaka Maruyama visited one of the islands with a group of former islanders last month. Maruyama was reportedly drunk when he asked the group leader if he would support starting a war to take back the islands.
On Thursday, the Lower House plenary session voted on the draft resolution submitted jointly by the governing and opposition parties. They include the Nippon Ishin Japan Innovation Party, which expelled Maruyama in mid-May.
The adopted resolution says Maruyama has greatly undermined Japan's national interests and the authority and dignity of the Lower House by repeatedly making remarks that are unworthy of a Diet member.
It goes on to say that Maruyama apparently lacks the necessary qualities to be a lawmaker.
According to the secretariats of the Lower House and Upper House, this is the first resolution to denounce a lawmaker.
In a statement submitted to the Diet, Maruyama apologized for making improper and inconsiderate remarks, but he refused to resign, saying he is apprehensive that the legislature is becoming something like a people's court.
In a tweet on Thursday, Maruyama said he will fulfill his duty as a lawmaker, as he previously said he would in a statement submitted to the Diet.
He cited a remark by 19th-century Japanese statesman Katsu Kaishu that roughly translates as "It's up to me to decide whether to step aside, and it doesn't matter what others say."
Japan calls the Russian-held islands the Northern Territories. The government maintains they are an inherent part of Japan's territory. It says the islands were illegally occupied after World War Two.
北方領土返還に関して「戦争」に言及した丸山穂高衆院議員(35)に対し、自民党や立憲民主党、丸山氏が所属していた日本維新の会などが共同で『糾弾決議』を提出し、衆院本会議で全会一致で可決された。決議では、丸山氏について「国会議員としての資格はないと断ぜざるを得ない」としたうえで「直ちに自ら進退について判断するよう促す」としている。議員個人に対する『糾弾決議』は初めてだが、法的拘束力はない。これに対し、丸山議員はツイッターを更新し、勝海舟の言葉を引用して「行蔵(こうぞう)は我に存す」として、進退を決めるには自分なりの基準があると主張している。そのうえで「任期を全うし前に進んで参ります」と改めて議員辞職はしない考えを強調した。
Oct 16
Authorities in Japan are still trying to get a handle on the extent of the damage after Typhoon Hagibis tore through the country. At least 74 people have been confirmed dead.
(NHK)
Oct 16
NHK has learned that more than 13,000 homes were flooded due to Typhon Hagibis which swept across Japan.
(NHK)
Oct 16
As a fuller picture of the damage from Typhoon Hagibis emerges, Japan faces weeks of delays in restoring some train service, but supply chains weathered the storm relatively well, attesting to the rise of disaster planning.
(Nikkei)
Oct 16
Japan manages a rare feat for a developed country when it comes to feeding its children -- high scores for nutrition but very low obesity rates. One major key? School lunches.
(Japan Today)
Oct 15
Tokyo, Kyoto and Osaka rank among the world's best 10 large cities -- with the Japanese capital topping the list for a fourth successive year -- according to U.S. luxury and lifestyle travel magazine Conde Nast Traveler.
(Japan Today)
Oct 14
A Tokyo Fire Department helicopter rescuing a 77-year-old woman in Iwaki, Fukushima Prefecture, who had been isolated because of flooding caused by Typhoon Hagibis, accidentally dropped her about 40 meters to the ground because her rescuers did not properly attach her to the rope when they were attempting to winch her to safety during the botched operation.
(Japan Times)
Oct 14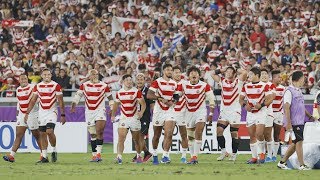 Japan captain Michael Leitch said Sunday's historic win over Scotland at the Rugby World Cup was the Brave Blossoms' way of helping the nation in the aftermath of Typhoon Hagibis and thanking those that helped put the game on.
(Kyodo)
Oct 14
Japan has canceled its first fleet review of the new Reiwa era as the Self-Defense Forces support areas of the country battered by Typhoon Hagibis.
(Nikkei)
Oct 12
In the month of October Japan celebrates "Sports Day" which is the anniversary of the 1964 Tokyo Olympics and a holiday to inspire exercise for all. Around this time, schools all over the country hold Sports Festivals where they take part in a variety of physical activities from dancing to relay races.
(soranews24.com)
Oct 11
Rugby World Cup organizers announced Thursday that two crucial pool games scheduled to take place on Saturday have been canceled to avoid the impact of a massive super typhoon set to hit the country.
(Japan Times)
---