The Financial Services Agency estimates couples will require up to 30 million yen in retirement savings, far higher than the amount suggested by a panel in a controversial report that questioned the credibility of the public pension system, a document showed Tuesday.
At a meeting of the panel in April, the agency presented its own estimate that retired couples would need 15 million yen ($139,000) to 30 million yen if they live to be 95 years old to make up for a shortfall that would be incurred if they were to rely solely on pension benefits to cover living expenses after retirement.
The top end of the range in the agency document is far higher than the 20 million yen estimate presented in a report by the panel on June 3.
The panel said in the report that a couple would face a monthly shortfall of 50,000 yen if they were to live until 95 and depended only on their pensions.
The report sparked criticism from opposition and ruling parties and even some Cabinet members ahead of an upper house election next month.
Finance Minister Taro Aso, who doubles as minister for financial services, refused last week to receive the report, saying the panel's estimate contradicted the government's view that the pension system serves as the basis of household finances during post-retirement years.
Oct 16
The government's response to Typhoon Hagibis dominated Tuesday's debate in the Diet.
(NHK)
Oct 14
Japan has canceled its first fleet review of the new Reiwa era as the Self-Defense Forces support areas of the country battered by Typhoon Hagibis.
(Nikkei)
Oct 09
An art exhibition that sparked controversy for featuring a statue symbolizing "comfort women" reopened Tuesday in Nagoya, with organizers placing tighter security and limiting the number of visitors after it was abruptly closed two months ago following threats.
(Japan Times)
Oct 06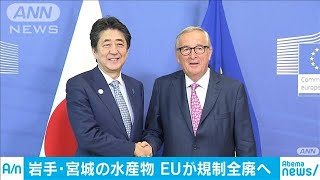 The European Union has informed the Japanese government that it will likely ease import restrictions on Japanese food products before the end of the year.
(NHK)
Oct 04
Japan is ready to share, as requested by South Korea, information related to the launch a day earlier of what North Korea claims to have been a submarine-launched ballistic missile, government sources said Thursday.
(Kyodo)
Oct 03
North Korea's state-run media reports that the country has succeeded in test-firing a submarine-launched ballistic missile, or SLBM.
(NHK)
Oct 02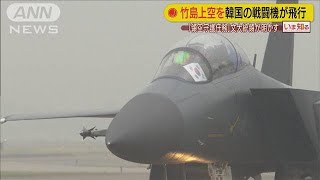 A South Korean F-15 fighter jet has flown over the Takeshima Islands in the Sea of Japan as part of an Armed Forces Day ceremony. The islands are controlled by South Korea but claimed by Japan.
(NHK)
Oct 02
Prime Minister Shinzo Abe said Tuesday Japan's national interests are protected under a trade agreement with the United States but he vowed to prepare measures to address the concerns of farmers in the country before the pact takes effect.
(Kyodo)
Oct 01
In Japan, the consumption tax rose from 8 to 10 percent on Tuesday. The government says the increase was needed to help cover ballooning social security costs and pay down massive public debt.
(NHK)
Oct 01
NHK has learned that a deceased deputy town mayor in Fukui Prefecture kept a detailed list of cash and gifts he gave to officials of Kansai Electric Power Company, which runs a nuclear power plant in the town.
(NHK)
---