A Japanese man convicted of assault and theft was arrested Sunday in Yokosuka, near Tokyo, four days after he escaped attempts to take him into custody.
Makoto Kobayashi, who brandished a knife before fleeing in a vehicle when prosecution authorities tried to take him into custody on Wednesday, was apprehended while hiding at a friend's apartment in the port city around 6:40 a.m., said the Yokohama District Public Prosecutors Office. This time he did not attempt to evade capture.
Kobayashi, 43, was put on a nationwide wanted list on Thursday for obstructing officers from performing their duty after staff of the prosecutors' office and police officers visited his apartment in Aikawa, Kanagawa Prefecture, around 1 p.m. the previous day to detain him.
Kobayashi was later seen driving a car down the Tomei Expressway toward Nagoya and the vehicle was found around 11:30 p.m. Wednesday outside an apartment building in Atsugi, some 7 kilometers away from his home, where a female friend of his lives, according to local police.
Before arriving at his friend's apartment, he stopped at a convenience store in Atsugi, where a security camera captured footage of him with shorter hair and wearing different clothes, the police said.
Kobayashi had been sentenced to three years and eight months in prison for previous crimes, including theft and violation of the stimulants control law.
According to the police, Kobayashi had been a member of a group that engaged in 105 cases of theft throughout 2017, stealing valuables worth about 38 million yen ($354,000). He has told investigators he used the money for entertainment and living expenses.
His sentence was finalized in February this year after the Tokyo High Court turned down his appeal. He was out on bail while his appeal was ongoing and repeatedly ignored orders to report to authorities after his conviction was confirmed, the prosecutors' office said.
23日午前6時38分、神奈川県横須賀市内のアパートで逮捕された小林誠容疑者(43)が乗っているとみられる車が横浜地検に入りました。 神奈川県愛川町の自宅から傷害などの罪で実刑が確定して逃走していた小林容疑者の身柄を横須賀市内のアパートで確保し、午前6時38分に逮捕しました。小林容疑者は19日、実刑が確定したため、収容しようと自宅に向かった横浜地検の職員と神奈川県警の警察官に刃物を向けたうえ、車でその場から逃走していました。その後、小林容疑者は髪形や服装を変えて逃走していたことが分かっています。
Oct 16
Authorities in Japan are still trying to get a handle on the extent of the damage after Typhoon Hagibis tore through the country. At least 74 people have been confirmed dead.
(NHK)
Oct 16
NHK has learned that more than 13,000 homes were flooded due to Typhon Hagibis which swept across Japan.
(NHK)
Oct 16
As a fuller picture of the damage from Typhoon Hagibis emerges, Japan faces weeks of delays in restoring some train service, but supply chains weathered the storm relatively well, attesting to the rise of disaster planning.
(Nikkei)
Oct 16
Japan manages a rare feat for a developed country when it comes to feeding its children -- high scores for nutrition but very low obesity rates. One major key? School lunches.
(Japan Today)
Oct 15
Tokyo, Kyoto and Osaka rank among the world's best 10 large cities -- with the Japanese capital topping the list for a fourth successive year -- according to U.S. luxury and lifestyle travel magazine Conde Nast Traveler.
(Japan Today)
Oct 14
A Tokyo Fire Department helicopter rescuing a 77-year-old woman in Iwaki, Fukushima Prefecture, who had been isolated because of flooding caused by Typhoon Hagibis, accidentally dropped her about 40 meters to the ground because her rescuers did not properly attach her to the rope when they were attempting to winch her to safety during the botched operation.
(Japan Times)
Oct 14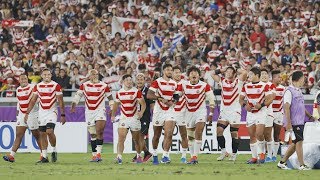 Japan captain Michael Leitch said Sunday's historic win over Scotland at the Rugby World Cup was the Brave Blossoms' way of helping the nation in the aftermath of Typhoon Hagibis and thanking those that helped put the game on.
(Kyodo)
Oct 14
Japan has canceled its first fleet review of the new Reiwa era as the Self-Defense Forces support areas of the country battered by Typhoon Hagibis.
(Nikkei)
Oct 12
In the month of October Japan celebrates "Sports Day" which is the anniversary of the 1964 Tokyo Olympics and a holiday to inspire exercise for all. Around this time, schools all over the country hold Sports Festivals where they take part in a variety of physical activities from dancing to relay races.
(soranews24.com)
Oct 11
Rugby World Cup organizers announced Thursday that two crucial pool games scheduled to take place on Saturday have been canceled to avoid the impact of a massive super typhoon set to hit the country.
(Japan Times)
---