Japanese cryptocurrency exchange operator Bitpoint has lost 3.5 billion yen ($32 million) in a hacking attack, parent company Remixpoint announced on Friday.
Bitpoint stopped web transactions for customers early in the morning and stopped all services at 10:30 a.m. The case echoes an attack on rival exchange Coincheck last year, where hackers made off with the equivalent of $500 million, sending shock waves through the industry.
According to a press release, Bitpoint detected an error alert late Thursday night in connection with transfers of Ripple, a type of cryptocurrency. By 2 a.m. on Friday morning, it had confirmed unlawful transfers of other types of cryptocurrencies as well.
Funds that had been collected from customers accounted for 2.5 billion yen of the 3.5 billion yen that was stolen. Remixpoint said its unit would compensate the customers.
Remixpoint shares, which are listed on the second section of the Tokyo Stock Exchange, plunged as much as 18% from the previous close at one point in afternoon trading.
仮想通貨交換業者「ビットポイントジャパン」の仮想通貨交換所から約35億円が不正に流出したと発表がありました。流出が確認されたのは11日で、リップルなど複数の仮想通貨です。現在、売買と交換を含むすべてのサービスが停止されています。親会社のリミックスポイントは「原因究明と再発防止を速やかに行い、信頼回復に努めます」としています。
Aug 11
SoftBank Group on Tuesday reported a net profit of 1.25 trillion yen ($11.8 billion) in the April-June quarter thanks to the merger and sale of its stake in U.S. mobile carrier Sprint, marking a return to profit after suffering its worst ever loss in the previous quarter.
(Nikkei)
Aug 10
Despite uncertainties from COVID-19, top Japanese corporations plan to invest 15.8% more in information technology in fiscal 2020 to keep up the wave of digitization across industries.
(Nikkei)
Aug 10
Colorful kimono are synonymous with Tokyo summer celebrations but anti-coronavirus measures have put social gatherings off-limits and led struggling department stores to push the traditional Japanese outfits as a way to make a virtual fashion statement.
(Japan Times)
Aug 07
Official figures indicate that Japanese households may be recovering from the economic impact of COVID-19. Spending was down in June, but by a much smaller margin than the month before.
(NHK)
Aug 07
Japan's powerful business lobby, the Keidanren, is dominated by energy-intensive sectors that represent less than 10 percent of the economy, resulting in national policies that favour coal and hindering attempts to combat climate change, a new study said.
(aljazeera.com)
Aug 07
Toyota's profit plunged 74% in the last quarter as the coronavirus pandemic sank vehicle sales to about half of what the top Japanese automaker sold the previous year.
(krmg.com)
Aug 06
The average summer bonus at major Japanese companies this year dropped 2.17 percent from a year earlier to ¥901,147, a Japan Business Federation survey showed Wednesday.
(Japan Times)
Aug 06
Uber Technologies has begun to offer a food delivery subscription in Japan that replaces per-order fees, tapping into the growing demand from consumers holed up at home from the coronavirus.
(Nikkei)
Aug 05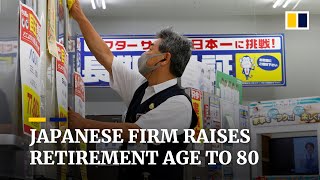 Japan's decision to offer an initial group of 87 companies subsidies totalling US$653 million to expand production at home and in Southeast Asia has sparked debate whether the world's third largest economy is trying to gradually decouple from China.
(scmp.com)
Aug 05
About 60 percent of people in the nation who developed cold-like symptoms during the first wave of the novel coronavirus pandemic, between February and May, went to work despite a request by the government for them not to do so, a recent survey has found.
(Japan Times)
---