Police on Monday detained six South Koreans for allegedly illegally entering a Japanese diplomatic facility in South Korea and staging an anti-Tokyo demonstration there.
The incident came amid growing anti-Japanese sentiments in South Korea as the two countries are locked in trade and political disputes. On Friday, a 78-year-old South Korean man died after setting himself on fire near the Japanese Embassy in Seoul.
The six men and women were given temporary passes to enter the Japanese Consulate in the southeastern city of Busan earlier Monday after they told staff there they would visit a library inside the building, according to Busan police officers.
They initially stayed at the library. But they later abruptly dashed out to a consulate yard, holding a placard that read "Abe must apologize," referring to Japanese Prime Minister Shinzo Abe. They also shouted slogans criticizing Japan's recent decision to tighten its export controls of some high-tech materials, the police officers said.
No major violence or clashes were reported. But police detained the six people for trespassing because they were admitted to the building to visit the library, not stage a rally, the officers said, requesting anonymity because they were not authorized to speak to the media on the matter.
While the six were being detained, activists were holding anti-Japanese rallies outside the consulate. Later Monday, about 30 people rallied in front of a Busan police station, calling for the release of the six people, according to police.
韓国南部の釜山にある日本総領事館に侵入し、日本の輸出規制に対する抗議活動をした韓国人の男女6人が身柄を拘束されました。 韓国・釜山の警察によりますと、韓国人の男2人と女4人は22日午後2時半ごろ、日本総領事館内で「主権侵奪安倍糾弾」と書かれたプラカードを敷地の外に向かって投げました。韓国メディアによりますと、男女6人は「日本は謝罪せよ」などと叫んでいたということで、建造物侵入の疑いで直ちに身柄を拘束されました。この際、日本総領事館の前では釜山の市民団体が輸出規制に反発し、日本製品不買を訴える記者会見を開いていて、警察が関連を調べています。
Oct 16
Authorities in Japan are still trying to get a handle on the extent of the damage after Typhoon Hagibis tore through the country. At least 74 people have been confirmed dead.
(NHK)
Oct 16
NHK has learned that more than 13,000 homes were flooded due to Typhon Hagibis which swept across Japan.
(NHK)
Oct 16
As a fuller picture of the damage from Typhoon Hagibis emerges, Japan faces weeks of delays in restoring some train service, but supply chains weathered the storm relatively well, attesting to the rise of disaster planning.
(Nikkei)
Oct 16
Japan manages a rare feat for a developed country when it comes to feeding its children -- high scores for nutrition but very low obesity rates. One major key? School lunches.
(Japan Today)
Oct 15
Tokyo, Kyoto and Osaka rank among the world's best 10 large cities -- with the Japanese capital topping the list for a fourth successive year -- according to U.S. luxury and lifestyle travel magazine Conde Nast Traveler.
(Japan Today)
Oct 14
A Tokyo Fire Department helicopter rescuing a 77-year-old woman in Iwaki, Fukushima Prefecture, who had been isolated because of flooding caused by Typhoon Hagibis, accidentally dropped her about 40 meters to the ground because her rescuers did not properly attach her to the rope when they were attempting to winch her to safety during the botched operation.
(Japan Times)
Oct 14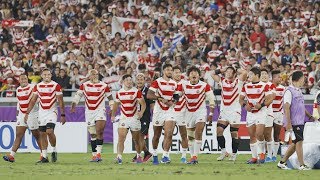 Japan captain Michael Leitch said Sunday's historic win over Scotland at the Rugby World Cup was the Brave Blossoms' way of helping the nation in the aftermath of Typhoon Hagibis and thanking those that helped put the game on.
(Kyodo)
Oct 14
Japan has canceled its first fleet review of the new Reiwa era as the Self-Defense Forces support areas of the country battered by Typhoon Hagibis.
(Nikkei)
Oct 12
In the month of October Japan celebrates "Sports Day" which is the anniversary of the 1964 Tokyo Olympics and a holiday to inspire exercise for all. Around this time, schools all over the country hold Sports Festivals where they take part in a variety of physical activities from dancing to relay races.
(soranews24.com)
Oct 11
Rugby World Cup organizers announced Thursday that two crucial pool games scheduled to take place on Saturday have been canceled to avoid the impact of a massive super typhoon set to hit the country.
(Japan Times)
---