Japan's capital is set to lay claim to the country's tallest building in 2023, when developer Mori Building aims to complete a 330-meter tower as part of a major redevelopment.
The 64-story main tower of the 580 billion yen ($5.45 billion) project unveiled Thursday -- the company's costliest to date -- would beat out Osaka's 300-meter Abeno Harukas skyscraper. It will contain a mix of office and residential space.
The project represents the developer taking on a "massive challenge," CEO Shingo Tsuji told reporters here Thursday. Ground finally broke on the development this month after 30 years of negotiations with about 300 landowners and other stakeholders.
The roughly 81,000 sq. meter "city within a city" in the Toranomon business district would include a luxury hotel from an overseas brand, as well as an international school that would rank among Tokyo's largest. It is planned to feature a large, nature-filled central plaza for residents and visitors to enjoy. Mori Building anticipates between 25 million and 30 million visitors annually.
Floor area across the complex's three towers will total about 860,000 sq. meters, with over 210,000 sq. meters of office space and about 1,400 residential units, surpassing Tokyo's Roppongi Hills -- another Mori Building development -- on both counts. Commercial and cultural facilities will also figure into the Toranomon project.
森ビルは、東京都港区に高さ330メートル、64階建ての超高層ビルを含む新たな都市開発を行うと発表した。総事業費は約5800億円で、オフィスや商業施設のほか54階以上の最上部には90戸の住居が入るという。災害時には、帰宅困難者3600人を受け入れられる拠点にもなるとしている。完成予定は2023年の3月末を予定している。
Sep 21
Toyota Motor has unveiled the first yacht under its Lexus luxury brand, with a 450 million yen ($4.17 million) price tag in Japan that aims it squarely at the super-rich.
(Nikkei)
Sep 20
A Japanese district court has found all three former executives of Tokyo Electric Power Company not guilty in the only criminal prosecution stemming from the 2011 nuclear disaster in Fukushima.
(NHK)
Sep 20
E-commerce giant Amazon Japan has announced it will launch a locker delivery service called Amazon Hub at the major convenience store chain FamilyMart and train stations along the Odakyu line.
(Japan Today)
Sep 18
Toyota Motor Corp. rolled out a new model of the Corolla on Tuesday, making it the first fully redesigned sedan in about seven years.
(Kyodo)
Sep 18
The Japanese government is considering tighter restrictions on foreign investment in industries it sees as key to national security, such as nuclear power and chipmaking.
(Nikkei)
Sep 13
Yahoo Japan's acquisition of online fashion retailer Zozo presents an opportunity for the venerable internet services company to bring fresh blood into its e-commerce audience as the business looks to step outside the shadow of Amazon.com and Rakuten.
(Nikkei)
Sep 11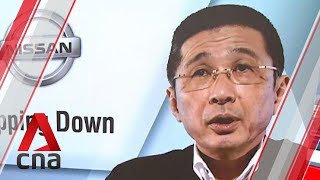 In Japan, is there one standard of justice for Japanese executives and another for non-Japanese executives? The forced resignation on Monday of Nissan Motor Co.'s chief executive officer, Hiroto Saikawa, certainly seems to suggest as much.
(Bloomberg)
Sep 11
Japan's real gross domestic product retreated 0.5% in July compared with the previous month as rising imports led to negative external demand, the Japan Center for Economic Research reported Wednesday.
(Nikkei)
Sep 10
The month between World Suicide Prevention Day on September 10 and World Mental Health Day on October 10 is a good time to start considering the under-discussed topics of anxiety, depression and suicide in our society, especially as they relate to the workplace.
(Nikkei)
Sep 10
Nissan Chief Executive Hiroto Saikawa tendered his resignation Monday after acknowledging that he had received dubious income and vowed to pass the leadership of the Japanese automaker to a new generation.
(Japan Today)
---