A luxury hotel in central Tokyo much loved by visitors for its classic Japanese ambience reopened Thursday after four years of renovations.
The Okura Tokyo has reused much of the original decor from its old main building's lobby, which was considered a Japanese modernist masterpiece, for its new lobby area.
"I challenged myself not only to recreate the lobby my father created, but to make it even greater," said Yoshio Taniguchi, the 81-year-old designer of the rebuilt hotel and eldest son of the original architect, Yoshiro Taniguchi.
The opening ceremony was attended by Tokyo Gov Yuriko Koike and Princess Takamado, widow of former Emperor Akihito's late cousin, among others.
okurabldg.jpg
The newly renovated hotel is comprised of two buildings -- a 17-story structure which houses guest rooms from the sixth floor up, alongside a 41-story tower which includes hotel rooms between the 28th and 36th floors, as well as office space from the eighth to 25th floors. In total, the hotel has 508 rooms in two buildings. Rates start at 70,000 yen per night for a double room with the most expensive suite being 3 million yen per night.
The smaller of the two buildings, The Okura Heritage Wing, which has its own reception, is a 75-meter, 17-story structure with views of gardens and greenery on three sides. The spacious guest rooms in The Okura Heritage Wing offer generous floor areas of 60 square meters.
The larger Okura Prestige Tower is a 188-meter, 41-story structure combining premium quality accented with refined Japanese aesthetics. Guest rooms begin on the 28th floor; standard-size rooms measuring some 50 square meters.
Oct 16
Authorities in Japan are still trying to get a handle on the extent of the damage after Typhoon Hagibis tore through the country. At least 74 people have been confirmed dead.
(NHK)
Oct 16
NHK has learned that more than 13,000 homes were flooded due to Typhon Hagibis which swept across Japan.
(NHK)
Oct 16
As a fuller picture of the damage from Typhoon Hagibis emerges, Japan faces weeks of delays in restoring some train service, but supply chains weathered the storm relatively well, attesting to the rise of disaster planning.
(Nikkei)
Oct 16
Japan manages a rare feat for a developed country when it comes to feeding its children -- high scores for nutrition but very low obesity rates. One major key? School lunches.
(Japan Today)
Oct 15
Tokyo, Kyoto and Osaka rank among the world's best 10 large cities -- with the Japanese capital topping the list for a fourth successive year -- according to U.S. luxury and lifestyle travel magazine Conde Nast Traveler.
(Japan Today)
Oct 14
A Tokyo Fire Department helicopter rescuing a 77-year-old woman in Iwaki, Fukushima Prefecture, who had been isolated because of flooding caused by Typhoon Hagibis, accidentally dropped her about 40 meters to the ground because her rescuers did not properly attach her to the rope when they were attempting to winch her to safety during the botched operation.
(Japan Times)
Oct 14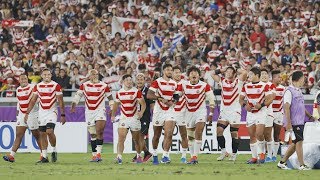 Japan captain Michael Leitch said Sunday's historic win over Scotland at the Rugby World Cup was the Brave Blossoms' way of helping the nation in the aftermath of Typhoon Hagibis and thanking those that helped put the game on.
(Kyodo)
Oct 14
Japan has canceled its first fleet review of the new Reiwa era as the Self-Defense Forces support areas of the country battered by Typhoon Hagibis.
(Nikkei)
Oct 12
In the month of October Japan celebrates "Sports Day" which is the anniversary of the 1964 Tokyo Olympics and a holiday to inspire exercise for all. Around this time, schools all over the country hold Sports Festivals where they take part in a variety of physical activities from dancing to relay races.
(soranews24.com)
Oct 11
Rugby World Cup organizers announced Thursday that two crucial pool games scheduled to take place on Saturday have been canceled to avoid the impact of a massive super typhoon set to hit the country.
(Japan Times)
---