Japan captain Michael Leitch said Sunday's historic win over Scotland at the Rugby World Cup was the Brave Blossoms' way of helping the nation in the aftermath of Typhoon Hagibis and thanking those that helped put the game on.
"Before the match started, at the team hotel, the players already knew how this game was more than just us, that a lot of people suffered in the typhoon," he said following the 28-21 win in Yokohama that sees Japan make the quarterfinals for the first time.
"A lot of people did a lot of hard work to make this game happen. There were guys up late last night with sponges. We are grateful for the opportunity to inspire Japan and we showed that for 80 minutes tonight."
Man-of-the-match Kenki Fukuoka also praised those that had helped put the game on.
"A lot of people made efforts to realize this match today," he said. "I first of all want to thank them and to repay them I was determined to produce a result that would be an empowerment to the Japanese people."
(Japan players observe a moment of silence ahead of a Rugby World Cup Pool A match against Scotland in Yokohama, near Tokyo, on Oct. 13, 2019, in memory of the victims of Typhoon Hagibis that ripped through wide areas of Japan the previous day.)
Sunday's game at International Stadium Yokohama (Nissan Stadium) only got the go-ahead at 10:30 a.m. following a detailed inspection and discussions with local authorities. Typhoon Hagibis left at least 35 dead and nearly 20 others missing.
Nov 12
Six people, including four nursery school children, were injured Monday after a vehicle plowed into them at a pedestrian crossing in Hachioji, in western Tokyo, police said.
(Japan Times)
Nov 12
One month has passed since record rain brought by a strong typhoon caused extensive damage in much of Japan.
(NHK)
Nov 12
Two days after he fled in Osaka Prefecture, prosecutors on Monday caught a man indicted on drug charges who escaped while being transferred to police custody after his bail was revoked.
(Japan Times)
Nov 12
On Thursday evening, Emperor Naruhito will dress in pure white robes and be ushered into a dark wooden hall for his last major enthronement rite: spending the night with a "goddess."
(Japan Today)
Nov 12
An annual cherry blossom viewing party organized by the Japanese prime minister has come under scrutiny.
(NHK)
Nov 12
Sumo has been around in various forms for over 2,000 years.
(Japan Times)
Nov 11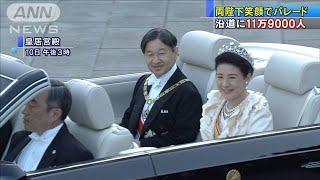 Japan's new Emperor and Empress enthralled people in Tokyo and around the nation with a lavish procession through the streets of the capital.
(NHK)
Nov 10
The suspect in a deadly arson attack in July on a Kyoto Animation Co studio has been questioned by police for the first time as he recovers from severe burns, investigative sources said Saturday.
(Japan Today)
Nov 10
Operations at Kansai International Airport were suspended for about one hour on Saturday after a drone was seen flying over the airport. It was the second such incident in three days after a drone sighting caused arrival and departures to be delayed twice on Thursday.
(Japan Today)
Nov 09
Mt Sakurajima volcano shot smoke and ash miles into the sky on Friday in its biggest eruption in more than three years, Kyodo News reported.
(Japan Today)
---