Two huts were destroyed by fire Monday near the traditional thatched farmhouses of Shirakawa-go village in Gifu Prefecture that are registered as a UNESCO World Cultural Heritage site, the Gifu Prefectural Police said.
The police received an emergency call from a local resident at around 2:40 p.m. The fire was extinguished after about two hours and no injuries were reported, they said.
The police opened an investigation into the cause of the fire. The huts were located in a parking lot roughly 400 meters from the village center. Many tourists were in the parking lot at the time of the fire.
To keep the fire from spreading to the farmhouses, local residents used 59 water dischargers installed in the village to spray water on the thatched roofs.
岐阜県白川村で4日午後2時40分ごろ、「小屋が燃えている」と消防に通報があった。燃えたのは、世界遺産の合掌造り集落の近くにある公園内の物置と、配電設備がある小屋の合わせて2棟。地元の消防団なども出動し、通報から2時間後に火は消し止められた。この火災による合掌造り集落への被害はなく、けが人もいなかった。白川郷では、先月27日に集落周辺に設置されている"放水銃"を使用して消防訓練を行ったばかりで、今回も延焼を防ぐために放水銃によって合掌造りの建物に放水が行われた。現場近くの飲食店に勤める人は「首里城の件があったので、延焼が怖くて放水した」などと話した。
Jul 13
The new coronavirus infection count has been rising across the nation with more than 200 cases reported in Tokyo on Sunday.
(NHK)
Jul 13
More heavy rain is expected in eastern and western Japan through Tuesday. Meteorological Agency officials say people should remain on alert for landslides and flooding.
(NHK)
Jul 13
A national facility devoted to the indigenous Ainu people and their culture opens on Sunday in their ancestral region of Hokkaido in northern Japan.
(NHK)
Jul 12
Two U.S. Marine bases in Okinawa have been put on lockdown by the military with 61 coronavirus cases confirmed this week, the prefectural government said Saturday.
(Kyodo)
Jul 12
Scientists have been studying the coronavirus around the clock since it first emerged, but much about the virus still remains a mystery. Recently, reports have emerged of former patients suffering symptoms such as fever and shortness of breath long after testing negative. Doctors and researchers are now studying these lingering effects.
(NHK)
Jul 12
With the midsummer heat still not quite here, Tokyo Disneyland and Disney Sea call off Christmas and all other seasonal celebrations.
(soranews24.com)
Jul 12
NHK has learned that the Japanese government plans to allow foreign nationals with certain residency statuses, including students and technical trainees, to re-enter the country despite a ban imposed due to the coronavirus pandemic.
(NHK)
Jul 11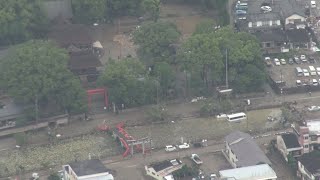 People in many parts of Japan are preparing for a wet and possibly dangerous weekend as weather officials warn of more heavy rain. The extreme weather has left more than 60 people dead and over a dozen missing over the past week.
(NHK)
Jul 11
Officials in Tokyo are dealing with a jump in coronavirus infections. The number of new cases has now topped 200 for two days in a row. It's the first time that's happened since the start of the pandemic.
(NHK)
Jul 11
Japan will begin a subsidy campaign on July 22 to boost domestic tourism hit by the coronavirus, the tourism minister said, although concerns remain over a resurgence of infections.
(Japan Today)
---