Tokyo Metropolitan Police have arrested three persons over live broadcasts on the internet earlier this year in which two female suspects appeared nude, reports the Asahi Shimbun (Nov. 5).
Between August and October, Mako Yoshino, 23 and Haruka Murakami, 24, allegedly engaged in acts deemed obscene in live video broadcasts on streaming site FC2 Live Adult that were shot inside a residence in Toshima Ward.
The residence was leased to Takashi Uchiyama, who maintains a channel on FC2 Live Adult, police said.
Yoshino and Murakami, who have been accused of indecent exposure, admit to the allegations. Meanwhile, Uchiyama partially denies the allegations, police said.
According to police, Uchiyama's channel on FC2 Live Adult accumulated 487 million yen in sales since June of 2014. Uchiyama received 70 percent of sales, with the remainder going to the operator of the streaming site.
Uchiyama paid the women each between 600,000 yen and 1 million yen per month, police said.
Police also seized several computer terminals and smartphones.
Prior to a broadcast, a Twitter account connected to the channel would release a notification to attract viewers.
東京・豊島区のマンションでわいせつな行為をしている様子を動画サイトでライブ配信したとして、男女3人が逮捕されました。  内山隆志容疑者(38)は豊島区のマンションの部屋で、吉野まこ容疑者(23)と村上遥容疑者(24)が全裸でわいせつな行為をする様子をライブ配信した疑いが持たれています。警視庁によりますと、内山容疑者は動画サイトと代理店契約を結んで、売り上げの7割を受け取っていました。内山容疑者は2014年からの5年4カ月で約4億8700万円を荒稼ぎしていて、警視庁が摘発したこの種の事件で過去最高の額だということです。吉野容疑者と村上容疑者は容疑を認めていて、内山容疑者は容疑を一部、否認しています。
Jul 13
The new coronavirus infection count has been rising across the nation with more than 200 cases reported in Tokyo on Sunday.
(NHK)
Jul 13
More heavy rain is expected in eastern and western Japan through Tuesday. Meteorological Agency officials say people should remain on alert for landslides and flooding.
(NHK)
Jul 13
A national facility devoted to the indigenous Ainu people and their culture opens on Sunday in their ancestral region of Hokkaido in northern Japan.
(NHK)
Jul 12
Two U.S. Marine bases in Okinawa have been put on lockdown by the military with 61 coronavirus cases confirmed this week, the prefectural government said Saturday.
(Kyodo)
Jul 12
Scientists have been studying the coronavirus around the clock since it first emerged, but much about the virus still remains a mystery. Recently, reports have emerged of former patients suffering symptoms such as fever and shortness of breath long after testing negative. Doctors and researchers are now studying these lingering effects.
(NHK)
Jul 12
With the midsummer heat still not quite here, Tokyo Disneyland and Disney Sea call off Christmas and all other seasonal celebrations.
(soranews24.com)
Jul 12
NHK has learned that the Japanese government plans to allow foreign nationals with certain residency statuses, including students and technical trainees, to re-enter the country despite a ban imposed due to the coronavirus pandemic.
(NHK)
Jul 11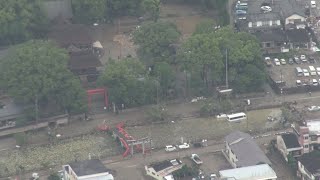 People in many parts of Japan are preparing for a wet and possibly dangerous weekend as weather officials warn of more heavy rain. The extreme weather has left more than 60 people dead and over a dozen missing over the past week.
(NHK)
Jul 11
Officials in Tokyo are dealing with a jump in coronavirus infections. The number of new cases has now topped 200 for two days in a row. It's the first time that's happened since the start of the pandemic.
(NHK)
Jul 11
Japan will begin a subsidy campaign on July 22 to boost domestic tourism hit by the coronavirus, the tourism minister said, although concerns remain over a resurgence of infections.
(Japan Today)
---