All 10 Shinkansen bullet trains that were damaged last month by Typhoon Hagibis in Nagano, central Japan, will be scrapped.
That represents a third of the trains that run on the Hokuriku Shinkansen line to the Sea of Japan coast and the historic city of Kanazawa.
The president of East Japan Railway, Yuji Fukasawa, said on Wednesday that the motors and braking systems under the floors were swamped by the typhoon. The company owns eight of the 10 trains.
He says it is difficult to repair all the damage. The other two trains are owned by West Japan Railway, and will be scrapped as well.
The train cars have a total book value of about 135 million dollars. Some of their components may be reused.
The companies say they aim to get the Hokuriku Shinkansen line completely back to normal by the end of March next year.
JR東日本は台風19号で浸水した北陸新幹線の8編成を廃車にすると発表しました。今後、車両を点検して一部の部品を再利用したいとしています。  北陸新幹線は台風19号で長野県にある車両基地が冠水し、新幹線車両の8編成が浸水しました。JR東日本はこれまで車両の検査をしてきましたが、浸水した8編成、96車両を廃車にすると発表しました。減価償却費を差し引いた被害額は120億円に上るとみられています。これを受け、上越新幹線の一部車両を北陸新幹線に転用したり新幹線を作り直すなどして、今年度内には東京-金沢間を従来の本数で運行を再開させたいとしています。
Jul 13
The new coronavirus infection count has been rising across the nation with more than 200 cases reported in Tokyo on Sunday.
(NHK)
Jul 13
More heavy rain is expected in eastern and western Japan through Tuesday. Meteorological Agency officials say people should remain on alert for landslides and flooding.
(NHK)
Jul 13
A national facility devoted to the indigenous Ainu people and their culture opens on Sunday in their ancestral region of Hokkaido in northern Japan.
(NHK)
Jul 12
Two U.S. Marine bases in Okinawa have been put on lockdown by the military with 61 coronavirus cases confirmed this week, the prefectural government said Saturday.
(Kyodo)
Jul 12
Scientists have been studying the coronavirus around the clock since it first emerged, but much about the virus still remains a mystery. Recently, reports have emerged of former patients suffering symptoms such as fever and shortness of breath long after testing negative. Doctors and researchers are now studying these lingering effects.
(NHK)
Jul 12
With the midsummer heat still not quite here, Tokyo Disneyland and Disney Sea call off Christmas and all other seasonal celebrations.
(soranews24.com)
Jul 12
NHK has learned that the Japanese government plans to allow foreign nationals with certain residency statuses, including students and technical trainees, to re-enter the country despite a ban imposed due to the coronavirus pandemic.
(NHK)
Jul 11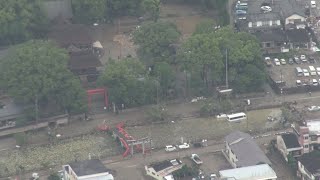 People in many parts of Japan are preparing for a wet and possibly dangerous weekend as weather officials warn of more heavy rain. The extreme weather has left more than 60 people dead and over a dozen missing over the past week.
(NHK)
Jul 11
Officials in Tokyo are dealing with a jump in coronavirus infections. The number of new cases has now topped 200 for two days in a row. It's the first time that's happened since the start of the pandemic.
(NHK)
Jul 11
Japan will begin a subsidy campaign on July 22 to boost domestic tourism hit by the coronavirus, the tourism minister said, although concerns remain over a resurgence of infections.
(Japan Today)
---