East Japan Railway says it will tear down Harajuku Station, the oldest wooden station building in Tokyo, after the 2020 Olympics and Paralympics in the metropolis.
JR East announced on Tuesday that it reached the decision after consulting with Shibuya Ward, where the station is located, and local retail associations.
The aging structure will be replaced with a new one now being built adjacent to it. The new station is expected to be completed on March 21 of next year.
The current station building was built in 1924.
The railway operator says the old structure is not sufficiently fire resistant.
The company says it will use materials that comply with fire resistance standards to re-create the European-style station after pulling it down.
It says that despite calls to retain the historic landmark, it decided on the demolition for safety reasons.
来年3月に向けて建て替え工事が進むJR原宿駅の現在の木造駅舎が来年の東京オリンピック・パラリンピック後に解体されることになりました。  JR原宿駅は現在の駅舎が老朽化したため、隣に新たな駅舎を造る工事が進められていて、来年3月21日の始発から新駅舎での運行が始まることになっています。JR東日本は19日の会見で、現在の駅舎を来年の東京オリンピック・パラリンピックの大会後に解体することを明らかにしました。現在の駅舎は1924年(大正13年)に建てられたもので、都内では最も古い木造駅舎で地元などからは保存を求める声が上がっていました。こうしたことを受け、JR東日本は何らかの形で駅舎を残すことを検討しています。
Jul 13
The new coronavirus infection count has been rising across the nation with more than 200 cases reported in Tokyo on Sunday.
(NHK)
Jul 13
More heavy rain is expected in eastern and western Japan through Tuesday. Meteorological Agency officials say people should remain on alert for landslides and flooding.
(NHK)
Jul 13
A national facility devoted to the indigenous Ainu people and their culture opens on Sunday in their ancestral region of Hokkaido in northern Japan.
(NHK)
Jul 12
Two U.S. Marine bases in Okinawa have been put on lockdown by the military with 61 coronavirus cases confirmed this week, the prefectural government said Saturday.
(Kyodo)
Jul 12
Scientists have been studying the coronavirus around the clock since it first emerged, but much about the virus still remains a mystery. Recently, reports have emerged of former patients suffering symptoms such as fever and shortness of breath long after testing negative. Doctors and researchers are now studying these lingering effects.
(NHK)
Jul 12
With the midsummer heat still not quite here, Tokyo Disneyland and Disney Sea call off Christmas and all other seasonal celebrations.
(soranews24.com)
Jul 12
NHK has learned that the Japanese government plans to allow foreign nationals with certain residency statuses, including students and technical trainees, to re-enter the country despite a ban imposed due to the coronavirus pandemic.
(NHK)
Jul 11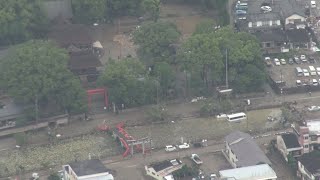 People in many parts of Japan are preparing for a wet and possibly dangerous weekend as weather officials warn of more heavy rain. The extreme weather has left more than 60 people dead and over a dozen missing over the past week.
(NHK)
Jul 11
Officials in Tokyo are dealing with a jump in coronavirus infections. The number of new cases has now topped 200 for two days in a row. It's the first time that's happened since the start of the pandemic.
(NHK)
Jul 11
Japan will begin a subsidy campaign on July 22 to boost domestic tourism hit by the coronavirus, the tourism minister said, although concerns remain over a resurgence of infections.
(Japan Today)
---