In Japan these days it seems that conservatives want to change things and progressives want to cling to the status quo. An apparently minor, but highly symbolic, example is Prime Minister Shinzo Abe's government's proposal to change the order of Japanese names when written in the Latin or Western alphabet.
From the early years of the Meiji period, in the 1870s, Japanese people have identified themselves to foreigners in the common Western style of given name followed by family name. In native Japanese, however, the order is always family name followed by given name.
On January 1, 2020 that Western format, as used in this column, will officially change. On governmental documents and websites Shinzo Abe will become known as ABE Shinzo -- capitalization of the family name is also recommended -- and others in public sector roles will be expected to do the same.
There is no obligation on ordinary citizens to follow suit, but the advantages of standardization suggest that over time the new format is likely to win out. Actor Ken Watanabe would become WATANABE Ken and SoftBank Group's Masayoshi Son would become SON Masayoshi.
To Westerners the upheaval may seem unnecessary and confusing, but from the Japanese perspective it represents authenticity and normalization. No longer doing things just to be convenient to Westerners, as Asia rises in geopolitical and cultural power, is part of the point.
The initiative originates in the early years of this century when the Cultural Affairs Agency issued an advisory notice on the use of the native name order in English contexts. Lacking heavyweight political backing, it was totally ignored.
This time, rising stars of the ruling Liberal Democratic Party such as Defense Minister Taro Kono have been vocal in support. It seems the public is on side too. A recent opinion poll showed 60% in favor of the change.
The justification, as set out on the CAA's website, is that Japan is merely aligning itself with other East Asian nations like China, Vietnam and South Korea, all of which put the family name first. East Asians put their family name first because family affiliation was traditionally the most important information about a person, the individual identity coming second.
Jan 23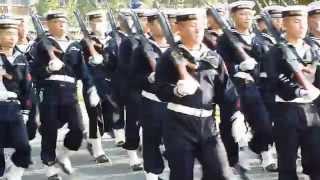 The first female student was admitted to Japan's national naval submarine academy Wednesday after the end of a ban on women on the country's submarines.
(Japan Times)
Jan 23
Japan's oldest university continues to produce the best and the worst that the country has to offer.
(soranews24.com)
Jan 22
The Japanese government has decided it will not to give subsidies this fiscal year ending March to a university where a large number of foreign students have gone missing.
(NHK)
Jan 21
Online streaming has been very good for the anime industry, opening flows of revenue both domestic and international by delivering the product to ravenous fans in the fastest manner possible. For a while, though, it looked like Studio Ghibli was going to stick to its "physical media-only" policy until the end of time.
(soranews24.com)
Jan 18
An international group of geologists on Friday formally adopted "Chibanian" as the name of a geologic age spanning 770,000 to 126,000 years ago, researchers said, marking the first time a Japanese name has been chosen.
(Japan Times)
Jan 18
With Japanese society often placing intense pressure on teens and adults alike, as well as traditional values that can frame self-sacrifice as an admirable way of taking responsibility, a high suicide rate has long been a dark mark on the nation's culture.
(soranews24.com)
Jan 15
The communications ministry on Tuesday authorized Japanese public broadcaster NHK to start simultaneous online streaming of its television programs from April.
(Japan Today)
Jan 14
Aichi Prefectural Police last week arrested a student at Meijo University in Nagoya over the alleged stabbing of a teacher, reports NHK (Jan. 10).
(tokyoreporter.com)
Jan 13
Young men and women in northeastern Japan have talked about their hopes for rebuilding towns that were devastated by the 2011 earthquake and tsunami.
(NHK)
Jan 13
At first glance, things seem to be getting better for Japanese women.
(Japan Times)
---