Japan kept unchanged its timing for balancing the primary budget on Friday, but expects to see a much smaller excess than previously thought when it hits a budget surplus, underlining the government's struggle to rein in massive public debt.
Prime Minister Shinzo Abe's government stuck to its forecast of achieving a budget surplus by fiscal 2027, but expects it to be slimmer due to a downward revision to its outlook for economic growth and tax revenues since previous projections made in July.
In its twice-yearly fiscal and economic projections, the government now expects the primary budget, excluding new bond sales and debt servicing, to swing to a surplus of just ¥300 billion ($2.73 billion) in the fiscal year starting April 2027. The previous projection was a surplus of ¥1.6 trillion.
The latest calculations underscore the challenge faced by the world's third-largest economy in fixing its tattered finances as the costs of caring for its rapidly graying population continue to grow.
Japan has the industrial world's heaviest debt burden, more than twice the size of its ¥551 trillion economy, and policymakers have wrestled to keep it in check as they spend more on social security and public works.
Abe has placed greater importance on growth, to preserve a fragile economic recovery, than on fiscal reform.
Feb 26
Japan's government has decided on a basic policy for measures to protect against a domestic outbreak of the new coronavirus. It includes asking people with minor symptoms to recuperate at home, in order to secure adequate care at medical facilities for those who are seriously ill.
(NHK)
Feb 26
Japan will launch a review by the end of June aimed at tightening conditions for the export of coal-fired power plants, Environment Minister Shinjiro Koizumi said on Tuesday.
(Japan Today)
Feb 25
Japan's government has drafted a basic policy on the coronavirus in a bid to stem the number of new cases.
(NHK)
Feb 21
A Japanese infection control expert removed YouTube videos Thursday in which he criticized the handling of the coronavirus outbreak on the Diamond Princess cruise ship quarantined in Yokohama, saying the situation had improved.
(Japan Today)
Feb 17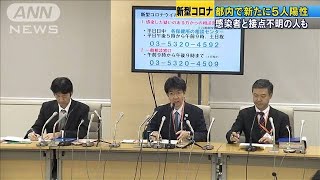 The coronavirus outbreak remains at an initial stage in Japan, an expert panel under the health ministry said Sunday, choosing not to raise the country's alert level that would have allowed for a more aggressive response.
(Nikkei)
Feb 17
The approval rate for Prime Minister Shinzo Abe's Cabinet stands at 41.0 percent, a Kyodo News survey showed Sunday, down 8.3 points from the previous poll in January and marking the sharpest fall in nearly two years amid yet another cronyism scandal.
(Kyodo)
Feb 17
The ruling Liberal Democratic Party submitted an amendment to the Diet in January to expand the "widow's deduction" covering single parents who have never been married.
(Japan Times)
Feb 14
The Japanese government has launched a 136-million-dollar package to fight the coronavirus outbreak. It includes funds for the development of a vaccine and treatment for the illness caused by the virus.
(NHK)
Feb 13
A Japanese lawmaker who has been indicted for accepting bribes in connection with a government-led integrated resort project has been released on bail.
(NHK)
Feb 13
The Japanese government plans to offer subsidies to face mask manufacturers to help them boost their production capacity.
(NHK)
---