Prime Minister Shinzo Abe on Monday declared 2020 a "crucial year to establish a new era of Japanese diplomacy" in a speech before the Diet, vowing to tackle international issues head-on.
During the address kicking off the 150-day session, however, Abe made no mention of mounting scandals surrounding his administration: the resignations of two ministers over alleged campaign finance law violations, the arrest of a Diet member responsible for developing the government's policy for so-called integrated resorts featuring casinos, and allegations of cronyism and favoritism concerning a taxpayer-funded cherry blossom party.
Opposition parties will surely be challenging the administration over issues of accountability. And because of the Olympic and Paralympic Games and the July 5 Tokyo gubernatorial election, extending the Diet session will likely be difficult, meaning Abe's Liberal Democratic Party will face a tight schedule for passing legislation.
Instead of opening him and his party up for criticism amid the scandals, Abe on Monday focused his speech on foreign policy, delivering a notable change in phrasing regarding South Korea. He reinstated a description referring to Seoul as Tokyo's "most important neighbor" for the first time since 2017, striking a tone of cautious optimism. In a policy speech in October, Abe had referred to South Korea as an "important neighbor."
Stressing that Tokyo shares fundamental values and strategic interests with Seoul "by nature," Abe pressed South Korean leader Moon Jae-in to have a constructive and cooperative relationship at the beginning of the new decade.
Feb 26
Japan's government has decided on a basic policy for measures to protect against a domestic outbreak of the new coronavirus. It includes asking people with minor symptoms to recuperate at home, in order to secure adequate care at medical facilities for those who are seriously ill.
(NHK)
Feb 26
Japan will launch a review by the end of June aimed at tightening conditions for the export of coal-fired power plants, Environment Minister Shinjiro Koizumi said on Tuesday.
(Japan Today)
Feb 25
Japan's government has drafted a basic policy on the coronavirus in a bid to stem the number of new cases.
(NHK)
Feb 21
A Japanese infection control expert removed YouTube videos Thursday in which he criticized the handling of the coronavirus outbreak on the Diamond Princess cruise ship quarantined in Yokohama, saying the situation had improved.
(Japan Today)
Feb 17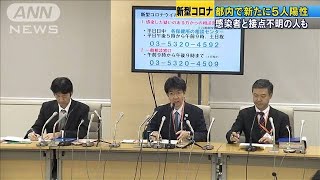 The coronavirus outbreak remains at an initial stage in Japan, an expert panel under the health ministry said Sunday, choosing not to raise the country's alert level that would have allowed for a more aggressive response.
(Nikkei)
Feb 17
The approval rate for Prime Minister Shinzo Abe's Cabinet stands at 41.0 percent, a Kyodo News survey showed Sunday, down 8.3 points from the previous poll in January and marking the sharpest fall in nearly two years amid yet another cronyism scandal.
(Kyodo)
Feb 17
The ruling Liberal Democratic Party submitted an amendment to the Diet in January to expand the "widow's deduction" covering single parents who have never been married.
(Japan Times)
Feb 14
The Japanese government has launched a 136-million-dollar package to fight the coronavirus outbreak. It includes funds for the development of a vaccine and treatment for the illness caused by the virus.
(NHK)
Feb 13
A Japanese lawmaker who has been indicted for accepting bribes in connection with a government-led integrated resort project has been released on bail.
(NHK)
Feb 13
The Japanese government plans to offer subsidies to face mask manufacturers to help them boost their production capacity.
(NHK)
---