A boat possibly from North Korea was found washed ashore in the town of Iwami on Sunday, authorities said, reports TV Asahi (Feb. 9).
At around 7:40 a.m., a person traveling by car tipped off police about a "ship with a black hull that drifted ashore."
According to the local Japan Coast Guard office, the boat measures 10 meters long and 2.7 meters wide. There were no signs that a person had been aboard the craft.
Based on markings on the hull, which was covered with barnacles and seaweed, the boat is believed to have originated in North Korea.
Fishing boats launched from North Korea wash ashore in Japan in the period of November through February. After their engines become disabled, water currents and winds push them to the coasts of the northern part of the nation.
鳥取県岩美町の海岸で木造船が漂着しているのが見つかりました。鳥取海上保安署は北朝鮮から漂流してきた木造船とみて調べています。  9日午前7時40分ごろ、岩美町の海岸で、車で通行していた男性から「黒い船体の木造船が流れ着いている」と110番通報がありました。連絡を受けた鳥取海上保安署が調べたところ、木造船は長さ約10メートル、幅2.7メートル、深さ1.6メートルで、2つあるはずのスクリューが1つしかなく、直前まで人が船内にいたような痕跡はありませんでした。また、船体に記載されている文字などから、北朝鮮から漂着した木造船とみられています。船の外側には海藻や貝などが付着していることから長期間、漂流していたとみられていて、鳥取海上保安署は漁をしていてトラブルが発生して漂流したか、係留されていた船が天候などでロープが切れるなどして漂流し、流れ着いた可能性があるとみて調べています。
Jul 13
The new coronavirus infection count has been rising across the nation with more than 200 cases reported in Tokyo on Sunday.
(NHK)
Jul 13
More heavy rain is expected in eastern and western Japan through Tuesday. Meteorological Agency officials say people should remain on alert for landslides and flooding.
(NHK)
Jul 13
A national facility devoted to the indigenous Ainu people and their culture opens on Sunday in their ancestral region of Hokkaido in northern Japan.
(NHK)
Jul 12
Two U.S. Marine bases in Okinawa have been put on lockdown by the military with 61 coronavirus cases confirmed this week, the prefectural government said Saturday.
(Kyodo)
Jul 12
Scientists have been studying the coronavirus around the clock since it first emerged, but much about the virus still remains a mystery. Recently, reports have emerged of former patients suffering symptoms such as fever and shortness of breath long after testing negative. Doctors and researchers are now studying these lingering effects.
(NHK)
Jul 12
With the midsummer heat still not quite here, Tokyo Disneyland and Disney Sea call off Christmas and all other seasonal celebrations.
(soranews24.com)
Jul 12
NHK has learned that the Japanese government plans to allow foreign nationals with certain residency statuses, including students and technical trainees, to re-enter the country despite a ban imposed due to the coronavirus pandemic.
(NHK)
Jul 11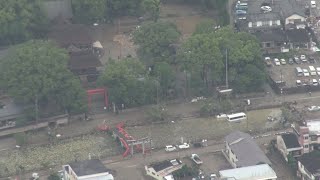 People in many parts of Japan are preparing for a wet and possibly dangerous weekend as weather officials warn of more heavy rain. The extreme weather has left more than 60 people dead and over a dozen missing over the past week.
(NHK)
Jul 11
Officials in Tokyo are dealing with a jump in coronavirus infections. The number of new cases has now topped 200 for two days in a row. It's the first time that's happened since the start of the pandemic.
(NHK)
Jul 11
Japan will begin a subsidy campaign on July 22 to boost domestic tourism hit by the coronavirus, the tourism minister said, although concerns remain over a resurgence of infections.
(Japan Today)
---