With the Japanese government announcing newly discovered cases of coronavirus infection within the country several times this month, the whole country is on edge regarding the disease.
That's led to some ugly reactions, such as a Japanese candy shop banning any and all Chinese people from entering the premises, but now panic and fear is manifesting in an ugly way at a Japanese food provider on the opposite side of the globe.
French national and Japanese resident Coach_en_japonais (@Lecoachjp on Twitter) recently posted photos of Yuki, a restaurant on Paris' Rue de la Michodière. Yuki's signage proudly touts Japanese cuisine favorites such as sushi, sashimi, and yakitori chicken skewers, but in the photos shared by Coach_en_japonais, vandals have made some crass additions to the restaurant's exterior design.
新型コロナウイルスの感染拡大が世界に広がるなか、パリ郊外の日本食レストランで「出て行け、ウイルス」などの落書きがあり、営業が妨害される事態に陥っています。  「コロナウイルス。出て行け、ウイルス」。このような落書きをされたのは、フランス・パリ近郊にある日本料理店でした。この場所に店を構えて16年だという店主の男性は、差別的な落書きをされるような恨まれる覚えはないと話しています。  パリでは中国の湖北省から観光でパリに訪れていた80歳の男性が新型コロナウイルスに感染して亡くなっています。新型コロナウイルスの感染拡大は、中国や日本などアジア圏の人々への差別や偏見を生んでいます。  また、アメリカ・ニューヨークでは、黒人の男が「病気の女め」などと叫びながらマスクをしていたアジア系の女性を殴る事件も起きていて、「コロナヘイト」の広がりが懸念されています。
Jul 13
The new coronavirus infection count has been rising across the nation with more than 200 cases reported in Tokyo on Sunday.
(NHK)
Jul 13
More heavy rain is expected in eastern and western Japan through Tuesday. Meteorological Agency officials say people should remain on alert for landslides and flooding.
(NHK)
Jul 13
A national facility devoted to the indigenous Ainu people and their culture opens on Sunday in their ancestral region of Hokkaido in northern Japan.
(NHK)
Jul 12
Two U.S. Marine bases in Okinawa have been put on lockdown by the military with 61 coronavirus cases confirmed this week, the prefectural government said Saturday.
(Kyodo)
Jul 12
Scientists have been studying the coronavirus around the clock since it first emerged, but much about the virus still remains a mystery. Recently, reports have emerged of former patients suffering symptoms such as fever and shortness of breath long after testing negative. Doctors and researchers are now studying these lingering effects.
(NHK)
Jul 12
With the midsummer heat still not quite here, Tokyo Disneyland and Disney Sea call off Christmas and all other seasonal celebrations.
(soranews24.com)
Jul 12
NHK has learned that the Japanese government plans to allow foreign nationals with certain residency statuses, including students and technical trainees, to re-enter the country despite a ban imposed due to the coronavirus pandemic.
(NHK)
Jul 11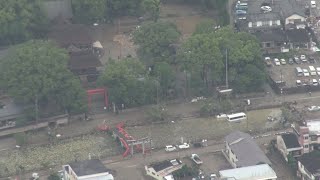 People in many parts of Japan are preparing for a wet and possibly dangerous weekend as weather officials warn of more heavy rain. The extreme weather has left more than 60 people dead and over a dozen missing over the past week.
(NHK)
Jul 11
Officials in Tokyo are dealing with a jump in coronavirus infections. The number of new cases has now topped 200 for two days in a row. It's the first time that's happened since the start of the pandemic.
(NHK)
Jul 11
Japan will begin a subsidy campaign on July 22 to boost domestic tourism hit by the coronavirus, the tourism minister said, although concerns remain over a resurgence of infections.
(Japan Today)
---