Japan's health ministry says it has to retest 23 passengers who were allowed to leave a new coronavirus-stricken cruise ship in Yokohama port, as the initial testing procedure was incomplete.
All the passengers and crew onboard the Diamond Princess were tested at the start of a 14-day quarantine period around February 5.
Six-hundred-and-thirty-four passengers and crew were confirmed to have contracted the virus.
969 passengers who tested negative and were not showing symptoms were allowed to leave the ship between Wednesday and Friday.
But ministry officials found on Saturday that 23 of those released were not tested again after the quarantine period, which was a condition for their release.
The ministry says they tested negative with samples taken before February 5, and were not showing symptoms.
All 23 people, including four foreigners, are residents of Japan, and went home using public transportation on Wednesday and Thursday.
The ministry says three of them have been retested, 17 are scheduled to be, and that it is arranging to test the remaining three.
Health Minister Katsunobu Kato has apologized. He acknowledged that his ministry was responsible for the oversight, and that it will work to prevent a recurrence.
クルーズ船の乗客23人について、本来は必要な再検査をせずに下船させていたことが分かりました。  厚生労働省は3日に横浜港に入港したクルーズ船「ダイヤモンド・プリンセス」で、5日から乗客を船室で待機させるなどの感染拡大防止策を取っていました。乗客のうち23人は5日よりも前に受けた検査では「陰性」でしたが、その後に再検査を受けることなく、19日と20日に下船していました。最初に検査を受けた時点から5日までの間に感染した可能性があるため、加藤大臣はこれをミスと認めて「深く反省する」と謝罪しました。厚労省は23人全員に改めて検査をするということです。また、厚労省職員が感染したことを受け、加藤大臣は船内で事務作業などを担当した職員、全員にウイルス検査を実施すると明らかにしました。
Jul 13
The new coronavirus infection count has been rising across the nation with more than 200 cases reported in Tokyo on Sunday.
(NHK)
Jul 13
More heavy rain is expected in eastern and western Japan through Tuesday. Meteorological Agency officials say people should remain on alert for landslides and flooding.
(NHK)
Jul 13
A national facility devoted to the indigenous Ainu people and their culture opens on Sunday in their ancestral region of Hokkaido in northern Japan.
(NHK)
Jul 12
Two U.S. Marine bases in Okinawa have been put on lockdown by the military with 61 coronavirus cases confirmed this week, the prefectural government said Saturday.
(Kyodo)
Jul 12
Scientists have been studying the coronavirus around the clock since it first emerged, but much about the virus still remains a mystery. Recently, reports have emerged of former patients suffering symptoms such as fever and shortness of breath long after testing negative. Doctors and researchers are now studying these lingering effects.
(NHK)
Jul 12
With the midsummer heat still not quite here, Tokyo Disneyland and Disney Sea call off Christmas and all other seasonal celebrations.
(soranews24.com)
Jul 12
NHK has learned that the Japanese government plans to allow foreign nationals with certain residency statuses, including students and technical trainees, to re-enter the country despite a ban imposed due to the coronavirus pandemic.
(NHK)
Jul 11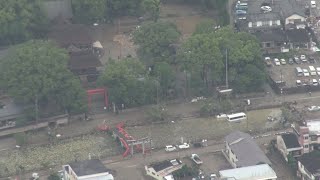 People in many parts of Japan are preparing for a wet and possibly dangerous weekend as weather officials warn of more heavy rain. The extreme weather has left more than 60 people dead and over a dozen missing over the past week.
(NHK)
Jul 11
Officials in Tokyo are dealing with a jump in coronavirus infections. The number of new cases has now topped 200 for two days in a row. It's the first time that's happened since the start of the pandemic.
(NHK)
Jul 11
Japan will begin a subsidy campaign on July 22 to boost domestic tourism hit by the coronavirus, the tourism minister said, although concerns remain over a resurgence of infections.
(Japan Today)
---