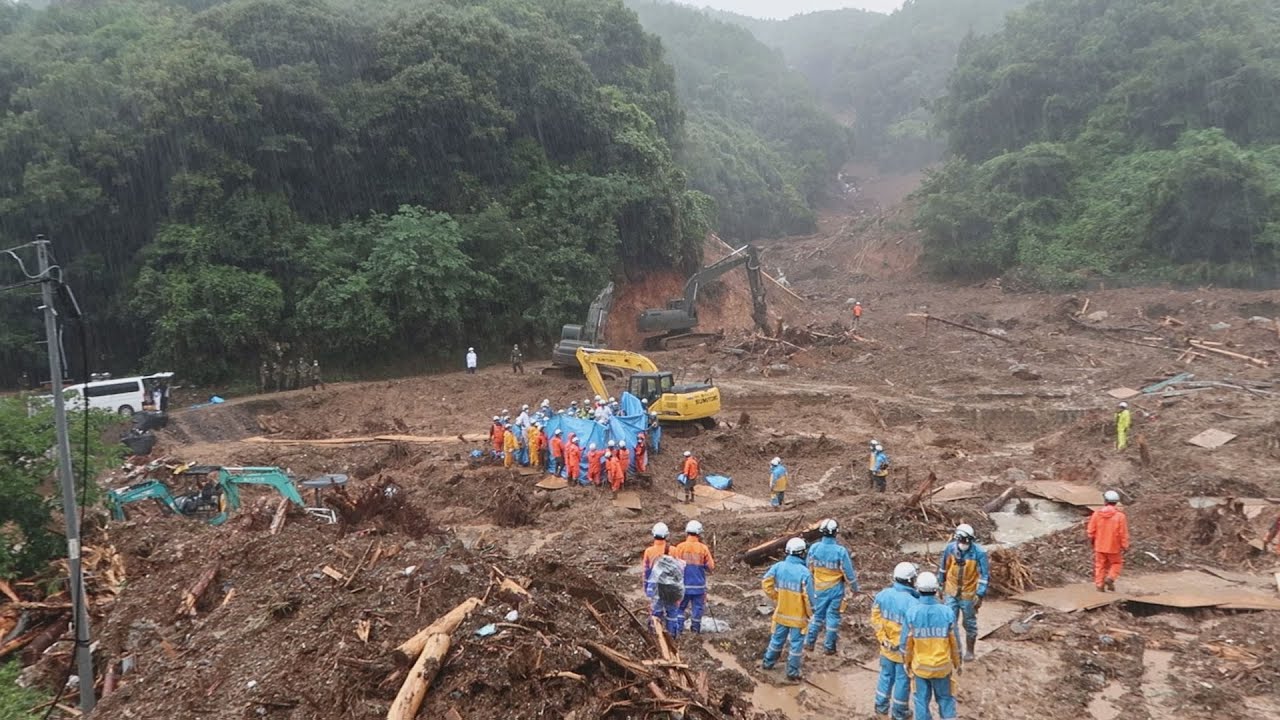 More heavy rain is expected in eastern and western Japan through Tuesday. Meteorological Agency officials say people should remain on alert for landslides and flooding.
A low pressure system on mainland China will move over the Sea of Japan through Tuesday. It could bring more rain and make atmospheric conditions again unstable in eastern and western Japan.
Some rivers in the country's northeast regions are at risk of overflowing.
In the southwestern prefectures of Kyushu, heavy rain last week caused floods and landslides.
The disaster has claimed 70 lives, with 63 of the deaths reported in Kumamoto prefecture. And across the country, 13 others remain unaccounted for.
Weather forecasters say more downpours are expected until Tuesday.
Search and rescue operations are being hampered by threats posed by the coronavirus outbreak. That's left many residents in affected areas cleaning up on their own. Only a few local volunteers are on hand and outsiders aren't allowed to enter the areas over fears of infections.
Authorities are warning those engaged in clean-up work to be ready for sudden changes in the weather. Even a small amount of rain could trigger disasters in affected areas as the ground has become water-logged and river dikes have been damaged.
Aug 09
People in Japan are remembering the victims of a catastrophic event during World War Two. Exactly 75 years ago, an American warplane dropped an atomic bomb on the southwestern city of Nagasaki ... just three days after one leveled Hiroshima.
(NHK)
Aug 09
Many Japanese will be taking their summer holiday over the weekend amid the COVID-19 pandemic.
(CNA)
Aug 09
The Indian Ocean island of Mauritius has declared a "state of environmental emergency" after a Japanese-owned ship that ran aground offshore days ago began spilling tons of fuel.
(Japan Times)
Aug 08
The Tokyo Metropolitan Government says 429 new cases of the coronavirus were confirmed as of 3 p.m. on Saturday.
(NHK)
Aug 08
Ayumi Sato is trying to be careful. But she's had enough. Lockdown fatigue is setting in for Sato, a 34-year-old stock trader who lives in Tokyo, and she's not alone.
(CNN)
Aug 08
NHK has learned that Japan's first supply of an experimental coronavirus vaccine being developed by British pharmaceutical giant AstraZeneca may be provided between next January and March.
(NHK)
Aug 08
Teachers and education officials are calling for students to pay special heed to the risk of heat exhaustion this summer as schools across Japan shorten their summer holidays and hold more classes than usual to make up for closures caused by the coronavirus pandemic.
(Japan Times)
Aug 07
The governor of Tokyo has called on residents to refrain from traveling to other prefectures during the summer holiday season, amid the continued rise in numbers of coronavirus infections in the capital.
(NHK)
Aug 07
The Cabinet on Friday earmarked ¥1.13 trillion in reserve funds to continue measures to cushion the impact of the coronavirus pandemic.
(Japan Times)
Aug 07
Researchers in Japan say the death rate of hospitalized coronavirus patients was 7.5 percent in the country. This is about one third of the COVID-19 death rates reported in Britain.
(NHK)
---