Blogs
Author: Evan Laksmana, NUS
The outlines of the Biden administration's Indo-Pacific strategy are emerging. Public comments from administration figures indicate that the US is seeking to build more bespoke or ad hoc regional coalitions – such as the Quad and AUKUS – to balance China's military power and buttress the 'rules-based order'.
At the heart of the US–China contest in the Indo-Pacific region is a competition for influence in Southeast Asia. But beating the drum of the 'rules-based order' or sounding the alarm on Chinese military and economic coercion has less resonance among south-east Asian post-colonial elites than Washington thinks. Regional countries don't want to subscribe to some exclusive vision of regional order, regardless of whether it is from Washington or Beijing.
Some Southeast Asian countries view 'rules-based order' talk as a necessary diplomatic veneer for defending shared principles but most see it as hollow chatter. And some privately assess it as just a snipe against China.
China's behaviour is certainly detrimental to the region. But the United States must reckon with its own responsibility for the fraying of regional order. This did not begin and end with the Trump presidency. Many regional elites still remember how the US trampled on the order in the name of the global war on terror.
At best, the 'rules-based order' narrative is under-defined and unappealing. At a time of economic flux, how many regional policymakers would make decisions based on an abstract and broken 'rules-based order' rather than on concrete interests such as economic recovery and 'collective welfare'?
Nor should Washington assume that regional states will coalesce to prevent Chinese dominance and create a European-style balance of power. In Asia, hierarchy, rather than power balance, has historically been the structure of regional order.
At the moment few Southeast Asian leaders view China as the primary threat – militarily or otherwise. …continue reading
---
In this a first ever NFT novel project, Japanese science fiction author Miyuki Ono's popular novel "Pure" ( published by Hayakawa Publishing in 2020) is being reedited as an NFT Original novel to release on the OpenSea NFT market place.
"Pure" has gained viral popularity ever since its debut on Hayakawa Publishing Note with a controversial but engaging storyline that follows a woman who must consume men in order to become pregnant. It has received over 200,000 public views, and was selected one of the "Best SF in 2020" novels on Apple BOOK.
Additionally, two English versions of the NFT novel, translated by two different translators, are being released on OpenSea simultaneously.
This publishing system allows the profit to go to not only the novelist, Miyuki Ono, but also to the translators Kalau Armon and Laurel Taylor for both primary and secondary market sales, continuously.
While Japanese novels and literacy have taken off to be a worldwide trend in recent years, the reality is that there is not enough translation work available or done to be published overseas. Although there are over 13,000 literary works published every year in Japan, only a fraction that get translated into English. A main reason for this is the current Japanese literary publishing system is structured in a way that is not profitable for translators.
Miyuki Ono has left a statement for this NFT project specifically addressing the situation in the current Japanese literacy translation, with hopes that the project can provide more profitable opportunities for translators.
"I have decided to release Pure and its English translations as NFTs for the following reason. By releasing this story and its translations as NFTs, I hope to suggest a new possibility for literary translation and encourage more …continue reading
---
Author: Richard Katz, Carnegie Council for Ethics in International Affairs
In running for the presidency of Japan's Liberal Democratic Party (LDP), Fumio Kishida declared that there can be 'no growth without redistribution' and 'no redistribution without growth'. But no sooner was he selected president of the LDP and sworn in as prime minister than he backpedalled on prior promises of economic reform, even withdrawing a proposal to ensure that multimillionaires paid a tax rate as high as those on lower incomes.
Kishida was closer to the truth in his first statement. Improving income equality will not alone solve Japan's growth shortfall, but if done right it could help.
The OECD notes that Japan's deepening inequality during 1990–2010 made a bad situation worse. Had inequality not intensified, per capita GDP would have grown about 25 per cent faster at 0.9 per cent per year instead of the experienced 0.73 per cent. This would have left GDP per capita in 2010 about US$1200 higher, or almost US$3000 higher for the average household of 2.5 people. With faster growth a country has more wealth to redistribute.
Measures to address inequality could in part restore higher levels of Japanese growth. The first priority of Kishida's government should be to reverse the 14 per cent decline in real wages since their 1997 peak. This would not only boost living standards but aid growth by lifting consumer purchasing power.
One tool could be to accelerate hikes in the minimum wage, which at a national average of 902 yen (US$8), lags behind the US$11 base rate received in the United Kingdom, Germany and France. In 2010, the Democratic Party of Japan government set a minimum wage target of 1000 yen. In 2015, former prime minister Shinzo Abe vowed to achieve …continue reading
---
Author: Naohiro Yashiro, Showa Women's University
Japan's new Prime Minister Fumio Kishida won his first election on 31 October 2021 by achieving a majority of seats in Japan's lower house. In early October, Kishida had just won his Liberal Democratic Party's (LDP) leadership vote, competing with Taro Kono. Kono was the minister of regulatory reform in the former Yoshihide Suga cabinet and appealed to younger voters as an expected reformer of the stagnated economy.
By contrast, the 64-year old Kishida is a symbol of stability for the vested-interest supporters of the LDP. He is likely to heavily depend on the bureaucrats who have confidence in managing the economy, following the tradition of former prime minister Shinzo Abe.
Kishida accuses previous LDP leaders of being neo-liberalist and depending too much on market competition, while watching income disparity increase. He emphasises income distribution for the benefit of the middle-income class, rather than the low-income class. He intends to achieve it through tax incentive measures for corporate firms, contrary to the supply-side approach of increasing productivity through the regulatory reform of agriculture, communication and service industries.
Kishida has developed an idea he calls a 'new kind of capitalism', which provides the theoretical framework that guides his policy. Though its content is unclear, this new capitalism is likely to emphasise income distribution rather than profit-seeking. But this is not a good strategy given that Japanese companies are suffering from low profits and excessive elderly employment.
Kishida is likely to focus on populist issues, depending on fiscal measures rather than tax increases to finance the substantial current budget deficit. The only exception is a policy for raising the tax on financial assets. It was an essential measure to gain support for Kishida's income distribution policy, as those with financial assets are the primary beneficiaries of Abenomics. …continue reading
---
Author: Shiro Armstrong, ANU
Prime Minister Scott Morrison's trip to Japan in November 2020 for a historic summit deepened a relationship with Japan that is Australia's strategic anchor in Asia — his sole official trip overseas in close to 19 months. The most important geopolitical, economic and security fault lines in the world run through Australia's and Japan's own backyard.
Australia's relationship with Japan has never been closer, and Japan is of growing importance to Australia. The world's third largest economy, it is Australia's second largest source of foreign investment and third largest trading partner — having been second until commodity exports fell last year.
The Special Strategic Partnership between the two countries rests on deep economic complementarity, shared strategic interests, and deepening trust and familiarity.
But the Japan relationship must be reimagined to cope with accelerating economic, environmental and social changes in both countries and a dramatically changing geopolitical environment. Japan must be embraced as a most favoured partner to deliver on its potential to help deal with these challenges.
There is no room for national complacency about how ready the relationship is to serve this purpose. In addition to the transformation of the economic relationship, much about the region's direction is yet to be negotiated and is too uncertain to take the present-day congruence of strategic outlooks between Japan and Australia for granted. The active, vital task of reimagination must be grasped by Canberra and Tokyo now.
The energy trade underpinning the two countries' growing security relationship is already ebbing as Japan turns to decarbonisation of its economy. The shared strategic approach to China and the rise of global protectionism — notably in the United States and Europe — makes a far closer political, cultural relationship essential to both nations.
Australia, Japan and the region face a rising and more assertive China and an increasingly …continue reading
---
Authors: Andre Kwok and Nathanael Kwon, ANU
Okinawa is hailed as a top tourist destination for its tropical climate and seafaring culture, yet a deep dive into its past unveils a dark history encapsulated by the Battle of Okinawa. Though the battle ended in June 1945, an ongoing struggle over historical memory and commemoration continues. Reflecting on this battle sheds light on the ongoing exclusion of Okinawan voices in Japan.
The Battle of Okinawa was one of the most destructive episodes of the Second World War. The battle destroyed about 90 per cent of the island's infrastructure and claimed an estimated 150,000 civilian lives — about half of the island's total population at the time. The Japanese imperial state largely failed to protect the island's population from this violence; as a matter of fact, the military showed little mercy towards its own subjects.
Accounts of the Imperial Japanese Army's (IJA) brutality include stories of soldiers using locals as human shields and exposing Okinawans to violent US airstrikes and firing lines. Soldiers forcefully raided homes and shelters for supplies, sometimes killing or savagely beating noncompliant Okinawans. In the face of an impending Allied victory, Japanese soldiers also reportedly compelled civilians to commit mass suicide.
This brutality stemmed in part from the prevailing view that Okinawans were not really 'Japanese' and hence could not be trusted to serve loyally. Okinawans are indeed distinct from the rest of Japan, linguistically and culturally, having previously been part of the independent Ryukyu Kingdom until its annexation by Japan in 1879. The IJA's actions towards civilians support the view that Okinawans were second-class citizens in the Japanese Empire at the time.
There were also widespread accounts of …continue reading
---
Author: Editorial Board, ANU
Leaders of the 21 APEC economies met virtually on Friday and made progress on some of the biggest economic challenges facing the world: climate change and pandemic recovery. There was also agreement to defend the multilateral trading system — the scaffolding that holds together the global economy.
The APEC summit chaired by New Zealand came at the end of a busy summit season for leaders on the heels of the Rome G20 meeting and the Glasgow COP26 summit, and before that the East Asia Summit that was hosted virtually by Brunei. Its time in the headlines will be further squeezed by the sudden announcement of a virtual bilateral summit between US President Joe Biden and Chinese President Xi Jinping on Monday, the first since President Biden took office.
It would be easy to dismiss the non-binding economic forum in the Asia Pacific between these major events that command the attention of the world, but that would miss the important and enduring contribution that APEC makes.
Chaired by New Zealand Prime Minister Jacinda Ardern, this year's APEC summit introduced an explicit climate change lens that had not existed previously and that will shape discussions at future APEC meetings. The leaders committed to stop the increase in fossil fuel subsidies — even as countries look to boost economic recovery from the pandemic-induced recession — and facilitate trade in environmentally friendly goods and technology.
There was also agreement to boost COVID-19 vaccine manufacturing and supply. Similar pledges have been made in the Quad summit between Australia, India, Japan and the United States, and in the G20 grouping, and they all need to be put into action. But APEC has a track record of delivery through practical steps and their agreement to facilitate this through the transfer of technology, and elimination of export restrictions …continue reading
---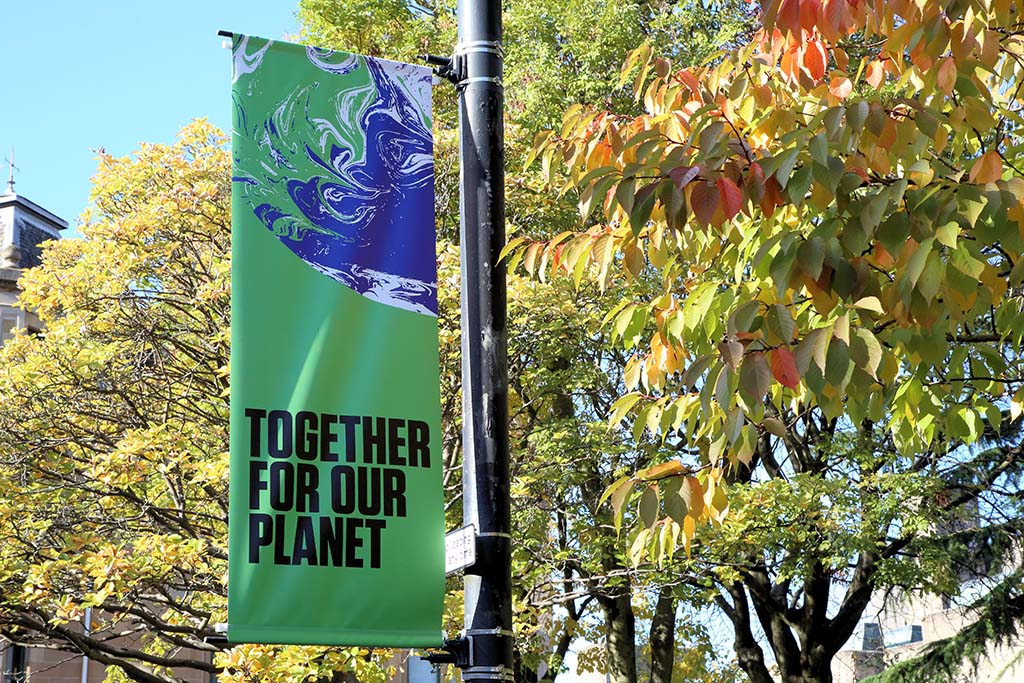 Developing Asian countries, such as Indonesia, Kazakhstan, Thailand, and Viet Nam, have announced their net-zero carbon emission targets by mid-century at the United Nations Climate Change Conference (COP26) in Glasgow, Scotland, and financing climate change mitigation has been at the forefront of discussions for making ambitious climate action a reality.
While the number of responsible investors targeting green investments is growing, international financial institutions have also been urged to play their part and work toward unleashing the trillions in private and public sector finance required to secure global net zero. The Asian Development Bank (ADB), for instance, increased its climate finance target from $80 billion to $100 billion by 2030 and revised its Energy Policy ahead of COP26.
COP26 has recognized the importance of both public and private funds. Public funds can be used to attract private funds, and this is important as private investments will play a crucial role in meeting net-zero carbon targets. Since technologies like carbon capture and storage, hydrogen, energy storage batteries, and marine energy are still not mature, they rely on public funds for their research, development, and demonstration. Demonstrations of their efficiency and performance in different climatic conditions, backed by data, is needed to reduce the risks for investors and attract private funding.
More mature technologies, like solar panels and wind turbines, are better at drawing private investment and rely less on public funds. However, solar panels and wind turbines are not sufficient for meeting net-zero carbon targets due to the intermittent nature of solar and wind energy caused by clouds and variable wind speed. As a result, energy storage or transmission lines are needed to balance electricity demand and supply. Investments in research, development, and demonstration for energy storage will be instrumental in improving electrical system efficiency and safety and reducing costs (Azhgaliyeva 2019).
2020 was …continue reading
---
Author: Corey Wallace, Kanagawa University
Throughout 2021, Japanese Prime Minister Fumio Kishida downplayed his reputation as a defence dove ahead of the Liberal Democratic Party (LDP) presidential race. Eventually victorious, the new prime minister — only 26 days into the job — then led his party to a convincing victory in the lower house election. Will this electoral tail wind allow Kishida to push forward on bolder reforms, including defence concerns that were so prominent in the recent LDP contest?
Some of the themes debated during the LDP leadership election were unsurprising, such as Japan's need to better secure its southwest maritime domain and resist Chinese attempts to undermine the status quo around the Senkaku Islands. The candidates also debated legally and militarily enabling Japan's Self-Defense Forces (SDF) to strike military positions attacking Japan from foreign territories — an increasingly perennial discussion given the rapid pace of missile testing in the region.
Other themes were more surprising. Legislative changes in 1999 and 2015 quietly raised the possibility of Japan contributing — alongside the United States — to Taiwan's defence, but only recently has official discussion of this possibility been raised in public. The LDP race added more voices to the chorus in favour of Japan doing more to support Taiwan's security. An ally of former prime minister Shinzo Abe and now LDP policy chief, Sanae Takaichi, even held an online discussion with Taiwan's President Tsai Ing-wen.
Takaichi stood out in the contest by saying Japan should meet NATO commitments to spend 2 per cent of GDP on defence. Kishida was less ambitious, but committed to an early review and better resourcing of Japan's Mid-Term Defence Plan, reciting the mantra that he would not be bound by Japan's informal 1 per cent of GDP defence spending <a target=_blank …continue reading
---
Author: Aurelia George Mulgan, UNSW Canberra
Japan's new Prime Minister Fumio Kishida was proactive and dynamic in his pursuit of the Liberal Democratic Party (LDP) presidency, which was totally out of character with his behaviour throughout his political career. He was reportedly driven by the conviction that 'it [was] now or never'. He is once again going all out for a resounding victory in the lower house general election scheduled for 31 October.
It is early days, but Kishida's actions to date provide clues as to what kind of prime minister he will be if the election delivers him the prime ministership. They suggest that Kishida is unlikely to take on traditional LDP vested interests and will instead be more in the conciliatory mould of former prime minister Hayato Ikeda, to whom he is bound by factional lineage. Kishida's policy proposals to date suggest that he is flexible to the point of retreating from his initially ambitious objectives.
This is most evident with respect to Kishida's proposals for reinvigorating the Japanese economy and creating a more equitable society. It is in this policy area that he faces the biggest political and electoral hurdles, and therefore the greatest risks to his leadership. It is also an area where he has quickly backed off from some of his key economic reform proposals, creating some confusion about what his administration's policies will be. His objectives have become increasingly vague, making it difficult for voters to grasp his intentions.
During his campaign for the LDP presidency, Kishida developed his theory that growth was important, but that it was also necessary to consider distribution. His declared goal was to create a '<a target=_blank href="https://asia.nikkei.com/Business/Markets/Kishida-shock-to-stocks-shows-fear-Japan-will-slide-on-reforms" target="_blank" rel="nofollow …continue reading
---