Blogs
Yukata vs Kimono – When traveling to foreign countries, one of the most exciting and enjoyable ways to immerse yourself into their culture would be to don their national garment. Nothing will make you feel quite as connected to the culture as glancing in the mirror and seeing yourself dressed in their traditional clothing that have likely spanned centuries over time.
At least, that's the lifespan of the Japanese kimono.
Recognised as the national dress of Japan, the beautiful t-shaped kimono garment is instantly identifiable even amongst people who haven't visited the country before. Characterised by an intricately patterned dress robe with a wide sash wrapped around the waist, the kimono hails from ancient Japan and its beauty and elegance is second to none.
Enter the yukata.
To the untrained eye (which, to be fair, encompasses most visitors to the country), the two garments are seemingly very alike. Both are stunning t-shaped robes that drape flawlessly over the body, depicting an ageless Japanese look that will surely turn heads. Both wrap their left panel over their right, always, as only those who have passed away drape their right over their left.
However, that's where the basic similarities end.
The yukata, whilst still beautiful and important to Japanese history in its own right, is actually a by-product of the kimono. We will get into more detail later on, but these days, the kimono is the more formal of the two, being worn at formal events. The yukata, on the other hand, is a lighter, more casual dress that's typically worn in summer months.
To understand the true differences between the two, we'll first give you light and interesting insight into each garment and then describe the main differences so you can understand them better.
---
It is only twice a year when the earth reaches an equilibrium, and both night and day will be almost equal. The first is in March, called the Vernal Equinox Day, which is also a public holiday in Japan. It indicates the end of winter and a bright greeting to spring. With Autumnal Equinox Day or Shubun no Hi (秋分(しゅうぶん)の日(ひ)), the country welcomes autumn and says goodbye to the brutality of summer.
The history behind the holiday
The holiday is celebrated worldwide and has been one in Japan since the Meiji period (1868-1912). It is also known that the traditional roots of the holiday, called Shuki Koreisai, comes from Shintoism and Buddhism.
Shuki Koreisai was the Shinto holiday observed to honor Japan's past emperors prior to World War II. It was then changed to Shubun no Hi in 1948, symbolizing a day of prayer for a bountiful harvest. The holiday comes right after Respect for the Aged Day or Keirounohi no Hi (敬老(けいろう)の日(ひ)), which is held on the third Monday of the month, meaning more days off from work and school.
Japan has been celebrating the holiday for centuries, with a focus on paying tribute to ancestors and past emperors of the country. The holiday took a non-religious role after WWII when the government divided state and religion as mandated by the post-war constitution.
Traditions upheld during the holiday
Even though the Shinto and Buddhist side of the holiday is no longer upheld, the significance of the equinox remains with a modern twist. For example, both vernal and autumnal equinoxes in Buddhism symbolizes enlightenment and are linked to the six practices leading to morality, perseverance, concentration, meditation, wisdom, and generosity.
The Buddhist holiday is called O-higan ("the other side of the river of death"), and people will spend time with their families, visit …continue reading
---
In normal times, when visiting a Japanese temple or shrine complex, the first thing you would be expected to do would be to wash your hands at the water basin located near the entrance.
This process is part of an ancient ritual known as chōzu, in which worshippers will use a wooden ladle known as 'hishaku' to pour water over their left hand, right hand, mouth and finally over the handle of the ladle itself. The act represents the purification of the body and mind, and once completed, the individual is able to advance to the main hall where they can make their prayers.
Usually, the chōzubachi (water basins) would be full of fresh flowing water, and a collection of hishaku would be readily available for the act of chōzu. However, many shrines and temples have decided to remove the hishaku from the chōzubachi or to turn off their water supplies, for fear that the shared use of the water ladles may be contributing to the spread of the ongoing coronavirus. This worry is understandable, as the infection can be spread through indirect contact of objects used by those infected.
The pause in use of chōzubachi and hishaku was originally intended to be only a temporary change, but by taking a look at the risk factors involved with returning things to the way they once were, it's more conceivable to believe that the act of chōzu will have to adapt to a 'new normal' or risk becoming obsolete in a world that cares more about individual safety, than a ritual which involves sharing water with strangers.
Though the future of chōzu is uncertain, shrine manufacturing and carpenter company Tomiya Honten, has made it their mission to ensure the ritual doesn't disappear into the past, with their collection of personal hishaku.
---
Enako's first "no-cosplay" photo book promises to be her "biggest exposure in history".
There are a lot of cosplayers in Japan, but none of them come close to Enako in terms of fame and income. Her success in the industry has led her to be dubbed the country's "number one cosplayer", and in recent years, she's been branching out to explore new ventures that include gravure modelling.
Now, after becoming a covergirl for Shonen Weekly Champion, and cosplaying in racy costumes for the magazine's gravure spread, the 27-year-old is venturing into new territory again, with her first-ever non-cosplay photo book.
Called "Off Costume", the new photo collection is being billed as Enako's "biggest exposure in history", and judging by the preview photos released ahead of the book's debut, Enako is baring more of her natural self than ever before.
▼ The photos were taken by top photographer Kazutaka Nakamura.
In discussing the upcoming release, Enako says:
"This is the first time for me, as a cosplayer, to appear in a photo book without any cosplay!
I'm pretty much without makeup, and honestly, I'm really excited because the cosplay that up until now has given me confidence is no longer there.
I think it's a collection that captures me as a woman, realistically and true-to-life!"
The photo collection is all about capturing the woman behind the cosplay, in natural everyday scenarios far removed from her fantasy costume world. Fans will be eager to see this new side of Enako, and anticipating the huge response, the photo book will come with different perks exclusive to different retailers.
---
"I'm very happy to be on stage," said a 17-year-old maiko from East Gion, expressing the sentiments of everyone present.
The Sankei Shimbun, JAPAN Forward
The "Early Autumn of Gokagai" (five flower districts), in which young geisha and maiko (apprentice geisha) from the five entertainment districts of Kyoto perform dance and song, was held at a city's concert hall on September 3.
As its sponsor, the Kyoto Traditional Art Foundation, pointed out, this was an effort to give the young artists a chance for more experience since their performances had been canceled one after another due to the COVID-19 pandemic.
A total of about 50 young geisha and maiko from each of the five entertainment districts performed traditional dance and song. They danced beautifully in colorful kimonos to songs and the music of the shamisen, a three-stringed traditional Japanese musical instrument.
(…)
Related Article
---
Furin (or Fuurin) essentially translates to 'wind bell' and describes the Japanese wind chime. Just like how eating an ice cream cone may make you nostalgic for summertime, the sound of a furin sends a Japanese person to their happy place in summer.
Widely known and accepted as the symbol of summer in Japan, when anyone hears the gentle ringing sounds of the wind chime, they become immediately washed over with a refreshing feeling.
It may be a cultural thing, but many Japanese people insist that hearing and seeing the furin sway in the wind actually makes them feel cooler and more relaxed – a must for the balmy Japanese summer nights!
If you've visited Japan during the warm months, you may have seen and heard Japanese wind chimes hanging outside places of residences. These days, they're normally quite cheerful and bright.
What's A Furin?
So what exactly is a furin? To start, we'll give you a basic description of what it looks like and consists of, however, note that there exist thousands of versions of wind chimes in Japan today.
A furin is a Japanese wind chime that is consists of three main parts: the 'gaiken' which is the bell- or bowl-shaped exterior, the 'zetsu' which is the clapper inside the gaiken, and the 'tanzaku' which are the colourful strips of paper that hang down and flutter in the wind.
When the breeze catches and moves the tanzaku, the zetsu will chime inside the gaiken, producing the gentle ringing sounds that everyone loves.
You will likely see these hanging outside of people's homes, either near the windows or along the balcony.
---
Daruma dolls are one of Japan's most popular good luck talismans. You've most likely come across them before as they're displayed wherever people wish for good luck. The symbol of the Daruma doll is also one for perseverance.
Because of this, you might have seen people get tattoos of these dolls on their bodies, or possibly seen the faces of the Daruma dolls on artworks and such.
What are Daruma Dolls?
The Daruma dolls are small rounded dolls that come in various sizes and thus are sold at various prices. They're created with a slightly rounded bottom/stand which is designed to make it difficult for them to topple over.
This embodies its symbol of perseverance and the famous Japanese proverb: fall down seven times, stand up eight.
Aside from the usual keyrings, magnets and sweets, Daruma dolls make a great little souvenir to take home. It's got centuries of Japanese history behind its design and shape and make for an interesting story if anyone were to ask you about them.
If you don't plan to come to Japan soon and still want to get a Daruma, we have you covered! We just added beautiful Daruma dolls into our online shop. 3 colours are available at the moment:
Daruma Dolls – The History Behind The Legend
The full history behind the Daruma dolls is a slightly murky but super interesting one. The first recorded information of Daruma Dolls dates back many centuries ago, when the believed founder of Zen Buddhism, Bodhidharma, brought the religion to China.
He journeyed across the country until he found a suitable cave to …continue reading
---
Decision was made to prioritize singer's health and recovery.
Gackt, a J-rock celebrity with a solo music career spanning over two decades and looks good enough to top countless rankings, had shocking news for fans today. According to his official website, the singer recently succumbed to symptoms of dysphonia, or voice disorder, possibly linked to a neurological disease he has long battled. As a result, he will be putting his musical activities on hold until further notice.
Part of the English translation of the Japanese announcement on the site reads:
"Gackt has been feeling ill for several weeks, but although he lost about 10 kilograms (22 pounds), his current condition is stable. However, doctors have confirmed that it will be impossible for GACKT to pursue work related to using his voice at this point due to severity of dysphonia."
The decision was made after much discussion with his doctors, talent agencies, and other parties, and the decision was to put the artist's recovery first and foremost.
Gackt himself followed up the official announcement with a personal comment later in the day, where he described an intense battle with his neurological condition for about three weeks starting at the beginning of August, which included fainting spells. Fortunately, his condition has recently stabilized.
At the moment, doctors can't say for sure what triggered this intense episode of his neurological disorder (the name of which he has not revealed) or his inability to speak or sing normally, but the musician has assured fans that they are looking into the cause and will administer appropriate treatment once things have been figured out.
▼ It may be a while before we can see this intensity on stage again.
LOVERSのみんなへ
GACKTから大切な報告ですhttps://t.co/NjvIS8mao9 pic.twitter.com/EL6jofxtsb

— GACKT (@GACKT) September 8, 2021
Rather than being devastated, the singer says he's …continue reading
---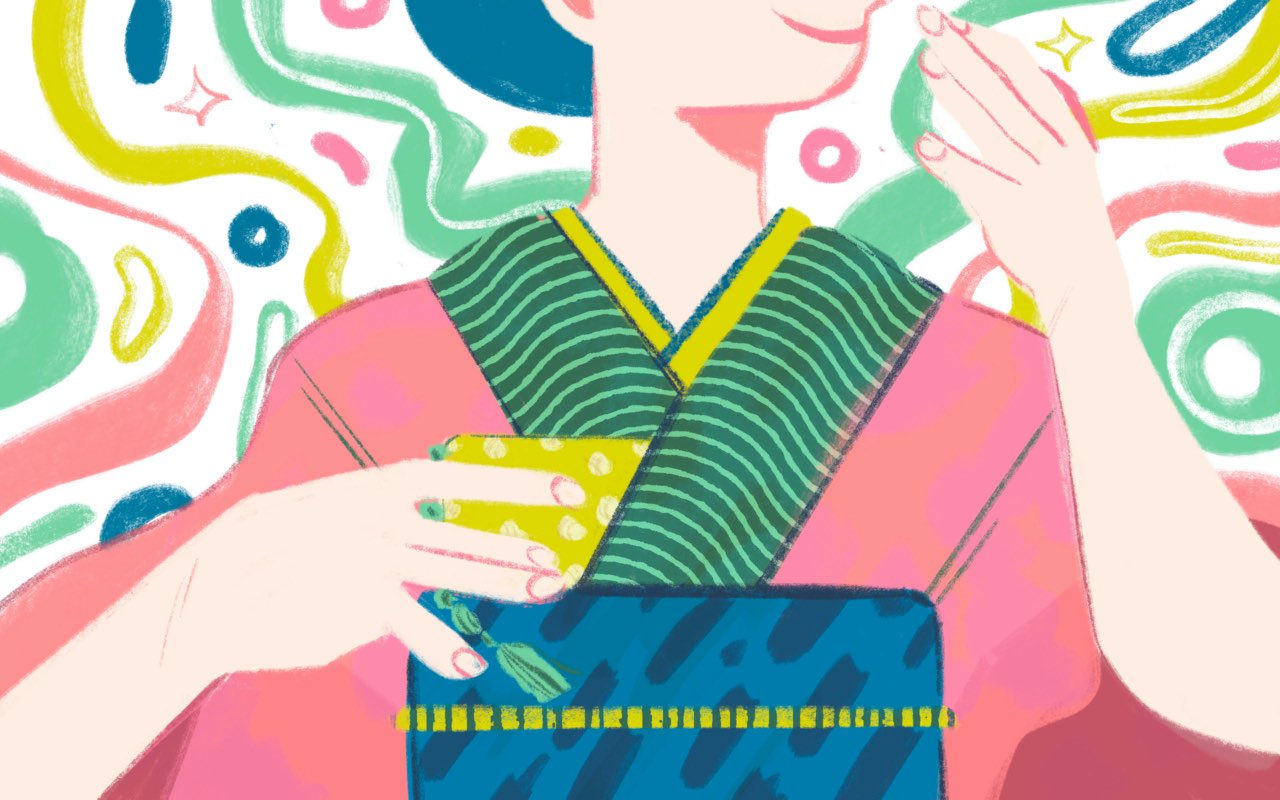 懐(ふところ) (futokoro) is a pocket that's situated between the inner and outer layers of a kimono — the traditional Japanese garment that's a long, loose robe with wide sleeves. When wearing a kimono, the left side is wrapped over the right and tied with… …continue reading
---
Summer and ghost stories go hand-in-hand in Japan. With Obon (the Japanese festival of the dead) being one of the highlights of the month, it's a time for people to share spooky stories or go out and test their livers with visits to haunted houses and locations across the country.
Given the pandemic and recent uptick in COVID-19 numbers caused by the coronavirus, most haunted attractions have changed their systems to make them mask and social distancing friendly for the foreseeable future. One that I've heard good things about is the ghostly wedding ceremony event at Asakusa's Hanayashiki, which starts from Aug. 7 and runs to Oct. 3. Or if you prefer, you can order a zekkyo kyukyusha (絶叫救急車, or "scream-inducing ambulance") online that will come to your home to scare the daylights out of you.
Here is a collection of supernatural stories from Japanese and non-Japanese folks alike living across Japan. If you have one you'd like to share, feel free to add it to the comment section below!
The White Shadow
"This just happened in July (2021). I was out for a drive with friends around noon and was sitting in the back seat. We were stopped at a light and I looked out the window and saw this guy walking and looking at his phone. He's completely average-looking: white T-shirt, black basketball shorts, baseball cap. But there's this shadow on the wall beside him. Except not really a shadow. It was all white and much bigger than he was but it was still person-shaped. No legs though. I mean, it's noon-ish, there shouldn't be any shadows being cast upward on a wall, and there's no way that much light could have come from …continue reading
---