Blogs
Sweets we bought on the street turn out to be suspiciously delicious.
After finishing work the other day, our Japanese-language reporter Yuichiro Wasai was walking to the station to catch a train home when a young woman called out to him. He'd never seen her before, and for a second he almost thought she might be about to ask him out on a date.
It quickly became apparent, though, that the woman didn't speak much Japanese at all. Instead, she pointed towards the sign she was holding, on which she'd written, in Japanese:
"I'm having trouble making ends meet during the coronavirus pandemic. Please buy my homemade chocolate."
Speaking in broken Japanese, the woman said she was a foreign student currently going to school in Japan, and this set off some warning bells in Yuichiro's head. Since the start of the pandemic, there's been an increase in non-Japanese people selling various trinkets on the street, usually with some sort of story about how they're in Japan on a student visa but no longer able to support themselves. Their stories are often vague and lack specific details, though, and it's hard to get answers to any further questions, as the sellers often say they don't speak Japanese well enough to understand the query or convey the answer. In other words, it's hard to tell if they're legitimate students going through a rough patch, or just scam artists looking to profit off kindhearted people's sympathy.
When Yuichiro asked if he could take a picture of the woman's sign, the woman said no, he couldn't, which didn't exactly inspire confidence. "What if she's lying?" Yuichiro thought. "Maybe this is part of some scam operation and I'll be funding a bunch of fraudsters?" But then the little compassionate angle aspect of Yuichiro's psyche settled on his shoulder, and in …continue reading
---
Congratulations, space cowboy.
Some of anime voice actor Koichi Yamadera's most memorable roles are characters who aren't exactly lucky in love. As Ranma 1/2's Ryoga Hibiki, he spends pretty much the entire series pining after a girl who only sees him as a friend (or a pet), and he's got an even more tragic love life as Cowboy Bebop's Spike Spiegel, a man eternally haunted by the memory of the lover he left behind when he broke away from a life in organized crime.
Yamadera himself, on the other hand, has a much more active love life, and this week announced that he's gotten married.
ご報告です。 pic.twitter.com/gnoRgqWqZa

— 山寺宏一 (@yamachanoha) June 14, 2021
"If you'll pardon me for talking about a personal matter, I'd like to announce that Robin Shoko Okada and I have gotten married," Tweeted Yamadera.
▼ Robin Shoko Okada
おしらせ

明日7時15分ごろ
下半期何が流行るのか
ZIP特集コーナーで調査してます
是非、見てください!#ZIP pic.twitter.com/W5AT84rbFt

— 岡田ロビン翔子 (@xoxorobin19) June 7, 2021
You might be thinking that Okada, a former idol singer and current media personality (or "talent," to use the Japanese show biz term) looks surprisingly young for the spouse of someone who's been an anime voice actor since the mid-1980s, and there is indeed a large age gap between them. Okada, who was born in the U.S., is 28 years old, while Yamadera is 59, and will be turning 60 on Thursday.
▼ Okada was a member of idol unit Ciao Bella Cinquetti (also known as The Possivo) from 2004 to 2018.
The couple became acquainted while co-hosting The Bay Line, a talk radio program for Chiba Prefecture's bayfm, where their stint lasted from 2015 until March of last year. "After we both graduating from hosting the show," says Yamadera, "I realized how important she'd become to me, and we started dating." …continue reading
---
Hashimoto becomes the undisputed, certified Queen of Tissues.
It was eight years ago that a photo of young idol Kanna Hashimoto dancing spread through the Internet like wildfire and earned her the title of "the once in a millennium idol." Since then, it's been a non-stop rise in show-business appearing in TV, film, and eight out of 10 commercials at any given moment.
And if all that wasn't enough, the 22-year-old Hashimoto has now joined the rarified ranks of Guinness World Record holders. Appearing on the TV program 130,000,000 People's Show Channel on 12 June, Hashimoto broke the record for "Most Facial Tissues Pulled Out of the Box in One Minute."
ギネス!!!!
自分が一番びっくりしてます。。
今度からはギネス記録保持者です。って自己紹介で言いますpic.twitter.com/hswdXbxGxV

— 橋本環奈 (@H_KANNA_0203) June 13, 2021
A crucial aspect of this record is that it can only be done with one hand, but Hashimoto seemed confident she could surpass the previous record of 140 tissues in one minute. As the Guinness official watched on, Hashimoto started with her palm flat on the table and then began plucking like the wind when time started.
She showed a keen sense of conservation of movement in her technique, swinging her forearm at the optimum angle for tissue removal and displacement far from the box. This would be the key to her success, because Hashimoto knew that after enough time a large enough pile of tissues could develop around the box that would severely hamper her ability to keep plucking.
Still, with the sheer speed of her endeavor tissues had eventually begun to gather around the working area. However, without missing a beat, she used her one available hand to sweep away the mess and resume plucking. Hashimoto also used her knees to help keep a steady momentum.
▼ Full video of the record attempt
---
When exploring in the far west of Tokyo last week, I was reminded of a bar out there and the absolutely lovely 93-year-old who owned it. A memory that in turn made me think about the area's long-abandoned ropeway, as it was an attraction the old lady had actually ridden on when she was younger.
Open and ready for passengers at the start of 1962, the 622 metre cable car ride was, in part, built to capitalise on the 1964 Tokyo Olympics. Just like the 2020 Games, however, things didn't quite work out as planned, and visitor numbers simply weren't substantial enough. An outcome that perhaps shouldn't have been all that surprising considering the out of the way location, the short, one-stop hop over a lake, and the meagre 0.6 metre height difference between stations. So a mere 4 years after it opened, operations were halted on December 1st 1966. Ostensibly just for the winter, it was an end of year break that lasted until 1975, when an official suspension was announced. A state the site has stayed in ever since — clearly never opening again, and yet at the same time never actually closing.
Left to slowly decay and staying pretty much untouched for decades, there's now graffiti on the platform, plus more recently on at least one of the cable cars, so that aspect, and the slightly tenuous Olympic connection, seemed like as good a time as any to re-edit these photos from 8 years ago. A time when everything was almost as it was after that last journey over the lake more than 50 years ago.
<img src="https://www.tokyotimes.org/wp-content/uploads/abandoned-tokyo-cable-cars4-1200×799.jpg" alt="long-abandoned and beautiful tokyo cable cars" width="1200" …continue reading
---
Our in-house Berserk fan dresses up as one of the series most memorable faces…and no, it's not Guts of Griffith.
It's now been three weeks since we learned about the death of manga artist Kentaro Miura, creator of Berserk, who passed away in early May at the age of 54. Among those deeply saddened by Miura's sudden passing is SoraNews24's own Mr. Sato, a long-time Berserk fan.
They say that everyone grieves in different ways, and Mr. Sato's first reaction was to go back and reread his favorite chapters of the manga. But he felt a longing to more actively work through his feelings, and that's when he had an idea.
After decades of enjoying Miura's art, Mr. Sato would himself create a visual expression of the Berserk world by cosplaying as one of its characters.
But the question then became who to cosplay as? Main character Guts would be the obvious choice, but looking around the office, Mr. Sato felt that if anyone were going to take on that role, it should be his colleague Masanuki Sunakoma.
▼ The guy knows a thing or two about wandering, after all, with as much time as he spends drifting back and forth across Japan.
So maybe Griffith? No. Along with his complex motivations and calculating ruthlessness, Griffith is known for his fabulous hair, and in that department, SoraNews24 reporter Seiji Nakazawa is the current champ.
---
Until now it was easier to get your hands on a crossbow than an air rifle.
On Tuesday, Japan's House of Representatives held a plenary session, and the days discussions of matters of national legislative importance eventually turned to crossbows.
Surprisingly, despite spelling out rules and regulations regarding all sorts of weaponry, Japan's Firearm and Sword Control Law apparently had no preexisting rules, specifically no specific ordinances, relating to crossbows, of either the two-handed or single-handed pistol crossbow/bowgun variety, perhaps because crossbows are technically neither firearms or swords. As a result, up to now there's been no specific licensing required for their possession or use. Much like in a fantasy role-playing video game, if you had enough money to pay for a crossbow, you could buy one and use it as you personally saw fit.
That'll be changing soon, though, as the House of Representatives passed a motion to amend the Firearm and Sword Control Law, and once it goes into effect Japanese residents will need a permit from their Prefectural Public Safety Commission in order to possess a crossbow. The requirement is modeled after one already in place for air rifle ownership, which requires the completion of safety classes and for the owner to be at least 18 years of age.
As to why the Japanese government didn't sort out crossbow regulations back in the feudal era, the weapons were never particularly common in Japan, and modern firearms have already been strictly regulated for some time. However, according to Japan's National Police Agency, crossbows/bowguns were involved in 37 reported crimes that took place between 2010 and 2020, 16 of which were murders or attempted murders, including the killing of four people in Hyogo Prefecture in June of 2020.
Along with requiring permits for crossbow ownership, the new law will officially restrict their …continue reading
---
From playing their own instruments to scaring the crap out of each other, these six 7 MEN are changing the face of Japanese idols.
The past few years have been quite tumultuous for the powerhouse boy band management firm Johnny & Associates. In 2016, the iconic idols of SMAP decided to go their separate ways and in 2019, the company's founder and heavily involved president Johnny Kitagawa passed away at the age of 87.
If that weren't enough, the top-selling group ARASHI also called it quits as a unit at the end of last year and fellow long-running act V6 are set to follow suit this November. However, with all this change comes the opportunity to do something different, and that's what the newest generation of Johnny's groups have been working on.
▼ If this ain't different, I don't know what is.
One of the groups at the forefront of this movement are the six members of 7 MEN Samurai. I'll explain why that math doesn't add up in a moment, but for a few years now this group has been steadily building a fanbase online not just with music but with their many videos on YouTube and Johnny's own Island TV website, such as the Taiko's Challenges series.
Born out of the self-isolation of 2020, member Taiko Sasaki came up with the idea to attempt a range of self-imposed stunts at home and at work that defy common sense. He fails at pretty much all them, but it ultimately makes for more entertaining content that way.
▼ A fan-made video compilation of Taiko's Challenges with Korean subtitles, my favorite is his ill-fated attempt to wear a frozen T-shirt without making a sound from the harmonica …continue reading
---
On the bright side, he could probably write a song about this.
One of the biggest names in Japanese music is easily the former L'Arc-en-Ciel frontman Hyde. With several top-selling albums and sold-out tours, it can be easy to forget the prolific singer's humble origins lie in the relatively rural area of Wakayama City.
▼ Since we don't have a file photo of Hyde, here's one from the time Mr. Sato got a makeover to look like him
Hyde himself certainly hasn't forgotten, however, and frequently promotes his hometown, even becoming Wakayama's Tourism Ambassador in 2019. Although he ended his term as ambassador last January, he received a Municipal Cultural Award for his efforts.
And it was during his tenure that Hyde visited Shinrin Park in January of 2020 with a group including Wakayama mayor Masahiro Obana. While in the park, Hyde and the others planted hydrangea saplings, and although the flowers are called "ajisai" in Japanese, the similarity between the flower's English name and his own was not lost.
【和歌山市ふるさと観光大使「HYDE」さんのアジサイ植樹①】
このたび、HYDEさんの思い出の地でもある和歌山市森林公園(加太)において、アジサイの植樹が行われました。
これは「和歌山市ふるさと観光大使」委嘱時に尾花市長からお願いした「アジサイ植樹」の約束を実現していただいたものです。 pic.twitter.com/MeU27QB8iV

— 和歌山市役所 (@wakayama_master) January 23, 2020
Shinrin Park has somewhere around 9,000 hydrangea bushes and the exact location of Hyde's was not officially made public. Still, fans of the singer were able to deduce the location based on photos and other evidence, such as in this YouTube video below.
And there they grew, a living reminder of Hyde and his connection to Wakayama that anyone could visit freely and enjoy its beauty. It also helped bring tourism to the area by attracting hardcore Hyde fans from all over Japan.
However, on 6 June, 2021, one such fan reported that Hyde's hydrangea had been stolen and tweeted a plea for its safe return.
▼ "Please …continue reading
---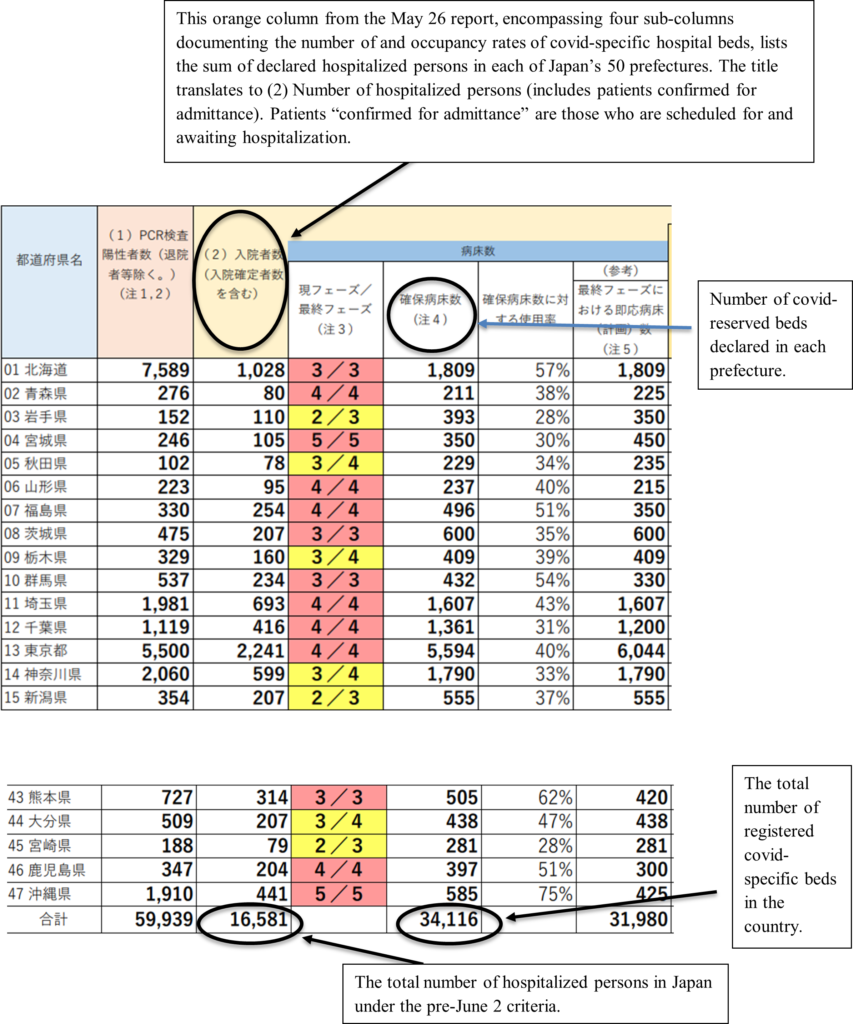 Suddenly, Japan which was facing a severe fourth wave of coronavirus infections, serious illnesses and death seems to be out of the woods! The number of prefectures (Japan's equivalent of a state) that were ranked as having the worst coronavirus infection category have suddenly dropped in half. Just in time for the Olympics!
But it's not quite what it seem. The number of prefectures under Japan's severest coronavirus infection category was only nearly halved AFTER the Ministry of Health, Labor and Welfare revised its method for calculating hospital bed occupancy rates. Japan has a long history of solving problems by lying about the numbers or altering standards to cover-up problem.
Two months after the nuclear meltdown in Fukushima in March 2011, the Japanese government raised the allowable exposure to radiation from 1 mSv annually, an international benchmark, to 20 mSv. In 2012, it fiddled with the numbers again.
On June 2, this year the ministry announced it would no longer include Covid-19 patients waiting for admittance or treated in "general beds" that are not registered as coronavirus-specific when determining bed occupancy. The new guideline decreased the number of stage 4 prefectures with a bed occupancy over 50% from 20 prefectures to 11. The hospital bed occupancy rate is one of several indicators the Japanese government uses to monitor the pandemic and issue or revoke state of emergency orders.
How The Magic Works!
The Ministry of Health, Labor and Welfare publish weekly reports tracking the key variables used to categorize and document citizens recovering from Covid-19. Hospital bed occupancy rates express the personnel and resource demands placed on the healthcare system.
Last week's report displaying data collected as of May 26, 2021, tallied the national total of Covid-19 …continue reading
---
We all have our own ways to keep busy during the pandemic.
There's an old adage in Japan that states "the customer is god" as a way to instill good customer service among staff. But the thing about gods is that they're really spiteful, and if you offend them in the slightest way, they tend to bring about eras of prolonged darkness and misery.
Such was the case when a man in his 60s visited a pickle store in Suminoe Ward of Osaka City in the autumn of 2019. The pickled food shop owner and customer got into a dispute over a point card issued by the shopping arcade that the store was inside.
The details of the point card problem weren't reported but it was clearly enough to leave the customer feeling very unsatisfied. To express his displeasure, he would return to the store several times a month, utter curses such as "die" and then spit on the walkway in front. This reportedly occurred from January to October of 2020.
▼ News report on the incident showing the location where the spitting occurred
Spitting in public is frowned upon in Japan, and doing so in places where people gather is a violation of the Minor Crimes Act, but the pickle store decided to let it slide for the better part of a year, probably assuming he would tire himself out after long enough.
However, as the months passed by, the COVID-19 problem grew increasingly serious in Japan. So, last September the shop owner confronted the man, but ended up being charged with assault. He explained the situation to the police and told them "it was unhygienic with the growing COVID-19 problem, and the stress of repeatedly telling the man to stop was too much to bear."
This resulted in an investigation of the serial spitter. …continue reading
---