Search Results: 11
Japan to deploy F-35B fighters to bolster Nansei Islands defense
Nikkei - Jul 17
Japan's Self-Defense Forces will deploy state-of-the-art F-35B stealth fighters in southwestern Miyazaki Prefecture, Defense Minister Nobuo Kishi said Friday, as the country ramps up defenses around its Nansei Islands.
---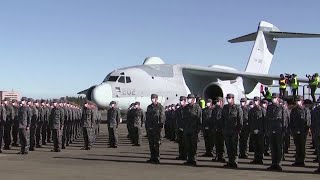 Japan to scrap 1% GDP cap on defense spending: Minister Kishi
Nikkei - May 20
TOKYO -- Japan plans to boost defense spending without worrying about sticking to its long-standing limit of 1% of gross domestic product, Defense Minister Nobuo Kishi told Nikkei on Wednesday.
---
Japan school textbooks amended to reflect new guidelines on territories
Japan Times - Apr 01
New teaching guidelines for the subjects of
kōkyō
(public affairs) and
chiri sōgō
(comprehensive geography) stipulate that four Russian-held northeastern Pacific islands, the Sea of Japan islands of Takeshima and the Senkaku Islands in the East China Sea should be described as Japan's inherent territories.
---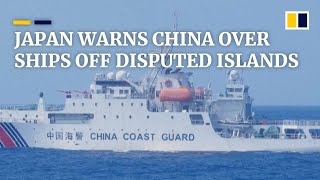 Japan weighs in on South China Sea dispute, adding to pressure on Beijing
South China Morning Post - Jan 22
Japan has joined a battle of diplomatic notes over the South China Sea dispute, adding to pressure on Beijing over its expansive claims in the strategically important waterway.
---
Japan's air force faces a 'relentless' burden, imposed by China
CNN - Jul 30
Japanese fighter pilot Lt. Col. Takamichi Shirota says his country is under increasing pressure from the air. Analysts say it's a pressure faced by few other nations.
---
Japan plans new electronic warfare unit facing East China Sea
Nikkei - Jun 29
Japanese defense forces will establish next spring a new electronic warfare unit responsible for jamming signals ahead of an attack on the country, Nikkei has learned.
---
China warns of reprisal as Japanese city changes disputed area name
Japan Today - Jun 23
China said on Monday it reserves the right to respond to a Japanese city's decision to rename the administrative area that includes remote islands claimed by both China and Japan and have long been a source of friction between the neighbours.
---
Japan detects foreign submarine traveling westward near Amami-Oshima Island
Japan Times - Jun 21
A foreign submarine was detected passing by Amami-Oshima Island while submerged off Kagoshima Prefecture, the Defense Ministry said Saturday.
---
Japan, China to avoid mentioning Senkakus in communication mechanism
Japan Today - May 08
Japan and China are unlikely to mention that the waters and airspace around a group of uninhabited islets controlled by Japan and claimed by China are subject to a bilateral communication mechanism aimed at averting unintended clashes, Japanese government sources said Monday.
---
Kono, Wang pledge to improve bilateral ties
the-japan-news.com - Jan 29
Foreign Minister Taro Kono and his Chinese counterpart, Wang Yi, agreed Sunday that the two countries should steadily promote reciprocal visits by Prime Minister Shinzo Abe and Chinese President Xi Jinping in order to improve bilateral relations.
---
U.S., Japan conclude joint drills in disputed South China Sea
Japan Times - Jun 17
The Defense Ministry announced Friday that the Maritime Self-Defense Force's largest warship, the Izumo helicopter carrier, wrapped up three days of joint drills with the aircraft carrier USS Ronald Reagan in the disputed South China Sea.
---
\\