Bank of Japan Governor Haruhiko Kuroda defended the BOJ's yield curve control on Thursday, the first anniversary of the key item in the bank's ultraeasy monetary policy regime.
The yield curve control, designed to guide short-term interest rates to minus 0.1 pct and long-term rates to around zero pct, has had "positive effects on the economy," Kuroda told a news conference.
Earlier in the day, the BOJ decided by a vote of eight to one to leave its monetary policy intact, including the yield curve control, which involves massive Japanese government bond purchases.
Kuroda said the current policy helped fuel an increase in bank lending and economic growth.
Economists and market watchers say the policy has caused a sharp decrease in JGB trading, hurting the market's functioning. But Kuroda said no major problem has occurred.
Tweets about 日銀
1st oral abortion pill steps closer to approval in Japan
Kyodo - Jan 28
A pharmaceutical advisory body for Japan's health ministry on Friday expressed no objection to the manufacturing and marketing of an abortion pill, bringing the medication a step closer to becoming the first of its kind to gain approval in the country.
---
How 52,000 Pots Are Used To Age A Rare Japanese Black Vinegar
Insider Business - Jan 28
Kurozu is Japanese black vinegar made using a 200-year-old technique of naturally fermenting ingredients outdoors in giant clay pots.
---
Japan embraces Web3 while other countries are hesitant
bollyinside.com - Jan 28
Web3 promotion continues to be a cornerstone of Japan's national strategy as lawmakers and regulators from the U.S. to Europe to Asia voice growing caution regarding cryptocurrencies.
---
Japan to count COVID cases using method for seasonal flu
NHK - Jan 28
Japanese health authorities say they will start counting coronavirus infections using the same method they do for cases of seasonal influenza.
---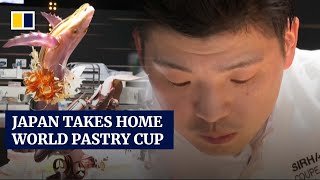 Japan takes home first World Pastry Cup in over a decade
South China Morning Post - Jan 27
Japan is taking home the World Pastry Cup for the first time in 16 years.
---
What makes MOST foreigners LEAVE Japan?
Mrs Eats - Jan 27
Some of you probably have a dream of one day moving to Japan and living here for the rest of your life, or at least for the foreseeable future.
---
A Boy Is Adopted Into A Girl Only Dormitory...
Anime Explained - Jan 27
Nagumo Koushi. His house burned down on his birthday. His father has never had a job and a single dollar behind him.
---
Japan plans to downgrade COVID-19 classification on May 8
NHK - Jan 27
The Japanese government is planning to downgrade COVID-19 on May 8 to the same category of infectious diseases as seasonal influenza.
---
---