A 10-year-old Japanese girl is set to become the youngest professional player of the Asian board game "Go" next month.
At a ceremony in Tokyo on Tuesday, Sumire Nakamura from Osaka and 12 others received their "sho-dan" licenses, the lowest professional rank. The players turn professional on April 1.
The Japan Go Association, or Nihon Ki-in, decided in January to induct Nakamura into the professional ranks under a special quota to develop players to rival champions in China and South Korea, where the game is also popular.
Nakamura says she aims to become one of the world's top players.
Risa Ueno from Tokyo will become the third-youngest female professional at age 12 years and 9 months. She finished first in a test to recruit female players.
Ueno said she appreciates the people who have supported her and hopes to win titles in the game.
史上最年少、10歳の棋士にプロの免許が授与された。 囲碁の仲邑菫さんが26日に日本棋院で免状、つまりプロ免許を授与された。これで来月に晴れてプロデビューすることとなる。10歳の史上最年少棋士の注目度は高い。同期のなかでもひときわ小さい菫さん。
May 25
U.S. President Donald Trump is set to start a four-day state visit to Japan on Saturday, a historic event that will make him the first foreign leader to meet with new Emperor Naruhito.
(Kyodo)
May 25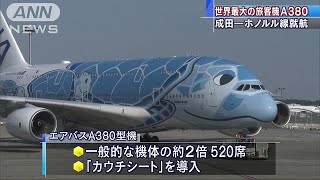 All Nippon Airways debuted flights of a double-decker Airbus A380 from Narita Airport north of Tokyo, bound for Hawaii on Friday.
(NHK)
May 24
The government will no longer use the term "lifelong singles" as a label for people who have not married by age 50, deeming the term inaccurate as Japanese are increasingly tying the knot later in life, officials said Thursday.
(Japan Today)
May 24
Many parts of Japan saw the mercury top 30 degrees Celsius on Thursday. Weather officials are warning of unseasonal high temperatures over the weekend.
(NHK)
May 24
Police in Japan are stepping up security for an upcoming visit by US President Donald Trump.
(NHK)
May 24
Japan's new supercomputer Fugaku is set to begin operations around 2021 with the country aiming to regain the title of building the world's fastest computer, replacing its current supercomputer K, government-backed research institute Riken said Thursday.
(Japan Times)
May 23
Kyoto Prefectural Police have arrested a 23-year-old male Australian national who is suspected of scrawling graffiti in dozens of locations in Kyoto City, reports Fuji News Network (May 22).
(tokyoreporter.com)
May 23
The International Olympic Committee says boxing is set to maintain its place in the 2020 Tokyo Games, but that the sport's international association should be excluded from organizing the events due to a number of problems.
(NHK)
May 22
Foreign Minister Taro Kono said Tuesday he plans to ask overseas media outlets to write Japanese names with the family name first, as is customary in the Japanese language.
(Kyodo)
May 22
Tokyo DisneySea has begun its largest expansion project ever.
(NHK)
---