An international group of scientists says it has successfully captured the first-ever image of a black hole -- an astronomical object with a gravitational pull so strong that nothing can escape it, not even light.
Scientists from Japan, the United States, Europe and elsewhere presented the result of its project at six venues around the world simultaneously on Wednesday.
The astronomers released the picture of a black hole at the center of a galaxy known as M87, some 55-million light years away from Earth.
A black hole cannot be seen directly since its massive gravity pulls in all light and radio waves, but the scientists detected the radio waves emitted from gas and dust surrounding it.
The scientists used an array of radio telescopes in six locations around the globe to create a virtual Earth-sized telescope. They converted the resulting data into an image to get the first-ever photograph of the dark edge of a black hole.
They say the black hole has a mass about 6.5 billion times that of the sun.
It is believed there are many black holes in the universe. But scientists have only estimated their locations or made simulated images by referring to movements of other celestial bodies affected by strong gravity.
Observers say the latest revelation is expected to contribute to solving some of the mysteries of black holes, which are believed to have been deeply involved in the origin of the universe.
国際研究グループが、これまで誰も見たことがなかったブラックホールの撮影に成功したと発表した。研究の中心的な役割を担った国立天文台水沢の本間希樹教授は「(ブラックホール)そのものは見えない。ブラックホールの周りにガスがあって、それが光を出す。
May 25
U.S. President Donald Trump is set to start a four-day state visit to Japan on Saturday, a historic event that will make him the first foreign leader to meet with new Emperor Naruhito.
(Kyodo)
May 25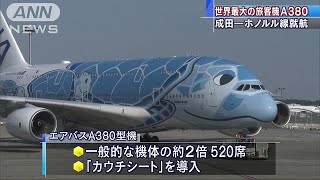 All Nippon Airways debuted flights of a double-decker Airbus A380 from Narita Airport north of Tokyo, bound for Hawaii on Friday.
(NHK)
May 24
The government will no longer use the term "lifelong singles" as a label for people who have not married by age 50, deeming the term inaccurate as Japanese are increasingly tying the knot later in life, officials said Thursday.
(Japan Today)
May 24
Many parts of Japan saw the mercury top 30 degrees Celsius on Thursday. Weather officials are warning of unseasonal high temperatures over the weekend.
(NHK)
May 24
Police in Japan are stepping up security for an upcoming visit by US President Donald Trump.
(NHK)
May 24
Japan's new supercomputer Fugaku is set to begin operations around 2021 with the country aiming to regain the title of building the world's fastest computer, replacing its current supercomputer K, government-backed research institute Riken said Thursday.
(Japan Times)
May 23
Kyoto Prefectural Police have arrested a 23-year-old male Australian national who is suspected of scrawling graffiti in dozens of locations in Kyoto City, reports Fuji News Network (May 22).
(tokyoreporter.com)
May 23
The International Olympic Committee says boxing is set to maintain its place in the 2020 Tokyo Games, but that the sport's international association should be excluded from organizing the events due to a number of problems.
(NHK)
May 22
Foreign Minister Taro Kono said Tuesday he plans to ask overseas media outlets to write Japanese names with the family name first, as is customary in the Japanese language.
(Kyodo)
May 22
Tokyo DisneySea has begun its largest expansion project ever.
(NHK)
---