Japan's antitrust watchdog on Wednesday raided the offices of Rakuten Inc and two other online booking operators, alleging they hurt fair trade by requiring accommodation clients offer their lowest prices on their platforms, according to a source close to the matter.
The Japan Fair Trade Commission's probe comes amid its closer scrutiny of alleged obscure business transactions involving providers of digital platforms for the sale of products and services via search engines and e-commerce sites, among other avenues.
According to the source, Tokyo-based Rakuten, U.S. firm Expedia Group Inc and Dutch outfit Booking.com B.V. have, for several years, allegedly urged clients to set accommodation prices the same as, or lower than, those they offered on rival websites and on hotels' official sites.
Rakuten said it "will fully cooperate with the investigation".
In August 2016, the commission conducted a similar on-site probe of Amazon Japan, on suspicion it signed contracts with suppliers under which they agreed to make their product line-ups and prices competitive, or at least match those on rival online retailers.
The commission terminated its probe in June 2017 once the company retracted such conditions, without ruling whether antitrust law had been violated.
In March last year, the commission again raided Amazon Japan for allegedly violating the antitrust law by having suppliers shoulder part of the costs to cover discounts the retailer applied to goods. That investigation is ongoing.
旅行予約サイトを運営する大手3社が、契約先のホテルや旅館などに対し、ほかのサイトでは安い価格を提供しないよう求めていた疑いがあるとして、公正取引委員会が立ち入り検査を行っている。
Sep 21
Toyota Motor has unveiled the first yacht under its Lexus luxury brand, with a 450 million yen ($4.17 million) price tag in Japan that aims it squarely at the super-rich.
(Nikkei)
Sep 20
A Japanese district court has found all three former executives of Tokyo Electric Power Company not guilty in the only criminal prosecution stemming from the 2011 nuclear disaster in Fukushima.
(NHK)
Sep 20
E-commerce giant Amazon Japan has announced it will launch a locker delivery service called Amazon Hub at the major convenience store chain FamilyMart and train stations along the Odakyu line.
(Japan Today)
Sep 18
Toyota Motor Corp. rolled out a new model of the Corolla on Tuesday, making it the first fully redesigned sedan in about seven years.
(Kyodo)
Sep 18
The Japanese government is considering tighter restrictions on foreign investment in industries it sees as key to national security, such as nuclear power and chipmaking.
(Nikkei)
Sep 13
Yahoo Japan's acquisition of online fashion retailer Zozo presents an opportunity for the venerable internet services company to bring fresh blood into its e-commerce audience as the business looks to step outside the shadow of Amazon.com and Rakuten.
(Nikkei)
Sep 11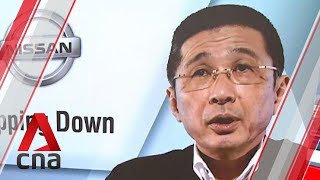 In Japan, is there one standard of justice for Japanese executives and another for non-Japanese executives? The forced resignation on Monday of Nissan Motor Co.'s chief executive officer, Hiroto Saikawa, certainly seems to suggest as much.
(Bloomberg)
Sep 11
Japan's real gross domestic product retreated 0.5% in July compared with the previous month as rising imports led to negative external demand, the Japan Center for Economic Research reported Wednesday.
(Nikkei)
Sep 10
The month between World Suicide Prevention Day on September 10 and World Mental Health Day on October 10 is a good time to start considering the under-discussed topics of anxiety, depression and suicide in our society, especially as they relate to the workplace.
(Nikkei)
Sep 10
Nissan Chief Executive Hiroto Saikawa tendered his resignation Monday after acknowledging that he had received dubious income and vowed to pass the leadership of the Japanese automaker to a new generation.
(Japan Today)
---