The Tokyo District Court decided Friday to extend former Nissan Motor Chairman Carlos Ghosn's detention by eight days, refusing to grant the full 10 requested by prosecutors in an unusual move.
Ghosn was rearrested April 4 on suspicion of funneling company funds to an Omani distributor run by an associate -- something that investigators had been looking into over the three months since his previous indictment in January. The court likely decided that eight days would be enough for prosecutors to determine whether additional charges were warranted.
An appeal by lawyers for Ghosn was rejected. In a news conference April 4, Junichiro Hironaka, the head of the former Nissan chief's legal team, called the investigation an "outrage."
"We will use every means available to seek his early release from custody," Hironaka said. Friday's ruling means Ghosn will be detained until April 22.
Defense lawyers immediately appealed the court's initial decision April 5 to hold Ghosn for 10 days. They filed a protest with the Supreme Court on Wednesday arguing that the detention went against court precedent.
Ghosn's team has also tried less direct tactics. Lawyers encouraged his wife Carole, who had left for France after her husband's latest arrest, to return to Japan and had her testify before the district court on Thursday. This was likely intended partly to give prosecutors less room to argue that they needed to keep Carlos Ghosn in custody in order to complete their investigation.
Ghosn himself reportedly has not answered prosecutors' questions, in contrast to his more cooperative stance during his previous detention from November to early March.
His legal team, which is filled with criminal defense specialists, has advised him to remain silent. As long as prosecutors' lines of argument and the evidence they have marshaled remain unclear, defense attorneys often seek to keep clients from saying anything that could be used against them. Ghosn's lawyers also used this to argue against extending his detention, on the grounds that keeping him for questioning would be pointless.
Sep 21
Toyota Motor has unveiled the first yacht under its Lexus luxury brand, with a 450 million yen ($4.17 million) price tag in Japan that aims it squarely at the super-rich.
(Nikkei)
Sep 20
A Japanese district court has found all three former executives of Tokyo Electric Power Company not guilty in the only criminal prosecution stemming from the 2011 nuclear disaster in Fukushima.
(NHK)
Sep 20
E-commerce giant Amazon Japan has announced it will launch a locker delivery service called Amazon Hub at the major convenience store chain FamilyMart and train stations along the Odakyu line.
(Japan Today)
Sep 18
Toyota Motor Corp. rolled out a new model of the Corolla on Tuesday, making it the first fully redesigned sedan in about seven years.
(Kyodo)
Sep 18
The Japanese government is considering tighter restrictions on foreign investment in industries it sees as key to national security, such as nuclear power and chipmaking.
(Nikkei)
Sep 13
Yahoo Japan's acquisition of online fashion retailer Zozo presents an opportunity for the venerable internet services company to bring fresh blood into its e-commerce audience as the business looks to step outside the shadow of Amazon.com and Rakuten.
(Nikkei)
Sep 11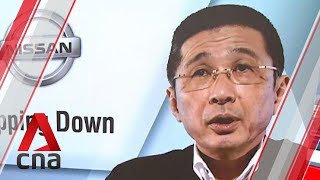 In Japan, is there one standard of justice for Japanese executives and another for non-Japanese executives? The forced resignation on Monday of Nissan Motor Co.'s chief executive officer, Hiroto Saikawa, certainly seems to suggest as much.
(Bloomberg)
Sep 11
Japan's real gross domestic product retreated 0.5% in July compared with the previous month as rising imports led to negative external demand, the Japan Center for Economic Research reported Wednesday.
(Nikkei)
Sep 10
The month between World Suicide Prevention Day on September 10 and World Mental Health Day on October 10 is a good time to start considering the under-discussed topics of anxiety, depression and suicide in our society, especially as they relate to the workplace.
(Nikkei)
Sep 10
Nissan Chief Executive Hiroto Saikawa tendered his resignation Monday after acknowledging that he had received dubious income and vowed to pass the leadership of the Japanese automaker to a new generation.
(Japan Today)
---