NTT Docomo Inc said Monday it will cut its mobile phone charges by up to 40 percent from June amid the government's call on telecom carriers to lower service fees.
NTT Docomo will introduce two basic service charge plans with a monthly fee of 5,980 yen for an unlimited data service and 1,980 yen for those who need less volume of data.
The major mobile phone company is looking to counter low-cost wireless service providers UQ Mobile and Y!mobile brands launched by domestic rivals KDDI Corp and SoftBank Corp respectively. NTT Docomo does not have a budget service brand.
The company will offer simpler plans by separating charges for handsets and services, as major wireless carriers in Japan are often criticized for their complicated plans which make it difficult to compare fees with those of other carriers and discourage carriers from cutting charges.
The issue came under the spotlight last year when Chief Cabinet Secretary Yoshihide Suga urged mobile phone service operators to cut fees, as the rates are higher than those in other countries and the three major cellphone companies generally log higher profit margins than those in other industries. Suga declined to comment Monday on NTT Docomo's new service fees.
NTTドコモは15日、携帯電話の新しい料金プランを発表した。『2年継続』や『3人以上の家族の加入』など一定の条件を満たせば、これまでの料金体系より最大4割の値下げになるとしている。新料金プランでは、通信料金と端末代金が分離されている。
Sep 21
Toyota Motor has unveiled the first yacht under its Lexus luxury brand, with a 450 million yen ($4.17 million) price tag in Japan that aims it squarely at the super-rich.
(Nikkei)
Sep 20
A Japanese district court has found all three former executives of Tokyo Electric Power Company not guilty in the only criminal prosecution stemming from the 2011 nuclear disaster in Fukushima.
(NHK)
Sep 20
E-commerce giant Amazon Japan has announced it will launch a locker delivery service called Amazon Hub at the major convenience store chain FamilyMart and train stations along the Odakyu line.
(Japan Today)
Sep 18
Toyota Motor Corp. rolled out a new model of the Corolla on Tuesday, making it the first fully redesigned sedan in about seven years.
(Kyodo)
Sep 18
The Japanese government is considering tighter restrictions on foreign investment in industries it sees as key to national security, such as nuclear power and chipmaking.
(Nikkei)
Sep 13
Yahoo Japan's acquisition of online fashion retailer Zozo presents an opportunity for the venerable internet services company to bring fresh blood into its e-commerce audience as the business looks to step outside the shadow of Amazon.com and Rakuten.
(Nikkei)
Sep 11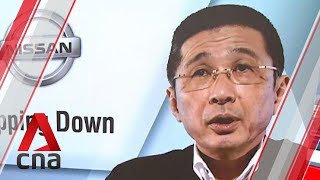 In Japan, is there one standard of justice for Japanese executives and another for non-Japanese executives? The forced resignation on Monday of Nissan Motor Co.'s chief executive officer, Hiroto Saikawa, certainly seems to suggest as much.
(Bloomberg)
Sep 11
Japan's real gross domestic product retreated 0.5% in July compared with the previous month as rising imports led to negative external demand, the Japan Center for Economic Research reported Wednesday.
(Nikkei)
Sep 10
The month between World Suicide Prevention Day on September 10 and World Mental Health Day on October 10 is a good time to start considering the under-discussed topics of anxiety, depression and suicide in our society, especially as they relate to the workplace.
(Nikkei)
Sep 10
Nissan Chief Executive Hiroto Saikawa tendered his resignation Monday after acknowledging that he had received dubious income and vowed to pass the leadership of the Japanese automaker to a new generation.
(Japan Today)
---